Post by Joni of Lay Baby Lay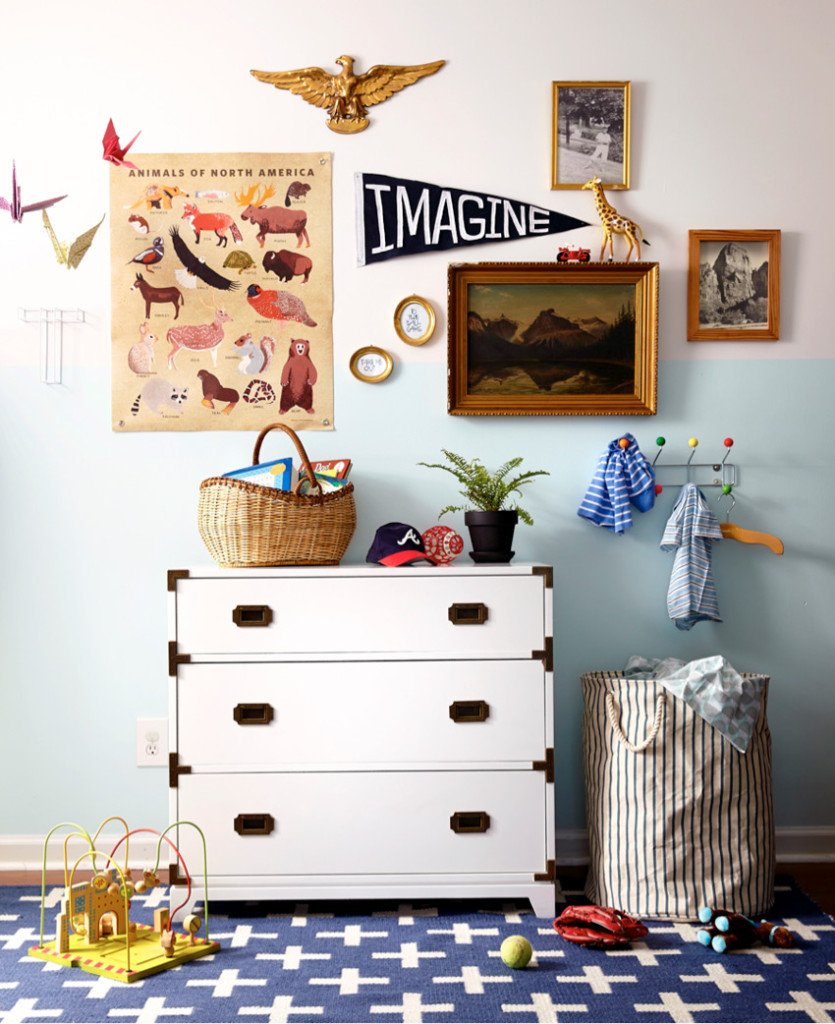 I was really excited to have the opportunity to collaborate with The Land of Nod to create a special space for my friend Keri's youngest baby, Timothy.  He came along very shortly after his older brother (they are 15 months apart!) and he arrived right after his family moved into a new home, so Keri was thrilled to get to have a space made just for him in the midst of being a bit unsettled.
To start the design process, I asked Keri what she would like the room to reflect.  She said baseball is a big part of their family (she grew up loving it, and her husband played it often growing up, and his father is an umpire) and they also love hiking and the outdoors.  In an effort to bring in those two elements, I had Keri find some old photos of her husband playing baseball as a kid (so cute!) and found some vintage outdoor photos and postcards to incorporate as well.  We went with a classic blue and white color scheme with pops of yellow.  Here is the inspiration:
I love how the paint on the walls turned out!  (The white is Sherwin Williams' Snowbound, and the blue is Sherwin Williams' Buoyant Blue).  The room isn't very large, and has an angled ceiling, but painting the lower half of the walls blue really complements the angles without making it feel awkward.  It also makes the room feel larger and more airy.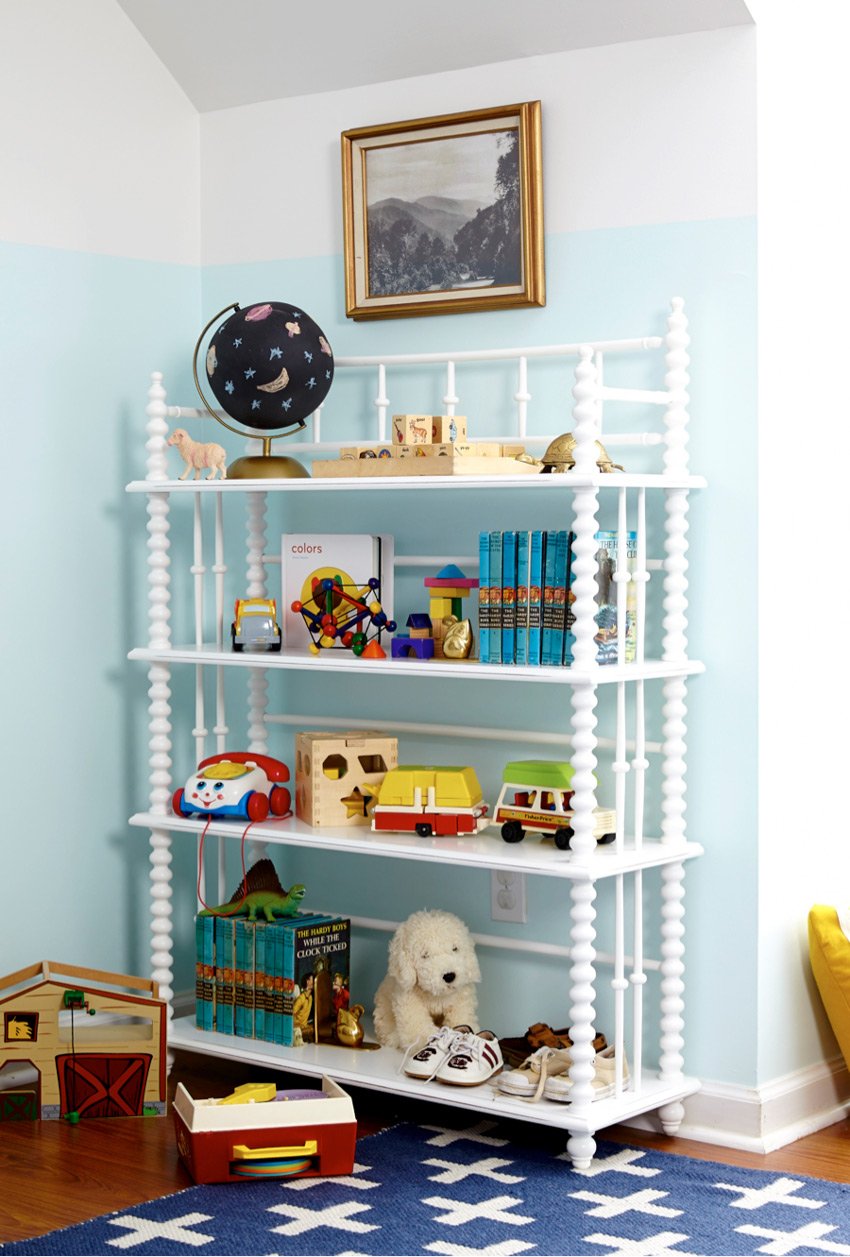 There is also a long 4' wide dormer, so to make use of it, we turned it into a little reading space with bookshelves and a comfy pouf. It's a fun challenge to try to make the most of the space in a room, and I think this is the perfect use of that little nook!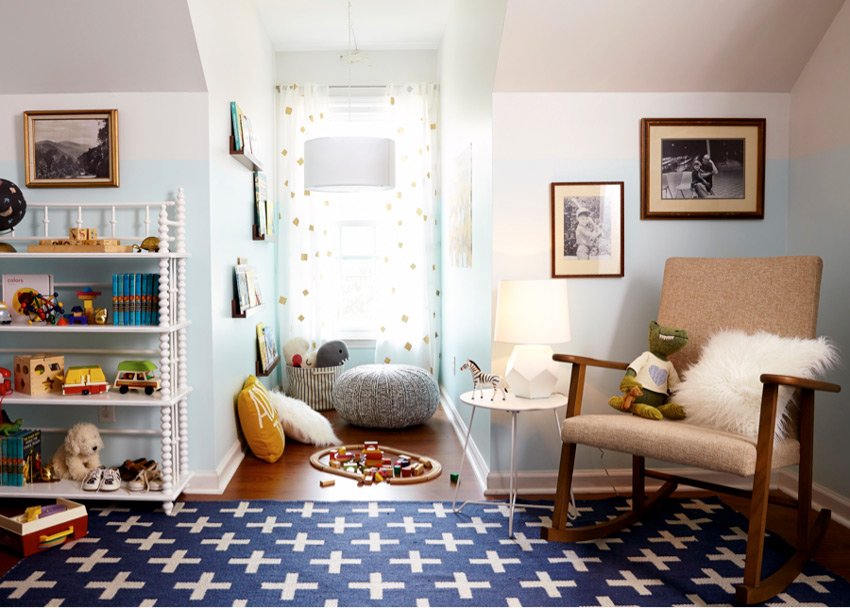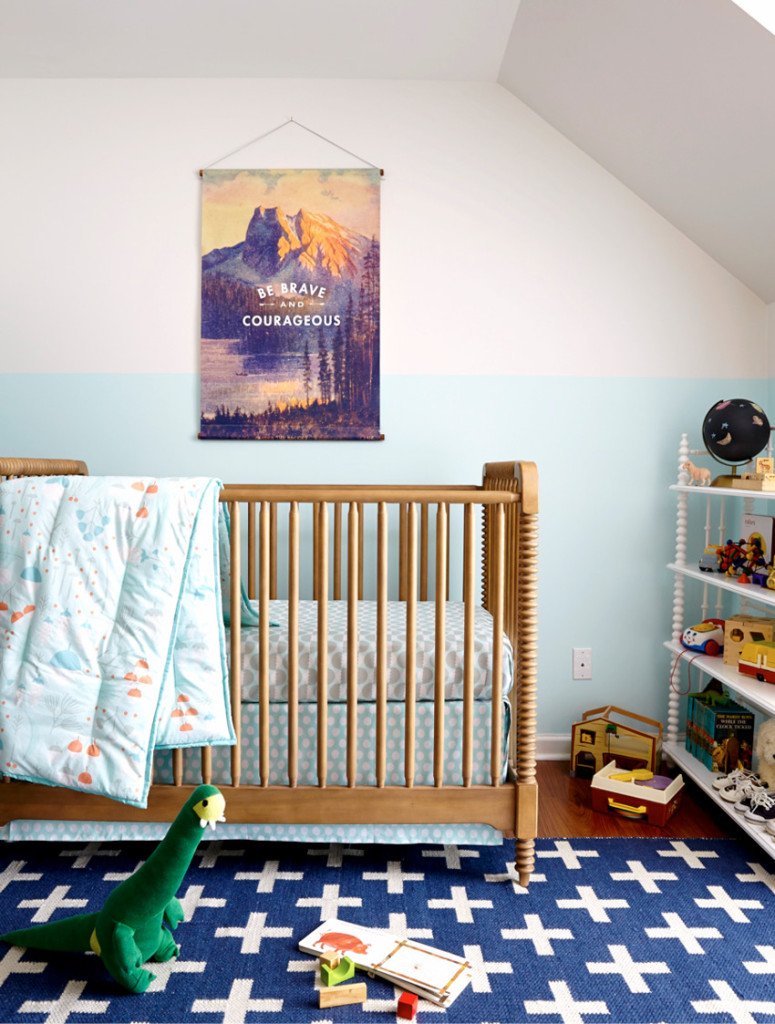 I adore this crib.  The finish is just beautiful and it's great for a girl or a boy, so Keri can use it again if needed.  It feels like an heirloom with the spindle details!  It also goes so well with the Jenny Lind bookcase nestled close by.  I made that canvas wall hanging for Keri from a vintage postcard.  It says "be brave and courageous," which I meant as an encouragement for little Timothy, but she says it has been a great reminder to her as she is enduring some health challenges with Thomas, his older brother.  I love that a nursery can be a place of inspiration for everyone in the family!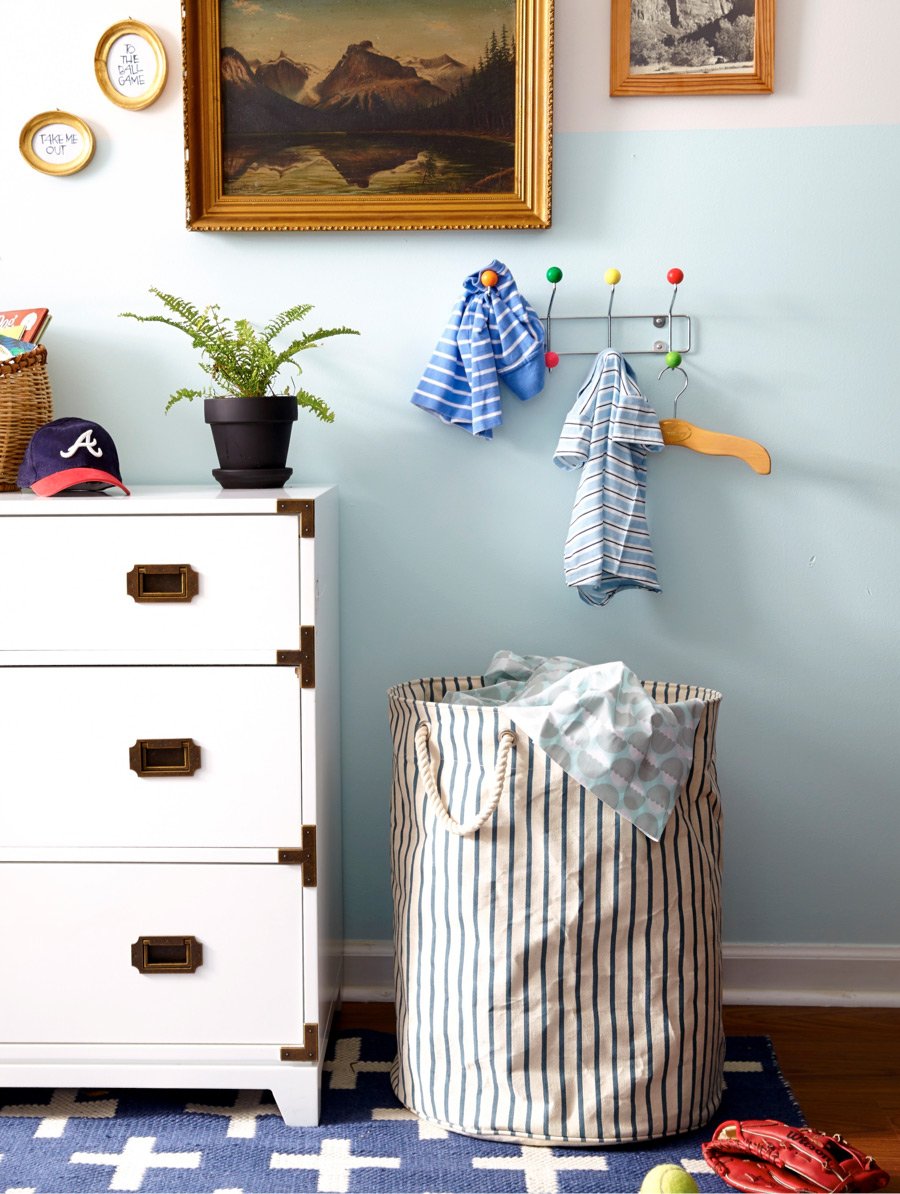 The campaign chest is just gorgeous!  It has the feel of a hard to find vintage piece, but works like new.  This dresser will be able to grow with Timothy, and is a natural fit for a big boy room and beyond.  It's always a win when you can find pieces that will outlive the nursery.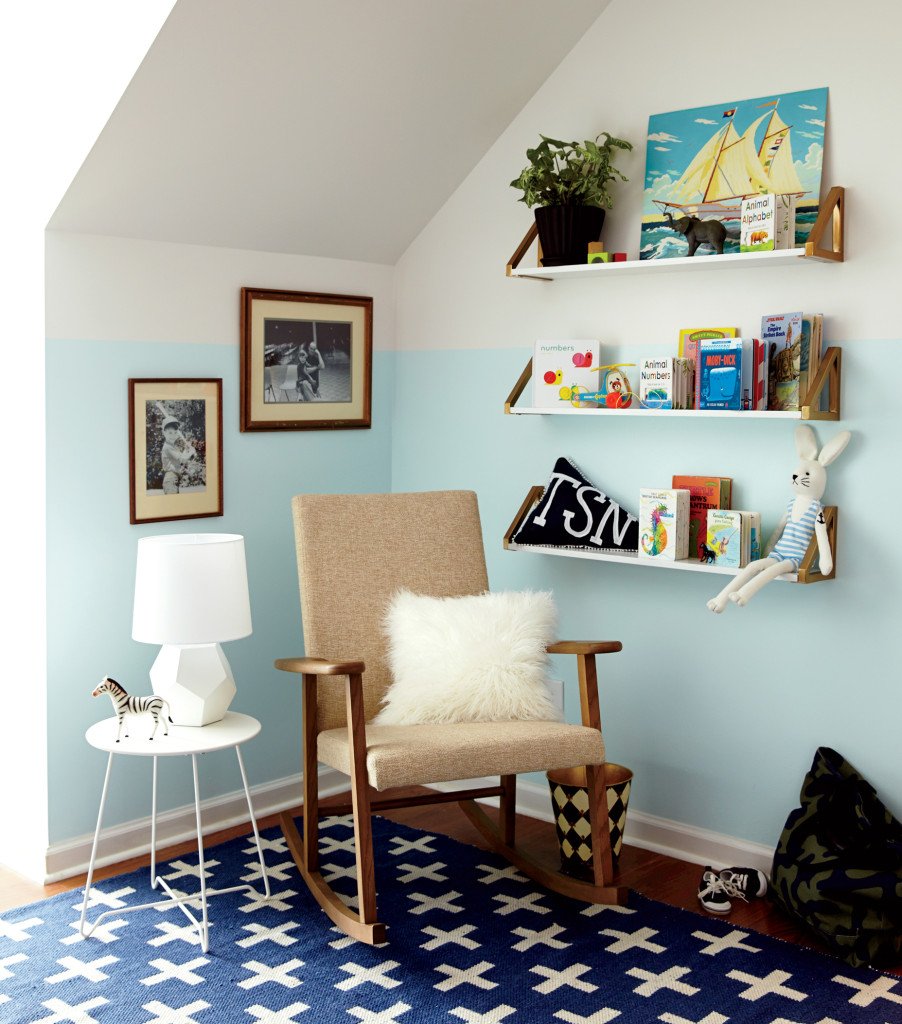 The rocker is also beautiful – it has the feel of a vintage mid century piece, but with modern proportions.  It's really comfy, and the wood tones go really well with the crib.  And those shelves – ahh, I love the gold brackets!  Such a pretty way to keep books and essentials close by, or to display heirlooms out of reach of tiny hands.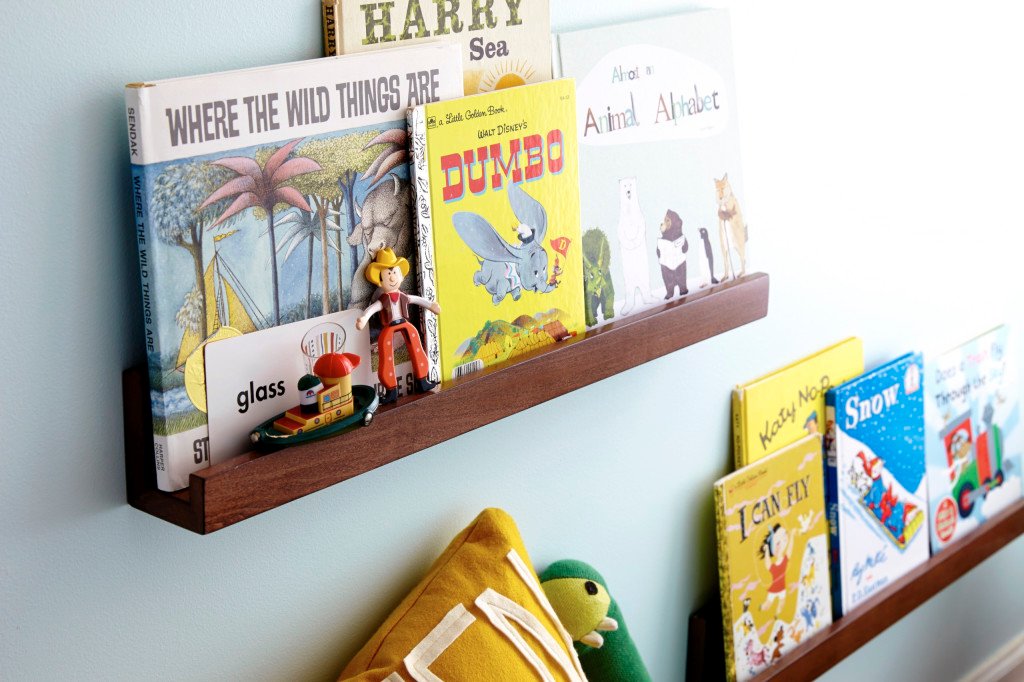 This was such a fun project; the Land of Nod team is so fun to work with and they made the whole process a joy.  It was honestly a great reminder of why I do what I do at Lay Baby Lay; I love inspiring other moms to create happy, imaginative spaces for their little ones, and the beautiful pieces created and curated by the Land of Nod are such a perfect complement!
Joni Lay is the author of nursery decor blog Lay Baby Lay.  She began writing and curating in 2011 shortly after the birth of her first baby as a place to provide fresh and unique nursery inspiration with a little dose of motherhood experience on the side.  The blog is her creative outlet and it is her hope to inspire others to create spaces for their families and little ones that are full of imagination, color, and delight and also be a place of encouragement in the crazy but wonderful journey of having babies and watching them grow.