Post by Tan of Squirrelly Minds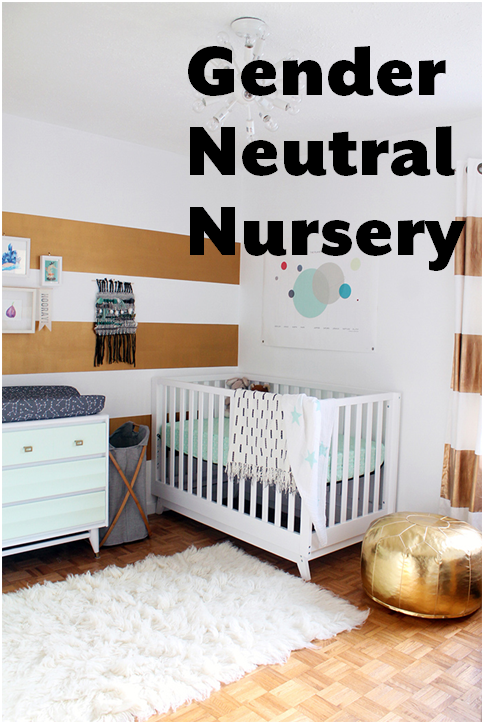 When designing our first baby's nursery (lovingly nicknamed squirrelly baby), I didn't know what theme I wanted. What I did know was that it had to be gender neutral as we haven't found out the sex and that I wanted the room to be filled with items from The Land of Nod to make it the perfect oasis for our little baby… and us too, because who am I kidding. I decided on a color scheme of white, gold, grey and mint, and put together our dream nursery from there.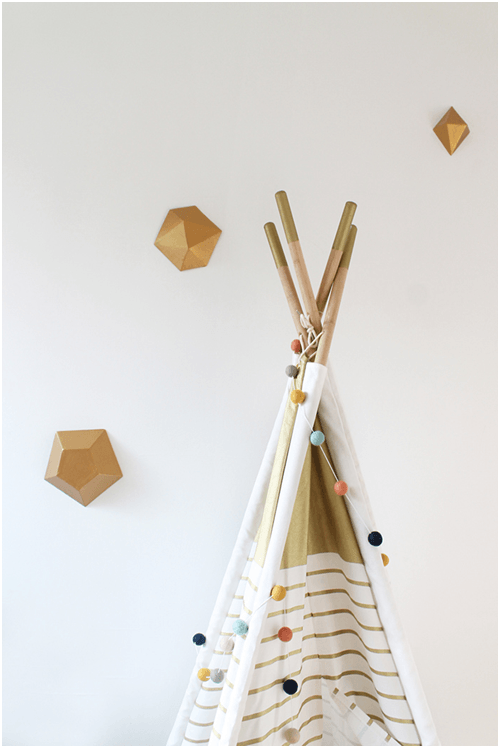 This nursery hails from north of the border, and truth be told our options are kinda limited up here, so I was thrilled when I first realized Land of Nod ships to Canada. It was important to me that the nursery feel cozy and unique rather than filling it with stock items from a big box store. Little touches like the planets poster and the overcast shelf gave the room those special details that help it stand out.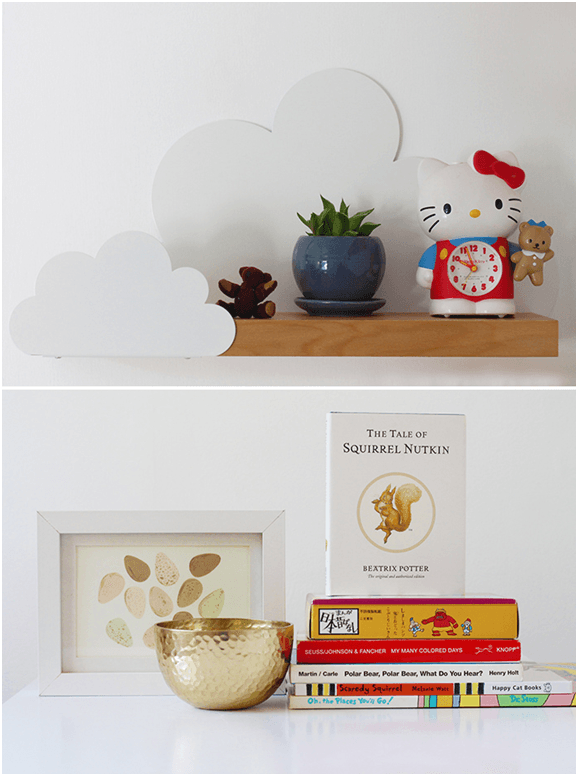 While we started out with just a color scheme, we ended up with a very subtle 'stars and space' theme as well, and it all started with the planets banner. This eventually grew into a constellation changing pad and a gold wall hanging saying "I love you to the moon and back". While not strictly space related, the overcast wall shelf works with the theme, keeping up with an 'up in the sky' kind of feel. I'm not one for very obvious themes that occur consistently throughout a room, so these little touches were just perfect.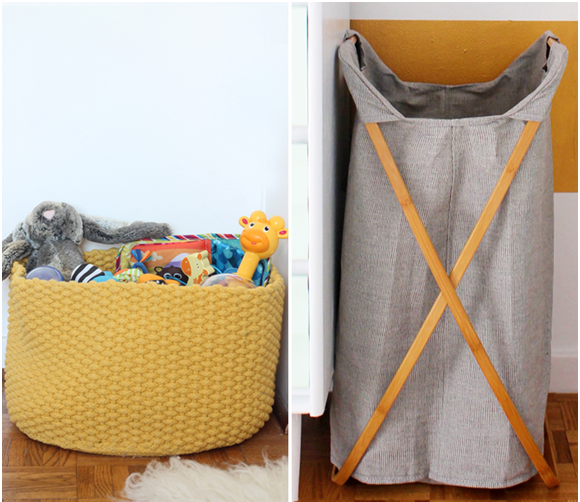 I'm loving the practical details too. The flokati rug is SO SOFT both to the touch and visually, bringing in added coziness to the room. We've laid down on it quite a few times now, imagining squirrelly baby playing with a bunch of toys or learning to crawl on the soft wool. The kneatly knit baskets are perfect for storing toys in and come in small, medium and large. It sits right by the entrance within arms reach of the rug, so once squirrelly baby is big enough, he/she can reach over and grab a favorite toy to play with. The stylish grey laundry hamper is fantastic too. No ugly white plastic here! And when it comes time to change baby's diaper, the hamper will collapse when I walk right up against the dresser, then I can pop it open again to place dirty onesies and other items to be laundered. I envision this item getting a whole lotta use in the coming months.
The nursing/play area is my favorite in the room. Every day I sit and relax in that rocker with my feet up on the gold leather pouf. It's so comfy as a foot rest and as a chair! It'll act as great extra seating once squirrelly baby is older and has friends over to play.
And of course, what kids aren't going to want to play in this gold striped teepee? I put a couple sheepskins inside to make it the perfect reading/playing hideaway. Our cat Lucy loves it too and sits in there whenever she can. Sorry kitty, squirrelly baby has first dibs.
I can't wait to spend a bunch of time in here with our first little babe. I just know he/she will love it too. A huge thank you to Land of Nod for making squirrelly baby's gender neutral nursery possible!
Meet Tan, during the day she teaches elementary (while downing coffee with coconut milk) and spends evening and weekends with her friends, husband, kitty, and of course, Squirrelly Minds.