Post by Danielle Kurtz, Creative Director at The Land of Nod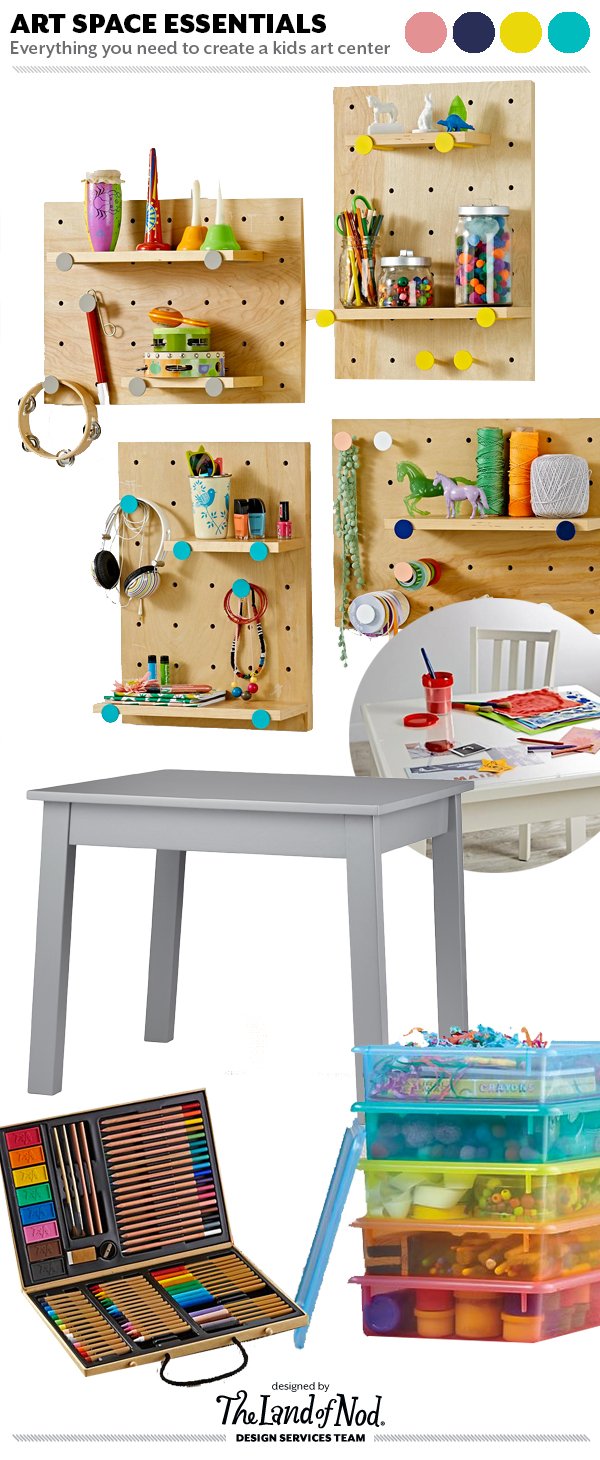 Whether you have an entire room or just a corner to dedicate to an art space for your kids, you'll need the same three basic elements in order to make it functional.
A Work Surface
A play table is the perfect surface for art projects. Choose one that fits your space. Smaller profiles fit well tucked in a corner of a bedroom. If you have multiple kids, choose a larger one to accommodate everyone. Also, consider purchasing a table mat to protect the table's surface. By opting for an acrylic version, you also create a place to display your child's works for art.
Storage
Keeping all the supplies in order is key to a quick cleanup. Plastic is a great option for art supply storage because they clean easily in case of leaks and spills. Also, don't choose really deep or large storage, better to have multiple smaller bins so each type of item (crayons, markers, molding clay, etc) can have its own bin.
Also important, make use of vertical space and store the messier supplies out of reach of the kids. Bookcases or wall shelves are great option for this. You can keep the paint and glitter up high, and the markers and crayons on the lower shelves for easy access.
Art Supplies
Lastly, and probably most obviously, you'll need plenty of crafts and art supplies. Opt for washable markers and paints, especially when your kids are younger. And, don't forget to add in a range of inexpensive bits and pieces, like pompoms, googly eyes, rickrack and popsicle sticks. You'll be surprised at all the creations your little ones will dream up. I'd also suggest keeping a bin for some recycling that can be upcycled into art, like old yogurt containers, pickle jars or milk cartons. Just be sure to wash them thoroughly before tossing them in the mix.
Creating an art "studio" for your kids doesn't have to be a huge undertaking. But, by dedicating even a corner of your home to creativity, you can save your kitchen table from needing to be cleared of projects before every meal, and encourage your kids to exercise their imaginations.
Danielle is the Creative Director at Nod and an over-protective mother of two. She's also completely obsessed with Pinterest, Twitter, Instagram and her Kindle, but not necessarily in that order. Danielle loves to craft, sew and crochet. Her current craft of choice is weaving tiny wall tapestries.