Post by PJ Feinstein of A Girl Named PJ
Last month, I became an aunt for the second time when my sister gave birth to an adorably tiny baby girl. My niece is the fourth baby born into our family in five years, so she'll be getting plenty of hand-me-downs, but they'll mostly be boy things; my sister already has a toddler son, and I have two little guys of my own.
Of course, when it comes to her nursery, many of the furniture and décor pieces my niece will inherit from her brother and cousins will be gender neutral. A white crib and grey glider can work for a baby girl or a baby boy. However, every girl needs a room of her own — or in my niece's case, half of a room, which she'll be sharing with her older brother while my sister's family is still living in a two-bedroom apartment in New York City.
Ever the dutiful sibling, I was happy to help my little sis pick out some Land of Nod items to decorate my niece's side of the nursery. I began browsing for bedding, lighting, and decor that felt decidedly girly while still complementing my nephew's mostly navy, grey, and white color palette. The Bohemian Garden Crib Bedding became my jumping-off point, as the tassel crib skirt also picks up on the red and orange accents already in the bedroom. Plus, what's more ladylike than pink and yellow flowers? (And those magenta elephants!)
From there, choosing lamps, art, and accessories was easy. I stuck mainly with a hot pink and navy color scheme to compliment the modern bohemian nursery I was going for, looking for pieces that would add layers of texture to my niece's side of the room. Although my sister doesn't have the space the add new furniture pieces right now, she will when they eventually move to a house in the suburbs, so I included a dark modern dresser and a sleek rocking chair to my moodboard.
What do you think?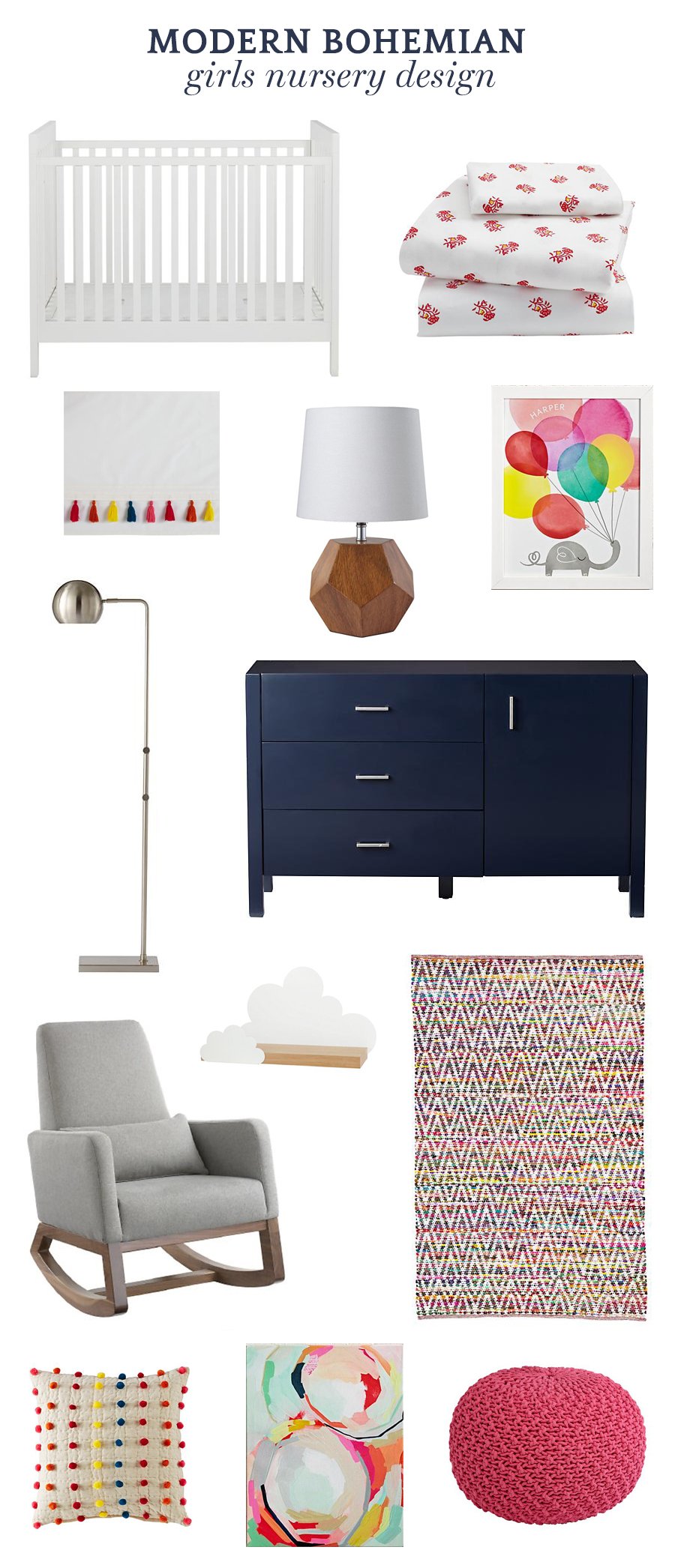 PJ Feinstein is the author of A Girl Named PJ, a lifestyle blog offering fashion and beauty tips, design inspiration, commentary on pop culture, thoughts on personal growth, and honest talk about motherhood. She lives just outside Washington, DC, with her husband, two young sons, and stubborn (but adorable!) small white dog.