Post by Joni of Lay Baby Lay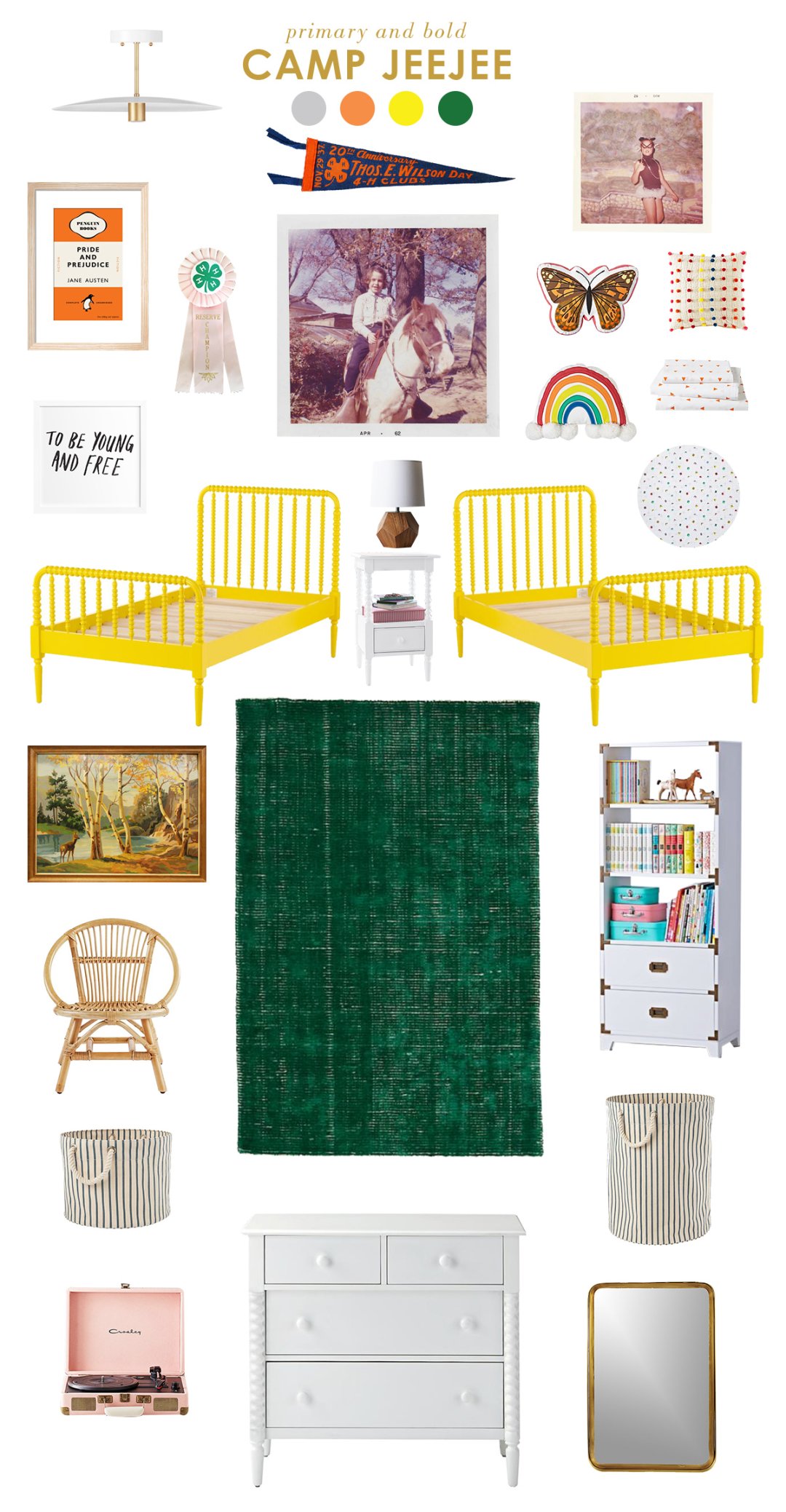 Hi there!  It's Joni from Lay Baby Lay, where I write about creating imaginative children's spaces.  I'm working on a new project I'm really excited about; a room in my parents' house for their growing troop of grandchildren.  I have three girls, my sister has a boy, and a baby girl on the way, and all of them enjoy spending lots of time at Grandpa and JeeJee's house.
While my mom has done an excellent job of saving many of our toys from childhood, making their house a treasure trove for little people, some of the furniture and such isn't as accommodating for longer stays from the grandchildren, so I'm working with my mom to create a room where they can comfortably sleep and stay (and play).
As I was considering the space, I couldn't help but be inspired by my childhood room.  My mom is anything but girly or frilly (in the best way possible!) and since Henry will also be using the room, I wanted something neutral, but fun.  And that's exactly how my childhood bedroom felt to me.  It had dark green carpet, yellow walls, orange curtains, a Charlie Brown bedspread, and a rainbow on the wall.  It was pretty much a primary hued paradise, in my opinion.  I recall being very upset when my parents replaced the carpet (how dare they?) as I found it to be the perfect shade for a grassy meadow when I played pretend or with my dolls, and I remember the fun of changing out records on my Fisher Price record player to suit my mood.
It's a little hard to tell, but you can see the orange curtains and yellow-y walls in this photo of my sister, our mother, and me.
With that palette as a jumping off point, I put together some inspiration that is a little more modern, with some adventure (my mom loved horseback riding and 4H camp as a kid!) and nostalgia thrown in.  I'm planning to include some photography of my parents as children (my favorite!) and if you need a resource for a similar project, check out my post here about printing vintage photographs, or you could also use Framebridge for a much simpler route!
I'm so excited to see this space come together!  These pieces will all grow well with the girls and Henry as they get bigger; and there will be lots of sweet memories made here.  Looking forward to sharing the finished room soon!
Lay Baby Lay started in 2011 shortly after the arrival of my first baby as a place to provide fresh and unique nursery inspiration with a little dose of motherhood experience. This site is my creative outlet and the place where I am able to express all the ideas running around in my head. It is my hope that you will also be inspired to create spaces for your little ones that are full of imagination, color, and delight and maybe find a little encouragement in this crazy but wonderful journey of having babies and watching them grow.