Post by Ro of Ro Birkey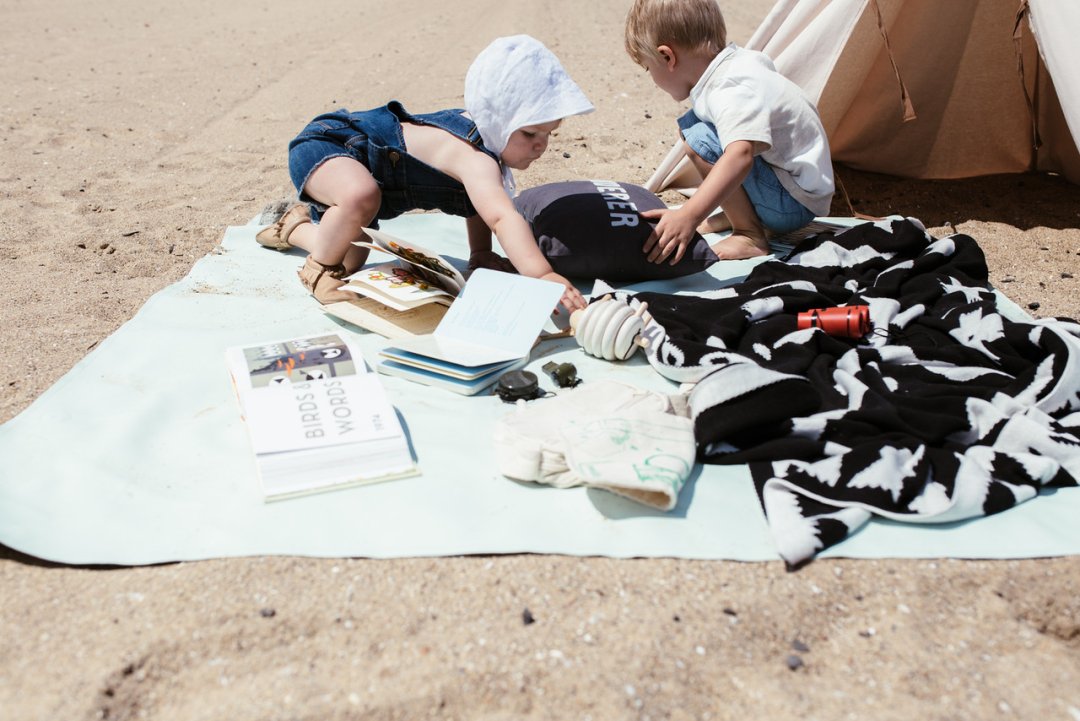 There's comes a point where you need to break out of the routine, pack up the kids and head to the beach…especially when the forecast is 80 degrees and sunny. Ever since the weather has been warming up in Chicago we've been anxious to trade in our sweaters for swimsuits, boots for bare feet and snow for sand. Out of all the places we could adventure to, the beach has got to be our favorite.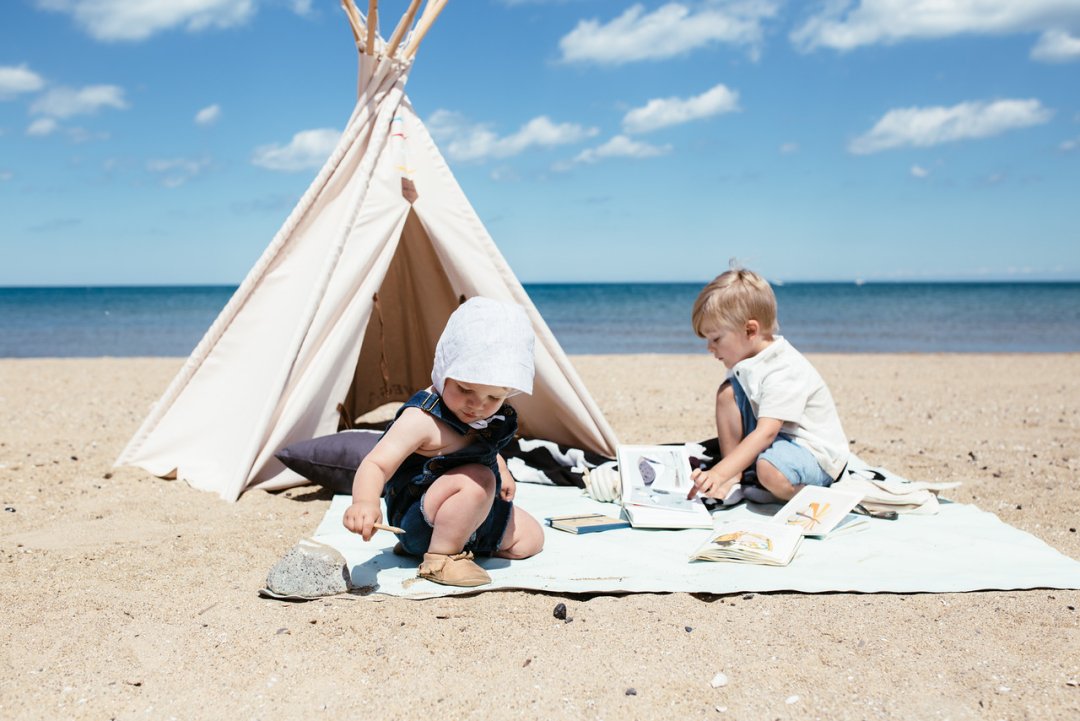 It was Ames first time there, so we wanted to make it extra special. With our Land of Nod Happy Camper Teepee, books, Great Adventure Kit and leather Midi GATHRE Mat in tow; we found the perfect spot right by the water and set up camp. It was the sweetest scene seeing Ames waving at all the people passing by and even some seagulls too. With a grin permanently on his face, I knew he was just taking it all in. Cohen didn't waste any time, he immediately started looking through his binoculars at passing boats all the while asking if pretty please we could get one too. If only! The boys also spent a lot of their time looking through animal books, drawing in their notebook and digging in the sand while sitting on our lovely mint mat.
Our GATHRE mat has become a standard item we pack for outings because they're not only lightweight and functional but they're incredibly easy to wipe down. If one thing has been made clear since having two boys, it's how easily messes are made and the value of an easy cleanup. Many picnics and play dates have already been had on our mats and have proven they can stand up to the test. Plus, they're just beautifully and wonderfully made.
Eventually the boys left our little set up on the sand and found their way to the lake. Within minutes Ames' hands and feet were caked with wet sand and Cohen was collecting and throwing rocks into the lake. Anyone could see, they were hopelessly in love with the beach. I adore looking through these photos and remembering how perfect our afternoon together was. That is, if you don't include the countless times we fished rocks out of Ames' mouth, Cohen crying whenever the water touched his shirt and my back getting burnt to a crisp. But hey, that's all part of the experience, right? These are the days.
Ro, also known as Robyn (the nickname was given years ago and stuck) is the voice of Ro Birkey. She is the mama to two, Cohen and Ames. When she's not designing, sipping an iced coffee or exploring with her boys, she tries to make time for photography, design projects and Food Network Channel binges.