Post by Stephanie, Home Stylist from The Land of Nod's Design Services Team
When it comes to putting together a gallery wall, no matter how big or how small, the struggle is definitely real. From sourcing just the right assortment of wall art and décor to organizing each piece according to size and shape, gallery walls can certain pose a big challenge. Not to mention the inevitable point wherein, once you've finally gotten your masterpiece assembled, the itch to tweak and try something new causes you to start the process all over again.
Creating a gallery wall using unframed prints is a great way to add flexibility to your wall art assortment. Our And You Brought a Wall Clip set makes swapping out art prints ridiculously easy.  No need to break out your level or navigate a picture wire, simply position the wall clip and print where you want them in the assortment, tap in a small picture nail, and voila! You're all set!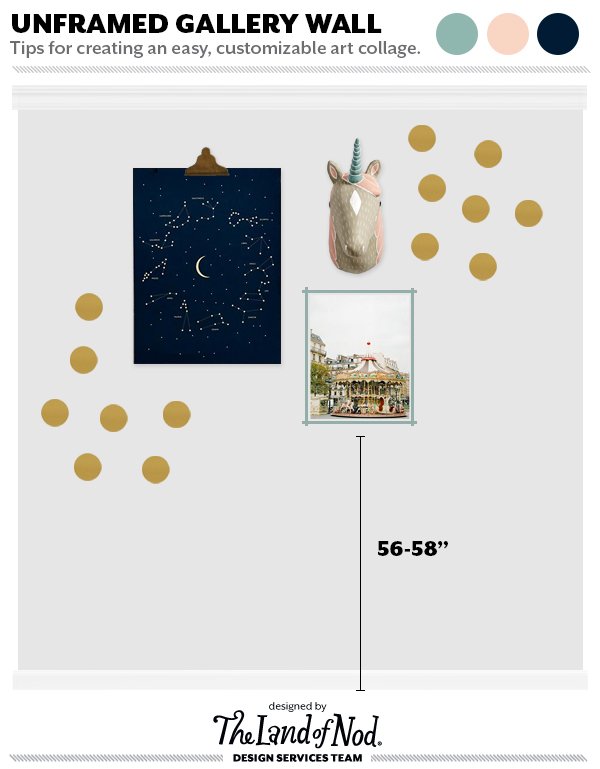 Washi tape frames are another great way to style a frameless gallery wall. You can hang your print using double sided tape and then apply a border of washi tape for a pop of color. As an added bonus, washi tape is much cheaper and easier to change out than a custom picture frame, so it's perfect for every budget!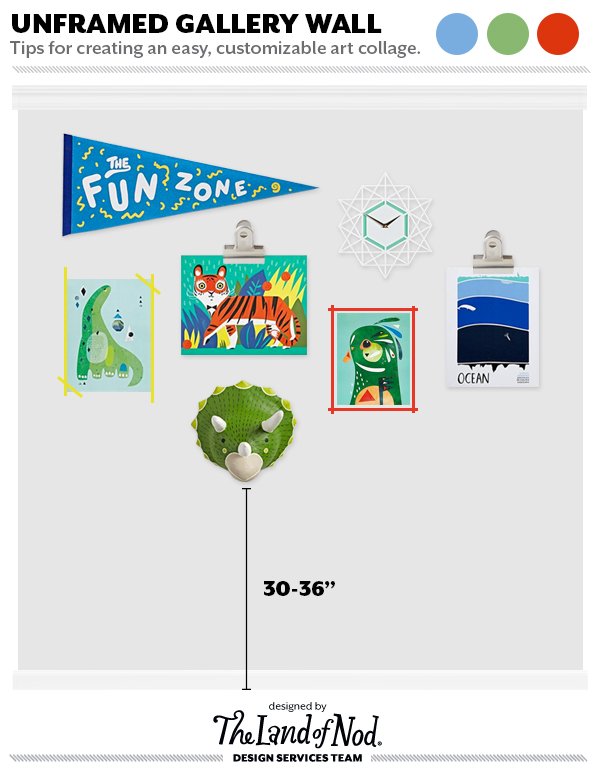 There are a lot of how-to guides for gallery walls to help you figure out where to begin positioning your frames on the wall. I personally like to rely on a practical eyeball estimate over any firm measurements, but generally, I recommend starting 12-18" above any furniture items. If you're using a larger assortment to fill a blank wall, then I recommend starting 30-36" above the floor. For a smaller assortment (3-4 items), you can go a little higher off the floor, 56-58" or eye-level.
Happy Styling!
Post by Stephanie Geurkink, Home Stylist from The Land of Nod's Design Services Team. Our Design Services team offers free one-on-one design advice, mood boards and space planning. You have a room to decorate? They'd love to hear from you. Visit The Land of Nod's Design Services page to get started today.