Post by Danielle Kurtz,  Creative Director at The Land of Nod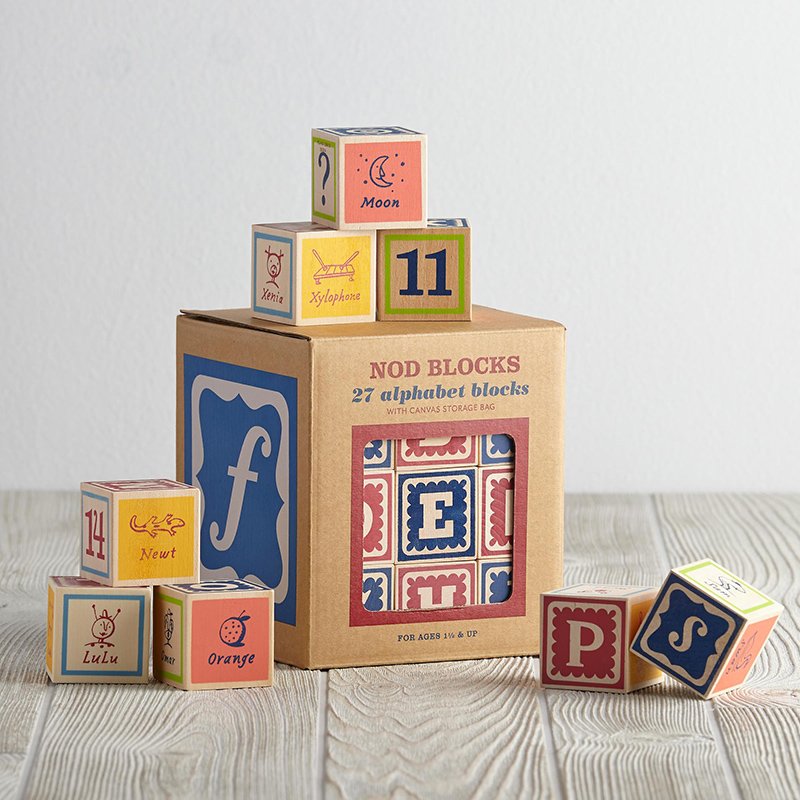 One of the first toys we ever sold at The Land of Nod was a set of hand-carved wooden baby blocks. And, we still sell a screen printed version of these blocks today, we call them Nod Blocks. They're an updated take on a classic toy. While there's no denying that technology is a huge and often necessary part of our kids lives, we've always set out to create toys that are fueled by a child's endless imagination, rather than a power cord. We'll never be the destination to get the latest toy that connects to your wifi. We know you have plenty of places to go for that. But rather, we offer an alternative form of entertainment that encourages your children to create imaginary places and stories and inventions.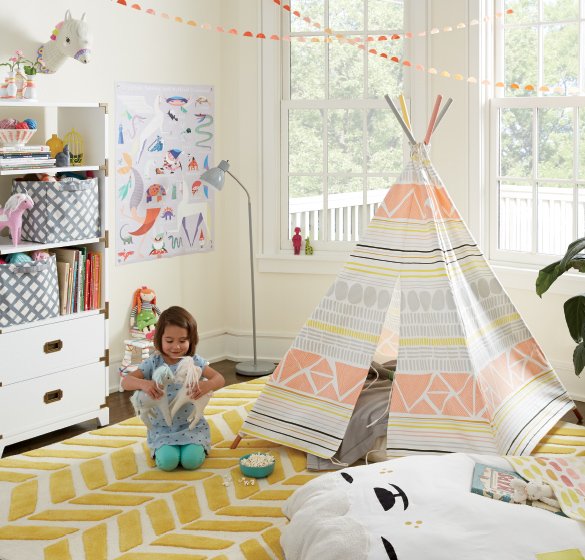 As someone who works in a creative field, I know how important it is for me to constantly be creating. I really think we're all born artists and inventors and makers, it's just that if you don't exercise those muscles, you forget how to use them. So here are a few of my favorite Nod toys to keep your little one's imaginations whirring away. And, as an added bonus, these toys have been known to keep kids busy for hours on end, which might allow you some time for some creative pursuits of your own!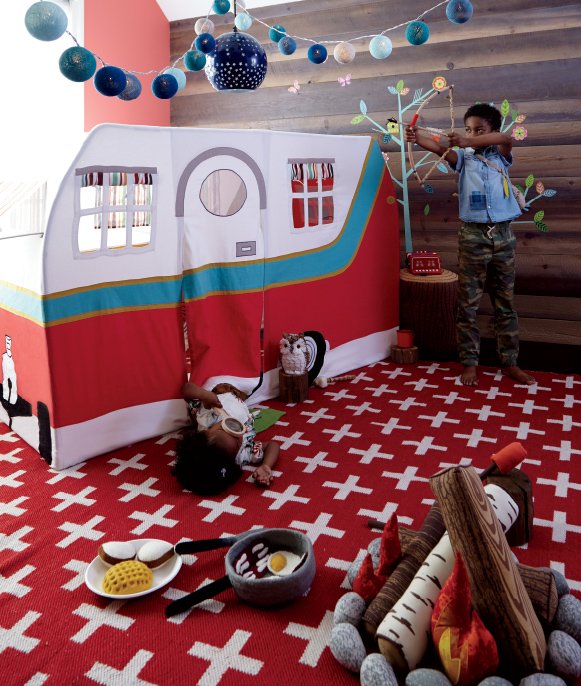 First, our patented Jetaire Camper Playhouse. I love this playhouse for so many reasons, not the least of which is its rad vintage styling. But my favorite part are all the clever details like the propane tank, curtains that open and shut and the license plate that reads "HPY-CMPR." Think of all the road trips your kiddos could dream up with this bad boy. And, if imaginary camping isn't their thing, we have tons of other just-as-ridiculously-awesome playhouses.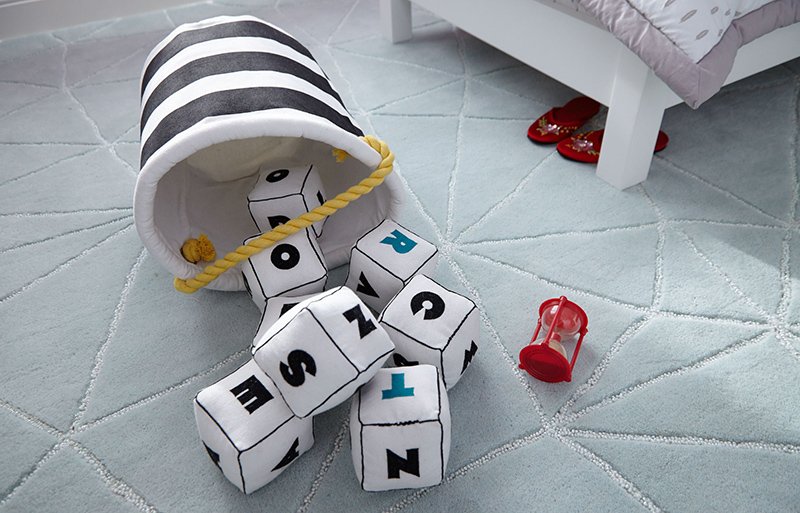 Next up, is our giant letter scramble game. As the parent of brand new reader, this game would provide endless entertainment at our house. Just shake the bucket, dump out the letters and spell. The best part is it's made from soft fabric and the blocks are large enough that younger kids can use it to learn their letters, too. This is just one of the old school games that we have from puzzles and matching games and stacking blocks. And, more are coming this holiday season, so stay tuned.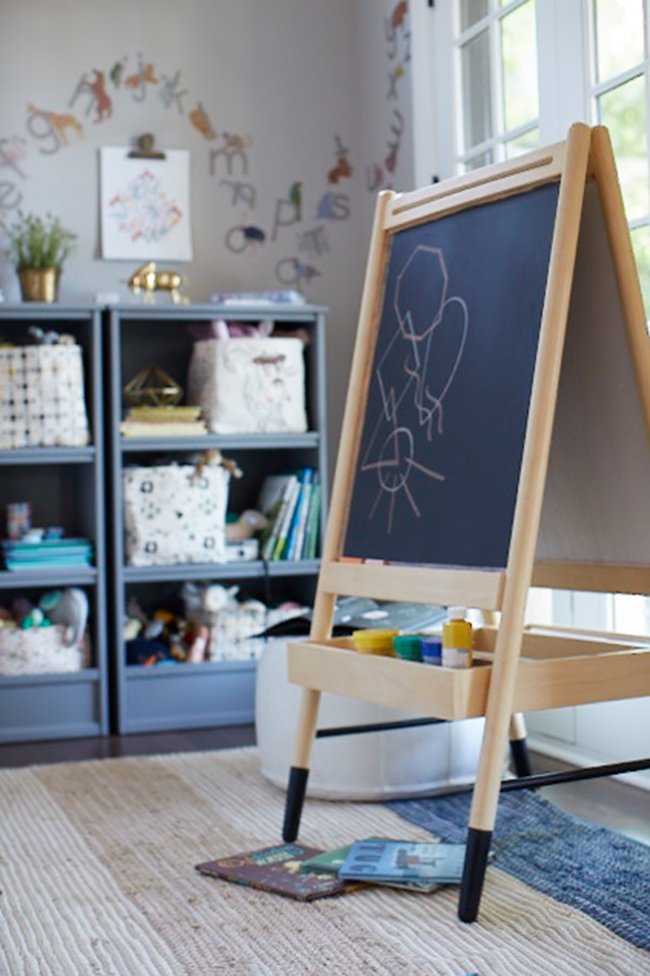 It wouldn't be a "batteries not required" top pick list for me if there wasn't some arts and crafts represented. My daughter is a huge crafter, and I've found the key to raising a creative kid and having her choose art over more passive forms of entertainments is simply to keep the art supplies out in the open. That's why I love this easel's sleek Scandinavian design. I feel like it would be right at home in a shared space or a playroom. Plus, it has storage for all the supplies, and gives the option of chalkboard, white board and paper roll. If you don't have space for an easel we have plenty of other arts and crafts supplies to choose from.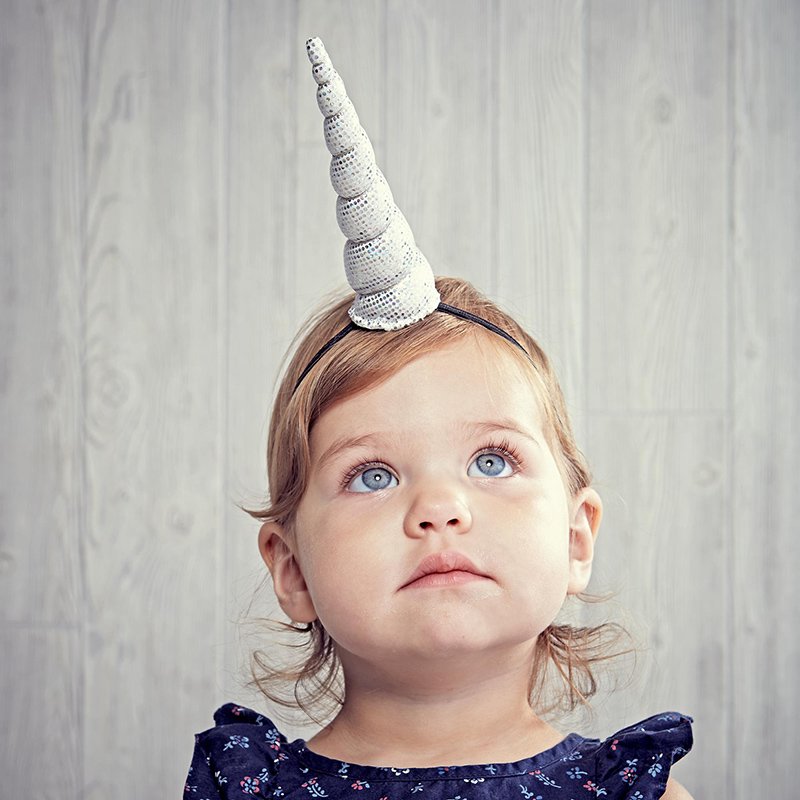 And to round out my top pick list, I have to go with this Unicorn Horn because, well, it's a unicorn horn. But in all seriousness, dress up is always at the top of my toy list because it can be used and worn in so many variations. We design ours to be mixed with clothes and other items you might craft at home. So, you aren't necessarily getting a costume in a bag, but rather a starting point for your little one to build from. So, mix this unicorn horn with a jetpack made from cereal boxes, and a tutu from your last dance recital, and you've got one heck of a Unicorn Astronaut costume for Halloween or any day really!
At Nod, we're inspired every day by the imaginations of our customers and the artists we get to work with to design product. And, we use that inspiration to create products that are hopefully inspiring you and your kids to use your imaginations and see what you can dream up.
Danielle is the Creative Director at Nod and an over-protective mother of two. She's also completely obsessed with Pinterest, Twitter, Instagram and her Kindle, but not necessarily in that order. Danielle loves to craft, sew and crochet. Her current craft of choice is weaving tiny wall tapestries.