Post by Danielle Kurtz,  Creative Director at The Land of Nod
It's no secret that we here at Nod love partnering with artists from around the world to create product that inspires and delights our customers. (Checkout #artistsxnod for a peek.) I especially love when we take art and use it on a new silhouette or product category, so I was stoked when we decided to take the work of three incredible artists, print it on upholstery fabric and turn it into settees. I feel like these sofas are the perfect mix of sophisticated and playful, and would look great in a living room, playroom, nursery or bedroom.
Here are the three settees and how I'd style them for a shared living space. But, really, the options are endless!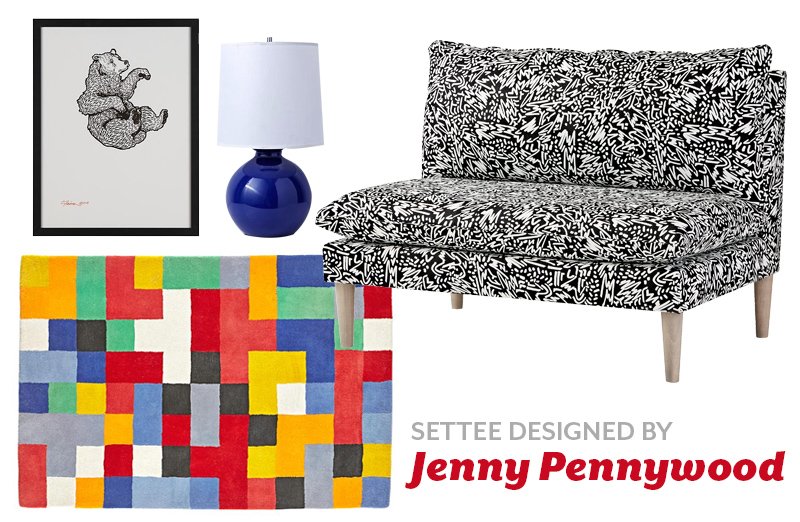 First up, this fab squiggle print by Jenny Pennywood. I'm always a fan of black and white because of its versatility. You can really mix this settee into any décor. I love the playful, sketchy quality of the illustrations. I've paired it here with a bold rug and a poppy lamp, balanced by a simple piece of wall art. I think it would work equally well in a romantic design awash with blushy pinks and peaches.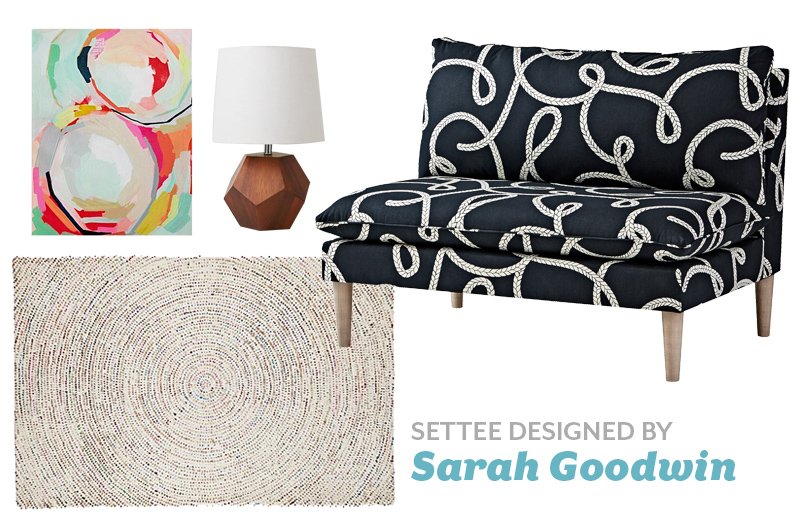 Next up is this awesome rope print by Sarah Goodwin. I love a good nod to nautical in décor, and I especially love the oversize scale of the print on this settee. I've paired it with a sophisticated rug and piece of art, both of which bring some color to the party. The Ripple Effect Rug has bits of brightly colored recycled saris that form the concentric circles, so pretty! And, I like the idea of balancing it all with some mid tone wood in the form of our wood rock lamp. I think this would make a super chic, yet playful sitting room.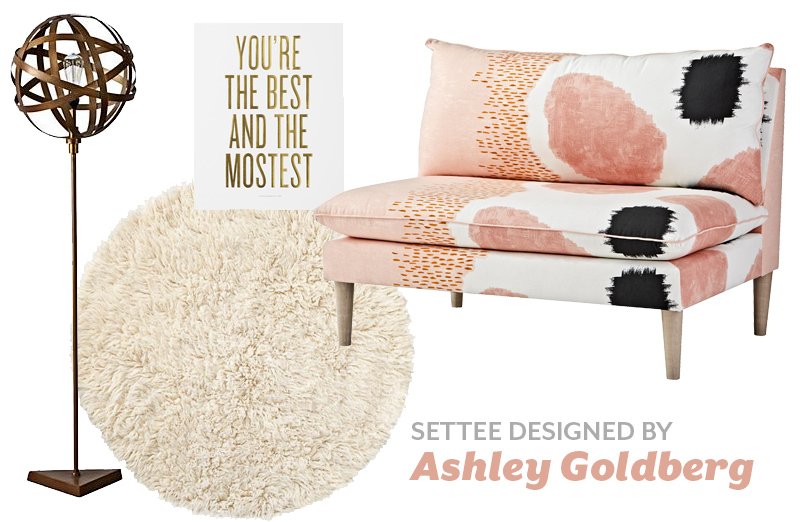 Last up is this over the top large scale abstract print by Ashley Goldberg. This is a true statement piece. I've kept the other elements quite to let this beauty shine. I like the idea of bringing in a lot of texture with a flokati rug, and some touches of gold in the décor pieces. I love this look for a nursery, living room, teen bedroom or even a master bedroom for that matter…soft and romantic, with just enough edge.
If you aren't quite sure where to begin, but love these settees, definitely reach out to our design services team. They'd be happy to put together some inspiration to fit your home and aesthetic.
Danielle is the Creative Director at Nod and an over-protective mother of two. She's also completely obsessed with Pinterest, Twitter, Instagram and her Kindle, but not necessarily in that order. Danielle loves to craft, sew and crochet. Her current craft of choice is weaving tiny wall tapestries.