Post by Stephanie, Home Stylist from The Land of Nod's Design Services Team

Calling all swimmers, soccer stars, basketball champs, and volleyball hot shots! The new Athletic Club bedding collection has a little something for every sport-loving kiddo. I don't think I have ever seen a throw pillow imitate a bathing suit and now I think I am a little bit in love. Who knew? Together with an assist from the mesh Orange Slice throw pillow and you've got a subtle homage to the days of soccer games and swim meets. When it comes to having game, the coordinating duvet and sham have got it locked down. Whatever court or field your kiddo calls home, they've got it represented in a colorful collage of boundary lines.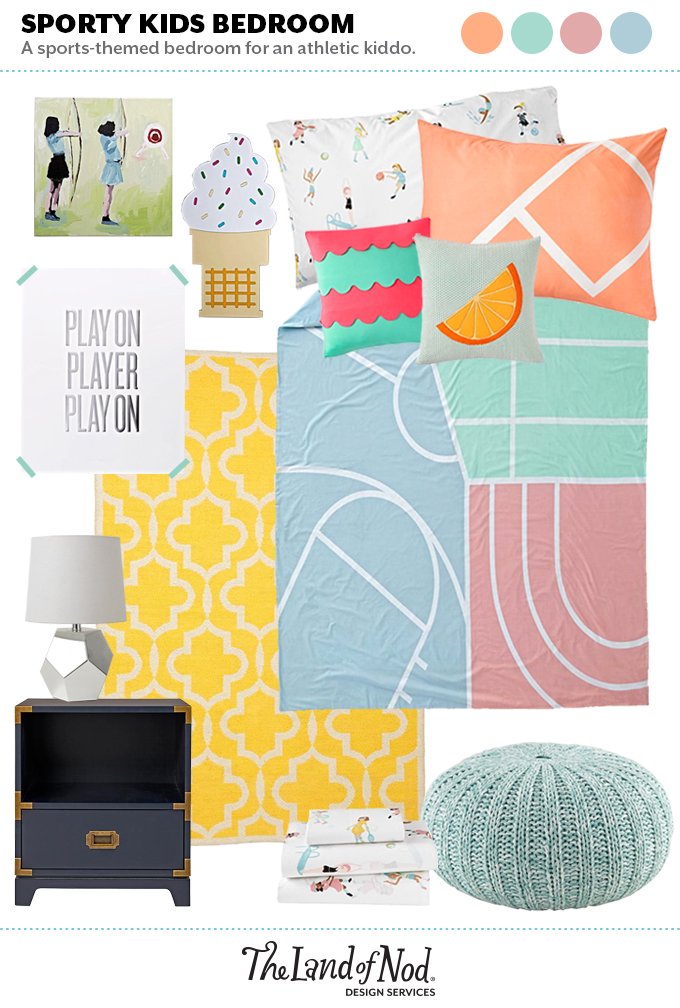 Playing off this all-star bedding collection is a snap. You don't have to get too matchy-matchy when pulling complimentary colors for furniture and décor. A bold navy campaign nightstand and acid yellow area rug are great teammates for a bright, youthful bedroom design. Round out the look with an ice cream cone decor and apropos typographic print and it's game, set, match!
Happy Styling!
Post by Stephanie Geurkink, Home Stylist from The Land of Nod's Design Services Team. Our Design Services team offers free one-on-one design advice, mood boards and space planning. You have a room to decorate? They'd love to hear from you. Visit The Land of Nod's Design Services page to get started today.