Post by Danielle Kurtz, Creative Director at The Land of Nod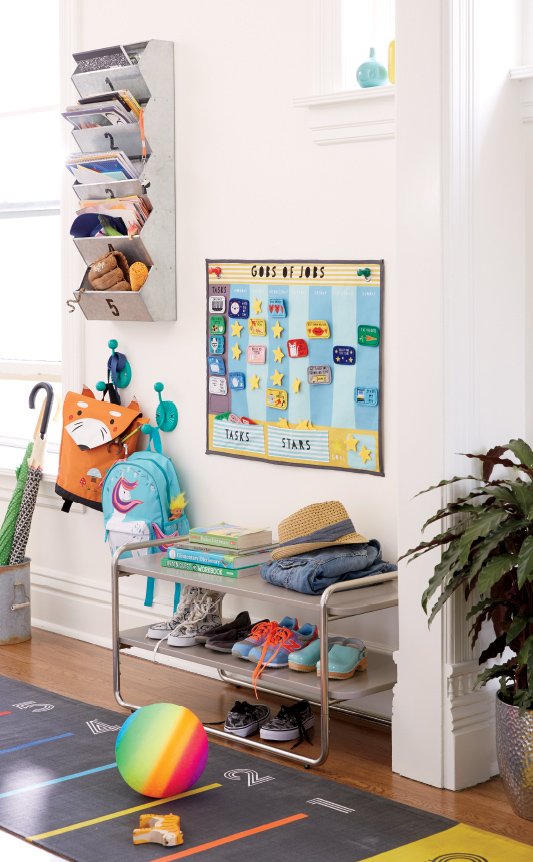 I am not a morning person. If I had my way I wouldn't have to speak to anyone for at least an hour after I wake up. That's not really an option when you have kids. Though, my kids are also not morning people, so they're pretty anti-social in the early hours, too. But, the problem is when you put three non-morning, pretty anti-social people together and make them get ready for work and school and out the door on time, well, it's often not pretty.
I've definitely found the only way to have a generally successful morning where I actually remember to do and pack all the things is to have a strictly regimented routine. I do ever single thing each morning in the exact same order, every day. (Wake up kids. Make breakfast. Shower. Remind kids to eat said breakfast. Comb hair. Get dressed. Remind kids again to eat the breakfast. And so on.) Sure it can feel a bit like Ground Hog's Day, but when I'm tired my brain just doesn't work, so I forget things like lunchboxes, water bottles, coffee, makeup, shoes…the list goes on and on. So, being organized is key.
To do this I recommend setting up a command center of some sort. This doesn't have to be anything fancy and you don't need a ton of space. You just need places for a few key items.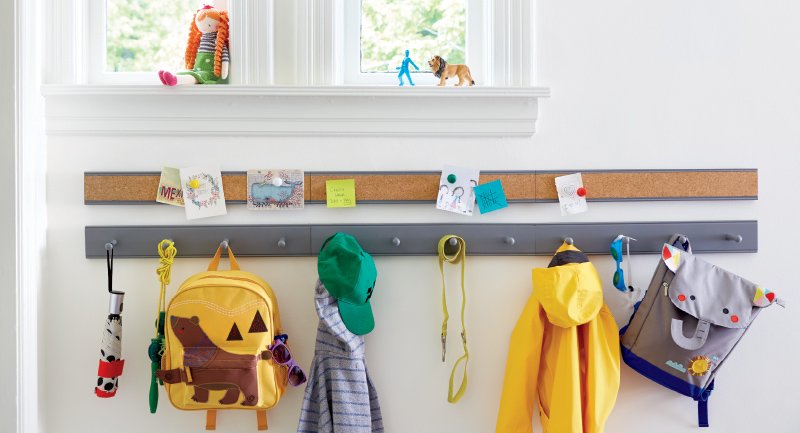 Hooks – Somewhere to hang backpacks, preferably a dedicated hook for each child. Then you're not scrambling around looking for backpacks as the bus approaches. You can also add in sweatshirts and jackets. If you have a 9 year old boy like mine, he'll lose EVERYTHING, constantly. We're on day 4 of school and he's already lost a water bottle…no joke.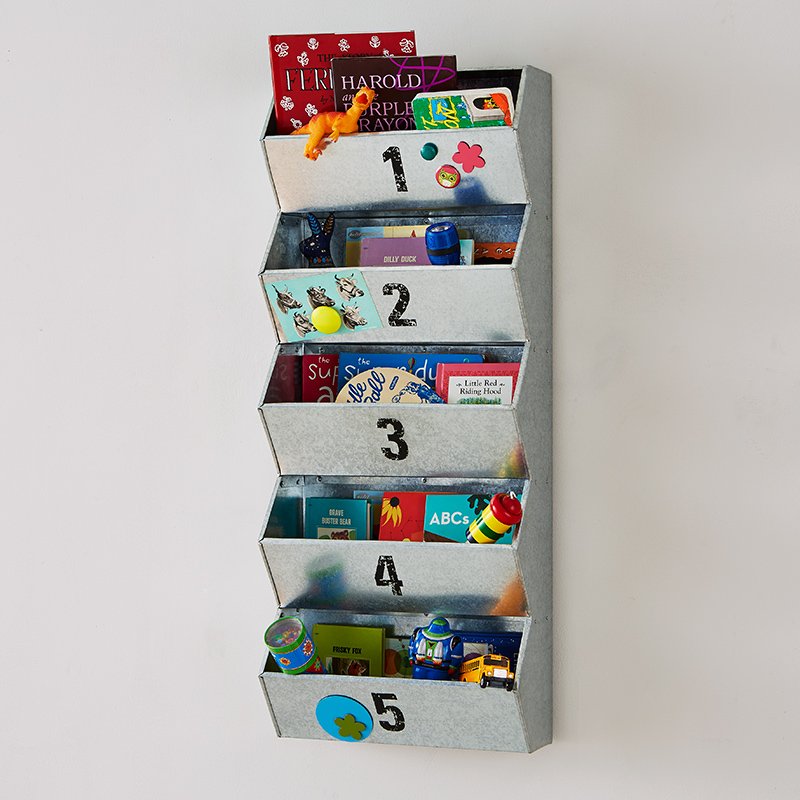 Bins – I think the thing about school that I was least prepared for was all the paperwork. It's really nuts how much comes home, has to go back or you need to hang onto. So, I've found it important to devise a system for documents. You can organize them by date, or just a keep-for-reference and read-sign-and-send-back pile. It's also convenient to keep this near your recycling bin because much of the paperwork just needs to be read, input into your google calendar and recycled.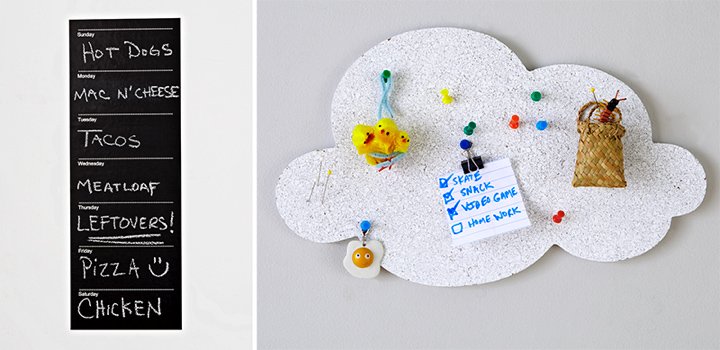 Message Center – This sounds fancy, but you really just need a good old-fashioned chalkboard or magnet board where you can jot down reminders. "Don't forget, sack lunch Wednesday for field trip." Or "Friday is a HALF DAY!!!" These may seem like things your ultra-organized brain will remember but trust me, when you're tired and arguing with your 6 year old about socks that "FEEL WEIRD!!!!" summoning your memory of school functions won't be that easy.
Forgiveness – I don't know how many days I've found myself driving to work having already felt all the feelings before 8am. No exaggeration, there have been days when I've broken into a sweat, cried and screamed all before my first sip of coffee. These aren't moments I'm proud of. And, if you know me, you know I'm typically a very calm…eerily calm at times…person. So, it takes a lot of energy for me to have all these emotions, it's definitely not the way to start a day. But, that's where the forgiveness comes in. It's not for your kids…they're tiny sociopaths in the morning, you just gotta roll with that and you obviously still love them for being the awesome, independent, pain in the necks that they are. It's yourself that you have to forgive. You're not perfect, you're human. You have limits. All you can do is forgive yourself and move forward. So buy yourself a giant coffee, do some yoga breathing and reboot your day. After all, there's always tomorrow to try again.
Danielle is the Creative Director at Nod and an over-protective mother of two. She's also completely obsessed with Pinterest, Twitter, Instagram and her Kindle, but not necessarily in that order. Danielle loves to craft, sew and crochet. Her current craft of choice is weaving tiny wall tapestries.