Post by Rachel, Nod's Brand Marketing Manager
We gave our Chicago store a bit of a makeover recently. It's filled with DIY hanging clouds! It's really perfect for us because we all like to have our heads in the clouds a bit. The end result is whimsical and dreamy. Best of all, it's easy to create yourself and would be the perfect addition to any kid's room.
See below for instructions on how to recreate the clouds yourself. Share your clouds with #landofnod!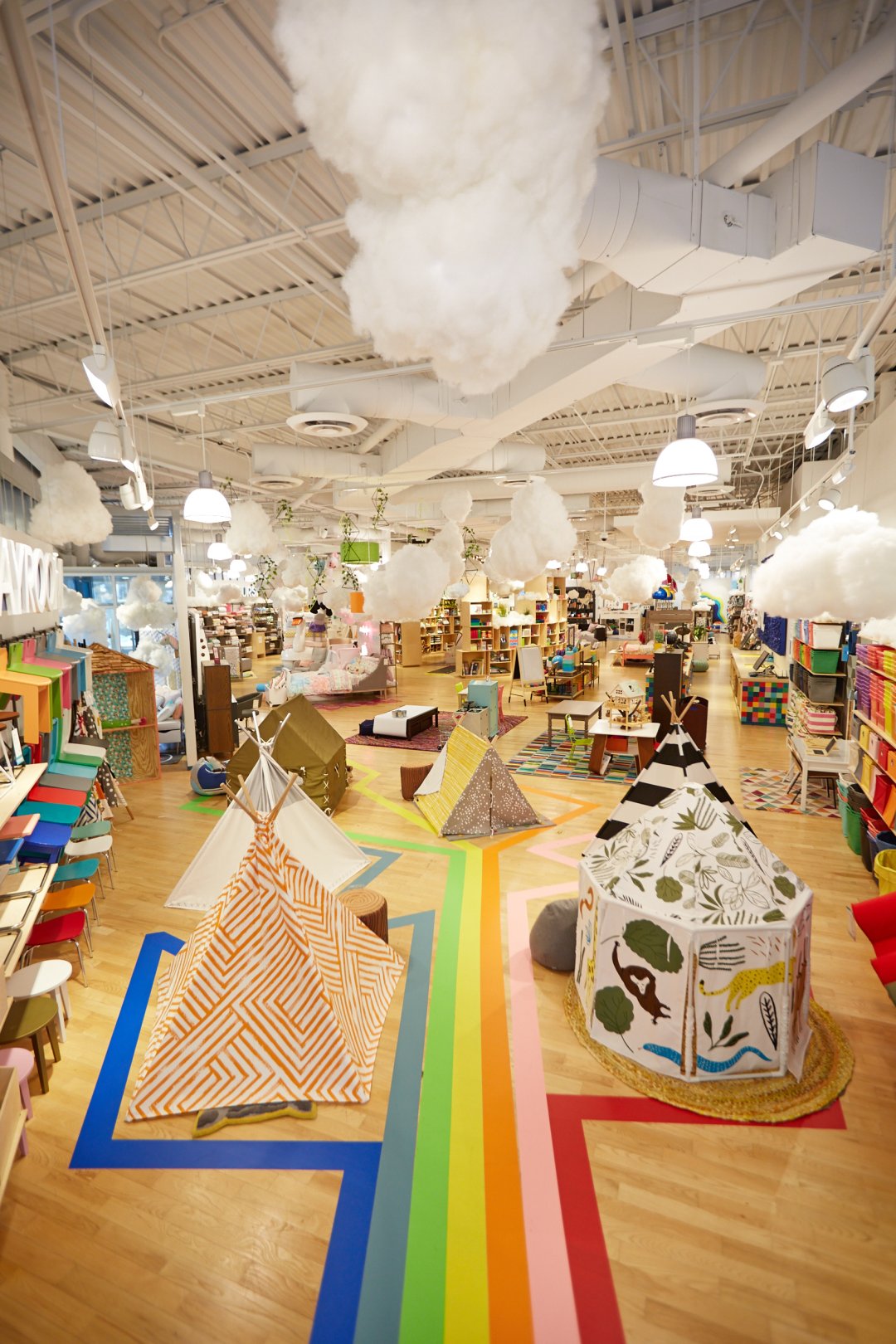 What You'll Need
Dowl Rods
Saw
Spray Adhesive
Fishing line
Ceiling hooks (you'll need two per cloud)
How to Make
Pick out 2-3 styrofoam balls that are different sizes. This will make the cloud have more dimension once it's done!
Place next to dowl rod to measure. If the dowl rod will stick out more than a few inches once styrofoam balls are placed on it, cut with a saw. (Tip: Most home improvement stores will cut the rods for you if you ask!)
Push dowl rods through the middle of the styrofoam balls. Use adhesive to secure styrofoam balls to dowl rods if it isn't secure.
Spray adhesive on 2-4 inch area of styrofoam ball. Place poly-fill on top. Repeat until styrofoam is covered.
Use spray adhesive and poly-fill to cover any cloud bald spots. (We're really scientific around here.)
Let dry for an hour or so.
Wrap fishing line around the cloud twice and tie. Don't worry, you won't see it when it's hung.
Attach fishing line to ties on cloud and hang from ceiling with a small knot.
Ever wonder who's behind The Land of Nod social media accounts? That's Rachel! When she's not telling anyone who will listen that she's not meant to live in cold, snowy Chicago, you will find Rachel hanging out with her husband and new baby and binge-watching Netflix after baby's bedtime. Or starting crafting projects that never get finished.