Post by Stephanie, Home Stylist from The Land of Nod's Design Services Team
Ready or not, summer is winding to a close. With the change in seasons comes the start of a new school year. For some, this means heading off to the scary and exciting world of college. Moving away from home for the first time can feel incredibly intimidating, so making this new space feel personal and comforting is all the more important.
Customizing what is typically a one-size-fits-all dorm space can be as easy as adding an area rug and curtains. Using a bold color or pattern for these items creates a high-impact look with minimal effort applied. Plus, these are items you can take with you when you move out at the end of the year.  Win win!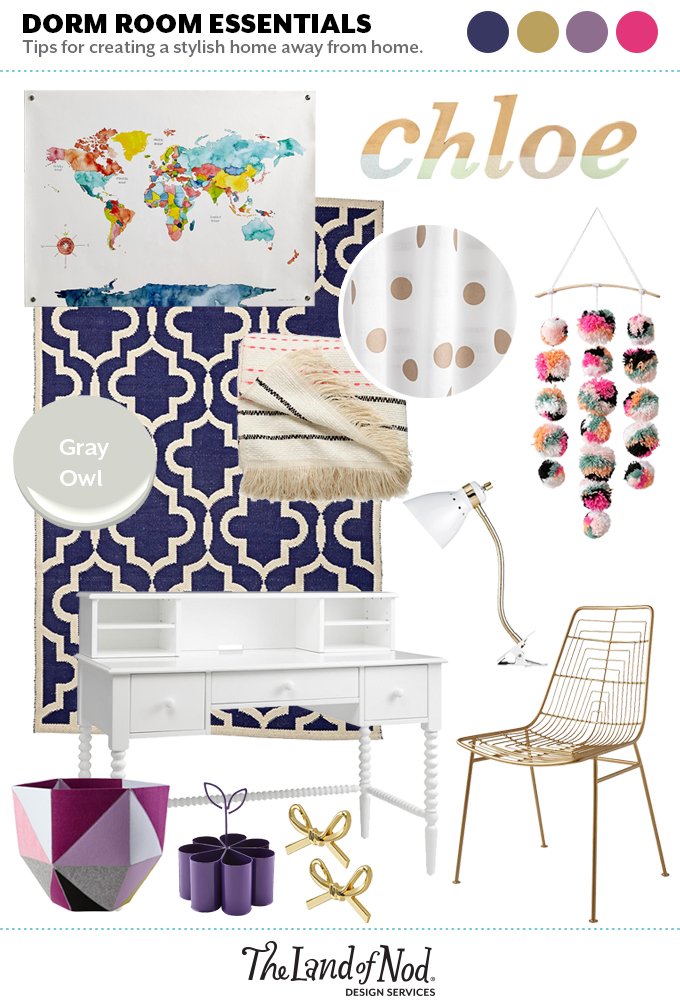 No dorm room is complete without a central command center for tackling any and all homework assignments. A clip-on desk lamp, pencil holder, and stylish desk chair are all definite must-haves. For a little personalization, try changing out drawer hardware with fun gold bow knobs and adding a personal moniker using Pattern Dipped wall letters. Before you go thinking mobiles are just for cribs, check out the bright yarn Pom Pom mobile, which can be a great opportunity to add a fun pop of color and texture to a loft bunk or near a window.
Saying goodbye to summer is never fun, but creating a stylish abode for the school year can make the transition just a little bit easier.
Happy Styling!
Post by Stephanie Geurkink, Home Stylist from The Land of Nod's Design Services Team. Our Design Services team offers free one-on-one design advice, mood boards and space planning. You have a room to decorate? They'd love to hear from you. Visit The Land of Nod's Design Services page to get started today.