Post by Stephanie, Home Stylist from The Land of Nod's Design Services Team
Whether you're designing a playroom, a big kids' bedroom, a toddler room, or a nursery, adding a little nautical style is always a great idea. With endless amount of complimentary pattern and color combinations, it's a theme that won't feel too age or gender specific. You can easily use furniture and décor to grow along with your kiddo's ever-developing personality.
Who would have thought that a buffalo check beanbag chair could look even more awesome when paired with a rope patterned rug? Or that a pop of highlighter yellow would be just the right accent color for a wood and metal bookshelf? These unexpected product pairings go a long way toward making a nautical room design feel fresh and inspiring. For an added touch of whimsy, why not add a soft, friendly Ride On Llama buddy for your kiddo to take on adventures?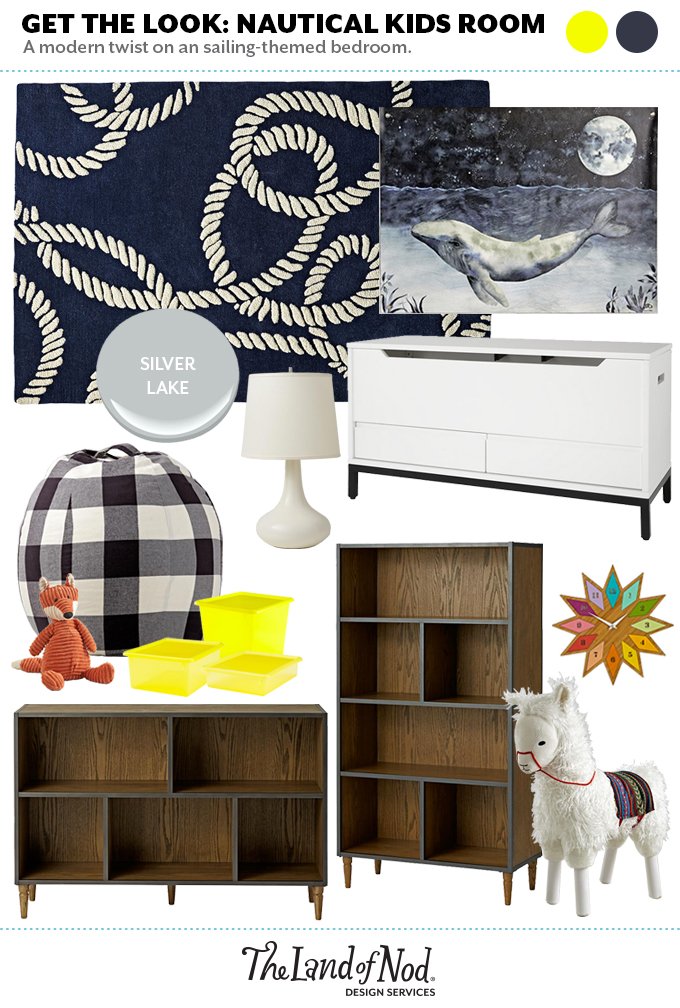 Wall paint is a very important decision for your room design. If you're looking for something that can get you from nursery to big kid bedroom, stick with a neutral hue. You can always bring in brighter accent colors through wall art, throw pillows, and bedding. Giving yourself a flexible base color means more time between paint projects. What's not to love about that?
Happy Styling!
Post by Stephanie Geurkink, Home Stylist from The Land of Nod's Design Services Team. Our Design Services team offers free one-on-one design advice, mood boards and space planning. You have a room to decorate? They'd love to hear from you. Visit The Land of Nod's Design Services page to get started today.