Post by Stephanie, Home Stylist from The Land of Nod's Design Services Team
From twice daily toothbrushings to bedtime baths and everything in between, your kiddo's bathroom sees a fair amount of regular traffic. It only makes sense that this space should have a little extra special styling of its own. To help get your creative wheels turning, here's a quick round-up of essentials for creating a fun and functional bathtime experience for your tiny human.
First and foremost, storage is a big must-have for any bathroom. This includes wall hooks for hanging bathrobes and towels, baskets for tucking away any smaller toiletries, and shelving for keeping the chaos organized. Obviously, not every bathroom has the square footage to support additional furniture, so I recommend utilizing vertical space where possible. Acrylic or white furniture is also ideal for making a tight space feel less crowded. The Cubic Bookcase or Block Tower Acrylic Bookcase make for perfect storage options if you have the space. Otherwise, the wall mounted Now You See It shelf or the Cubby Cube wall shelves are excellent alternatives for smaller bathrooms.
A shower curtain, bathmat, and towels are the primary decorative elements in a bathroom, so it is important that they compliment each other. I recommend letting the shower curtain take the lead in deciding the look for the space, since it often takes up the entirety of one of the four walls in the room. The shower curtain presents a great opportunity to explore colors and patterns you might have otherwise considered in a wall treatment. You can go with a simple, neutral pattern, like the Stripe and Dot Shower Curtain, or opt for something big and bold, like the Rave Rainbow Shower Curtain.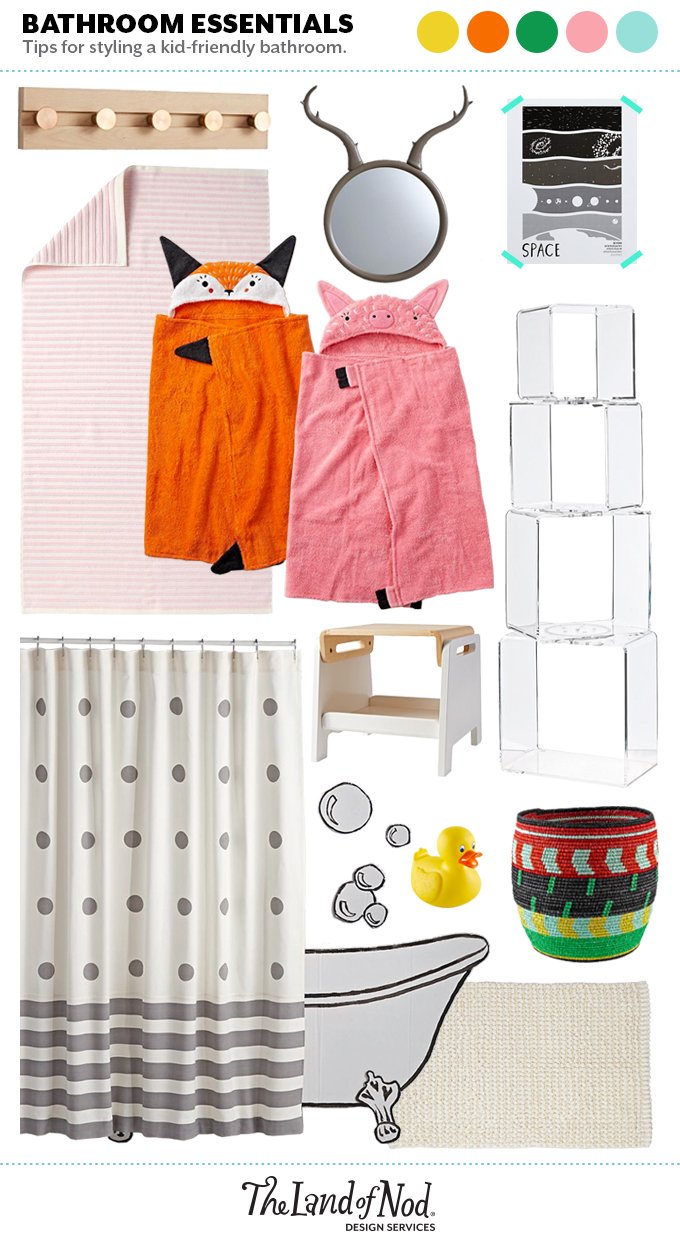 Lastly, no bathroom is complete without some wall décor. While the obvious choice would be an aquatic-related theme, why not aim for the unexpected? I love the idea of introducing a space or woodland motif (or both!), but if antlers and planets aren't your jam, maybe zoo animals and geography are! There's really no wrong combination, so be open to exploring a variety of decorative elements that fit your kiddo's unique personality.
Happy Styling!
Post by Stephanie Geurkink, Home Stylist & Event Planner  from The Land of Nod's Design Services Team. Our Design Services team offers free one-on-one design advice, mood boards and space planning. You have a room to decorate? They'd love to hear from you. Visit The Land of Nod's Design Services page to get started today.