Interview with Ashley Goldberg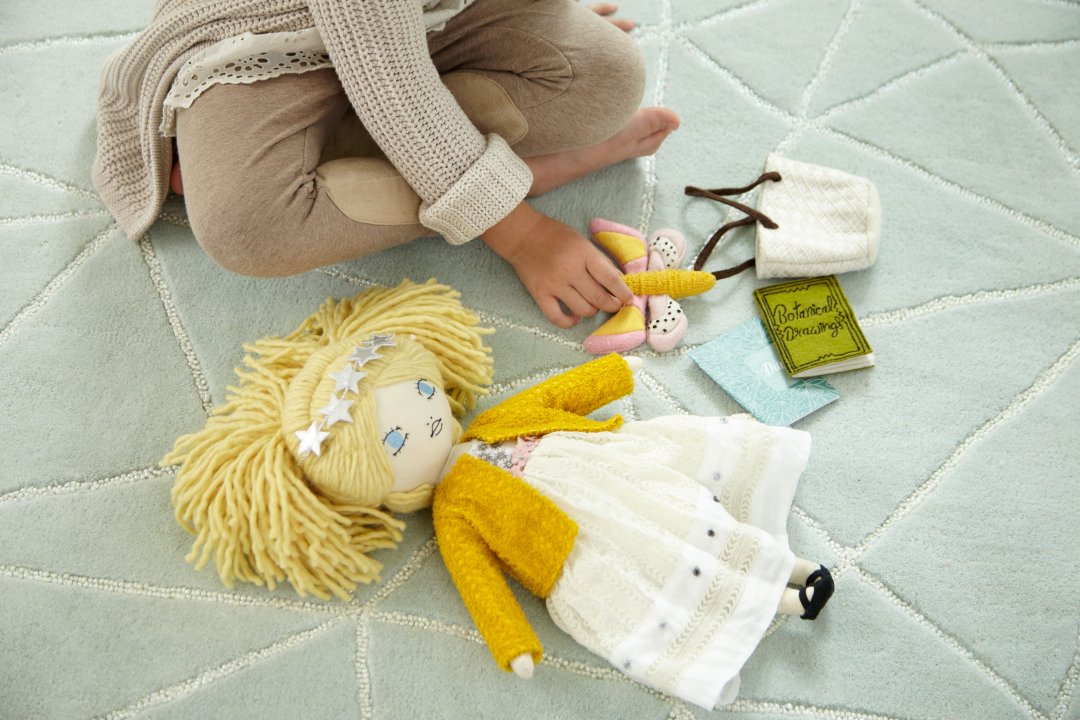 We're thrilled to introduce our Friend Indeed Dolls. With their own unique style, each one is a reminder for kids to be themselves and to never be afraid of standing out. Over the next few days, we'll be sharing what makes each doll unique. We encourage you to share what makes your kids unique using the hashtag #youaremagic.
We're kicking off our Friend Indeed series with an interview with Ashley Goldberg, who collaborated with Nod to create the Friend Indeed dolls. Read on to learn how the dolls came to be and see her answer to the question, "If you had an entire day to do whatever you wanted, what would you do?"
How did the idea for fashion dolls come about?
A few years ago, I designed pillows with cartoon girls on them for Nod. The pillows were successful and Seana, Land of Nod's product design manager, asked if I wanted to take the characters one step further and design a doll. I don't think she had the question fully out before I said "YES!". As I began to sketch the doll and develop her personality, I was really torn about which direction to take her. There were several distinct personalities and styles I was interested in. I talked it over with Seana and she thought the answer was to develop a group of dolls. It came together pretty seamlessly after that.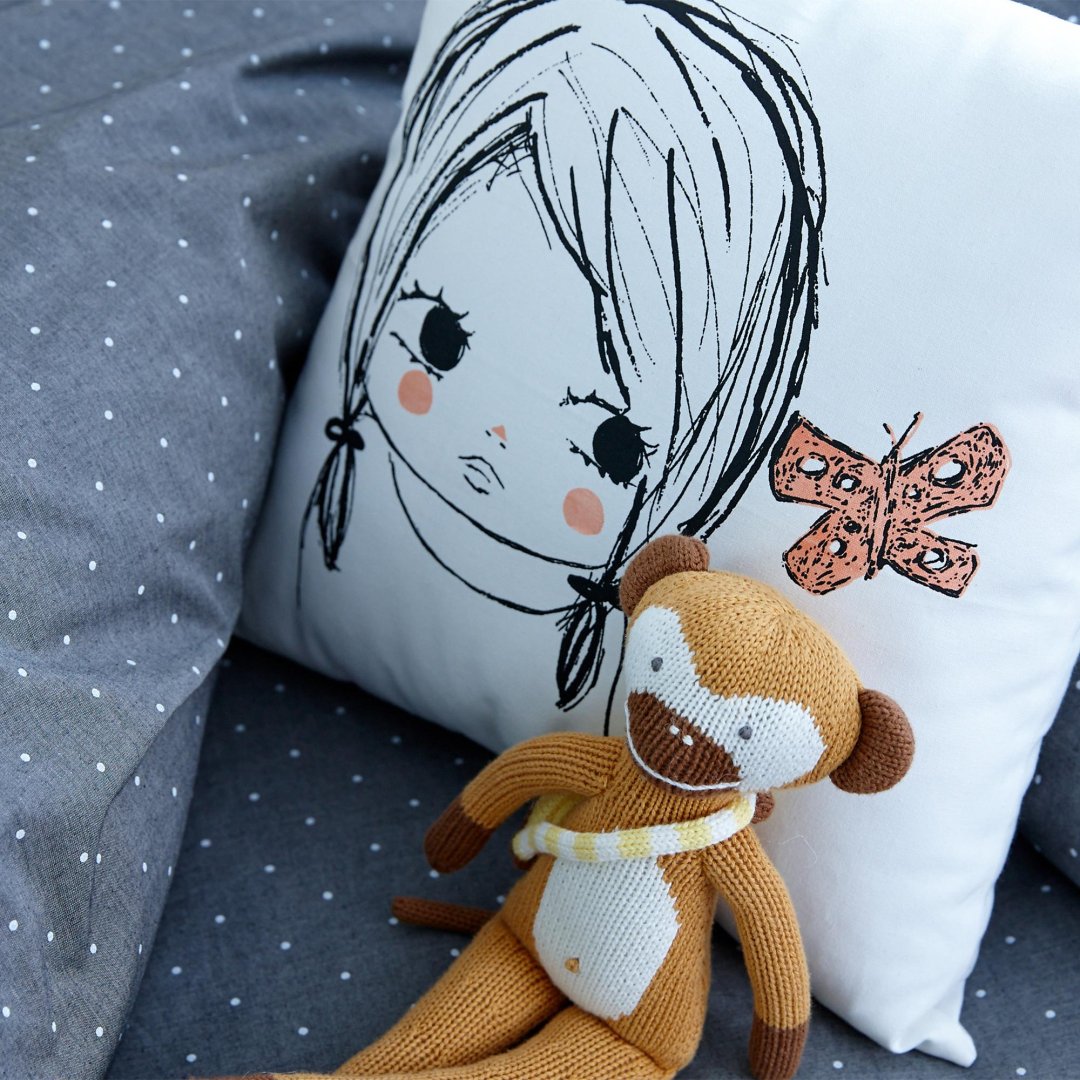 I think it's important to mention that the approach to the dolls was thoughtful and deliberate. Of course I wanted to create dolls that kids would love at first sight. But I also wanted to create a doll that was different from the other dolls that someone already has in their home. The Friend Indeed dolls are fashion dolls. However, their bodies were not made to be aspirational. Their bodies are the bodies of an average girl. The dolls aren't high school girls. They are girls in middle school, the most uncomfortable time in childhood for most of us. Despite this, Charlotte, Charlie, Gemma, and Lydia are all confident, expressive, supportive, and empowered while being complete individuals. It was our priority and responsibility to make sure we were designing dolls that sent a positive and empowering message.
How did you create the doll personas?
Instead of thinking of the dolls as just dolls, I thought of them as literary characters. I wanted to create fully dimensional and nuanced personalities. Somewhere in the process, I casually asked Seana what she thought Gemma's favorite dessert would be. Without hesitation she answered "salt water taffy" to which I responded, "I think that would be her favorite candy." That interaction left me grinning from ear to ear. I was so satisfied that my question wasn't met with "what? I don't know". We weren't including their favorite desserts anywhere. It was that each girl had been developed enough that you could answer that question. Certainly not everyone has to agree what that answer is as we want a lot of room for imaginative play. But that you *could* answer that question was crucial to me.
I pulled from my own personality, since we all have so many different sides to ourselves. I pulled a lot from friends I have known from the time we were little girls and now I see the women they have become.
As a society, the change of seasons effects us all so much. Our wardrobes, activities, state of mind. I think we are a different version of ourselves each season. We all have a favorite season and I believe we are usually our best selves during it. When I started designing the group of friends, I immediately divided the girls by seasons. Gemma is spring. Charlie is summer. Lydia is fall. Charlotte is winter. That was one of my favorite and most helpful ways to develop them in different directions.
Is there a doll that is close to your personality and interests?
I think I am closest in personality to Lydia followed by Gemma. And I admire a lot of the traits of Charlotte and Charlie. My love of animals, drawing, and fall is all Lydia. I love old things and am introverted like Gemma. I love Charlotte's leadership skills and Charlie's fearlessness in showing up and putting herself out there.
Why was it important to make each doll unique?
It was important because each child that plays with the dolls is as unique as the dolls are. Four dolls are not enough to represent all the diversity and uniqueness of every girl out there. But it was important for each of the dolls to have a different backstory, personality, skin tone, hair, and style. Coming together as a group that cheers each other on while celebrating each of their uniqueness is what the Friend Indeed dolls are all about.
When you were little, you always wanted to make your own dolls. Talk about that and how creating these dolls for Nod helped fulfill a childhood dream.
My artwork has always been about visual storytelling. I have drawn little girl characters since I first could draw. Drawings of girls and little creatures were the first art prints I sold that launched my career. My drawings have always been more characters than drawings, so making them three dimensional is something I have been waiting for since I was a little girl.
When I was little, I hated when my cartoons ended. And I wanted to find a way to make it more interactive. I always watched cartoons while drawing characters in the show, and characters who I thought should be in the show. Then when the show ended, I would create a little spinoff cartoon with the characters that I drew. I could lose hours doing that. I loved developing characters and I loved story telling
Dolls, stuffed animals, and make-believe were what my childhood was made of. We were on a tight budget so if I had a doll, I never had any additional outfits for her. I spent so much time making clothes for them from toilet paper and tape. Toilet paper simulated cloth much better then paper. I could make skirts and ballgowns, and a whole lot of arm and leg casts. When we went camping I made sleeping bags out of socks and my stuffed animals would wear them attached to their backs with two rubber bands.
I have never loved sewing. But I wanted to create dolls so much that I did it anyways. Early in my career, I sewed and sold dolls through my Etsy shop.
Every individual has something unique and special to offer the world. Their own type of magic. What traits and talents that you possess make you the most proud?
I am most proud of my tenacity. It's very reassuring for me to know I will always keep showing up and I will always keep trying.
As a child, what did you want to be when you grew up?
I think the official list from when I was a kid was artist, actress, professional animal petter, children's book writer, archaeologist, something in political science, product designer (although I didn't have a name for it). I'm glad a few of those have worked out  😉 And I hope my work makes the world a little more beautiful and people a little more happy.
What's your favorite season and why?
Fall. I have ALWAYS felt the most creative and productive in fall. I love overcast skies and how small and cozy it makes the world feel. I love the leaves changing and the smell of fires. Spring is a *very* close second, but fall will have my heart forever.
If you had an entire day to do anything you wanted, what would it be?
I'm with Gemma on this one. Spending time with my favorite people is my absolute favorite thing. I think I get on a plane with my husband and dog and fly from Portland to St. Louis to spend time with my family and life-long friends.
What's your all-time favorite food?
Vegetable korma or (and this is very specific) pasta con broccoli as made by The Pasta House in St. Louis. It's just so good.
———-