Post by Stephanie, Home Stylist from The Land of Nod's Design Services Team
There is something about styling a boy's bedroom that feels like there aren't really any rules. So long as there is a cohesive color palette, pretty much any motif is welcome to the party. Take, for example, designing a room with a transportation theme. The overall "transportation" moment can be expressed simply through a fun quilt and sheet pattern, like the Traffic Jam bedding set, while the supporting décor is free to take on any form that fits your kiddo's personality. Does your little dude also love space? Why not add a fun planetary wall decal!
A floor pouf in a boy's bedroom is a must for lounging around with pals after school. Sure, a standard option like a blue or yellow braided pouf would do the job, but a taco pouf just seems like much more fun, right? I mean, who doesn't love tacos?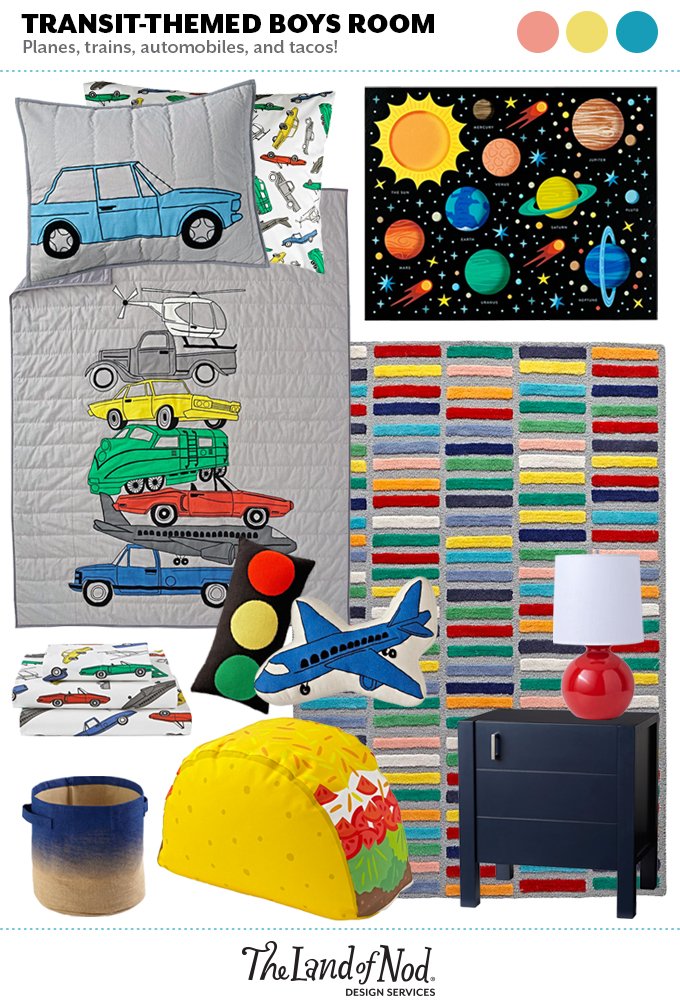 Whatever the theme is for your kid's room, remember to have fun and not to worry about making every detail match perfectly. Building a little variety into your room design will leave opportunities open for any new interests your kiddo discovers down the road.
Happy Styling!
Post by Stephanie Geurkink, Home Stylist from The Land of Nod's Design Services Team. Our Design Services team offers free one-on-one design advice, mood boards and space planning. You have a room to decorate? They'd love to hear from you. Visit The Land of Nod's Design Services page to get started today.