Post by Michelle of Avery & Augustine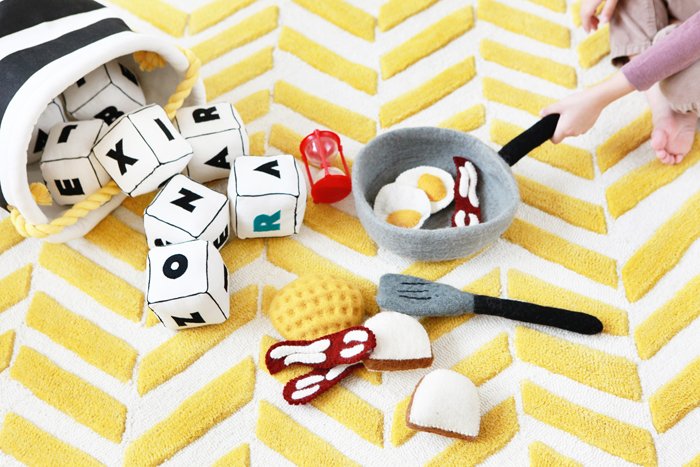 If you've got an emerging reader in the house, the letter scramble game is perfect for practicing spelling those first simple words that your child is learning to read.
When your child is in the early reading stages, providing reading practice and literacy experiences in different formats—pointing out print in the environment, practicing writing words together, drawing pictures about the stories you've read, making up stories together and writing them down—is so important.  Also, repetition is one of the keys to learning to read and that's why reading the same books over and over again is so beneficial to your beginning reader.  It's also a great idea to play word games when you can since children learn better when they are having fun and are engaged.
You can pair the letter scramble game with other toys or objects around the house to practice spelling the corresponding words.  Here are some ideas:
1. Spell a word using the blocks out but leave out the first letter.  Say the word, emphasizing the first sound and have your child find the first letter of the word to complete it.  To make the task more difficult, do the same with the last sound in the word, then try it with the middle sound in the word.
2. Put out an object.  Say all the sounds in the name of the object slowly (e.g., p – a – n) and have your child find the letter that corresponds with each sound that you say, in order to spell out the word.
3. Put all the objects in the bin.  Secretly choose an object.  Say all the sounds in the name of the object slowly (e.g., s – p – oo – n).  Have your child listen carefully, try to guess the word and pull the corresponding object out of the bin.  Repeat the sounds in the name of the object as much as needed.
Another fun game for when your child has learned a good amount of simple words is to set the sand timer and see how many different words your child can make before time runs out!
Teaching your child to read is a wondrous and incredibly rewarding journey and one that you'll likely never forget.  Watching words come alive for your children as they put sounds together and begin to read is one of the most amazing things to witness.  Have fun with it and enjoy the process!
You can see Michelle's work and read about her two young children and their first forays in cooking, art and everything in between at Avery and Augustine.