Post by Jeran of Oleander + Palm
Hi there, it's Jeran from Oleander + Palm. I'm excited to share with you a room from our new (very old) house.  We just moved 2 months ago into our new house.  It's a very fabulous 1918 2-story Craftsman with large living areas, original built-ins and hardwood floors throughout. One of the first rooms I tackled was the upstairs bathroom, which is the kid's bathroom.  The kid's bedrooms are both upstairs. the girls have one room and my son has the other. And yes, my daughters (ages 15 and 5) still share a bedroom (you may recall their room from our previous house).
This bathroom needed a little refresh. The tile and fixtures are all in pretty good condition, but there was some very dated wallpaper and wallpaper border and no shower (that was a biggy – 2 teenagers need to have a shower they can use).  There was a nice big bathtub, so to avoid major construction and remodeling, we opted to add a simple shower curtain surround and retro-fit the existing hand-held shower nozzle to the shower curtain.
I also stripped all the wall paper and gave all the trim, walls and cabinets a fresh coat of white paint. I kept with the black and white theme, but to give the room a little life, we added some fun accessories for The Land of Nod.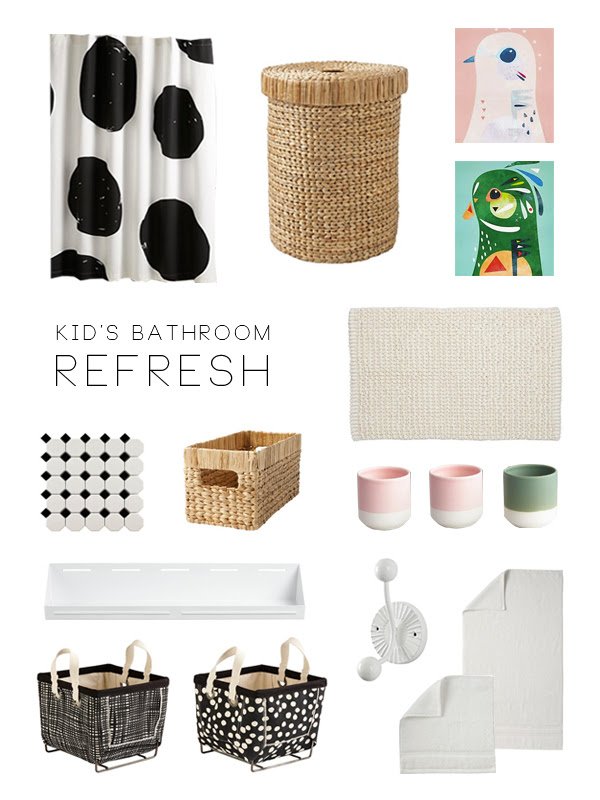 Here's are look at the room before. Beautiful tile, cute windows, but really terrible toile wallpaper. Fresh white paint also gave the trim and cabinets a fresh new look.  The grey/tan they were painted felt dingy and worn.
Instead of towel bars, we decided to add a big hook for each kid's towel. They save space and everyone has their own hook.
I brought in an old dresser to serve as a linen cupboard. Extra towels, sheets and blankets are stored in it. Baskets on top hold regularly uses washcloths and hand towels for quick and easy access.
Above the small dresser I hung one of our favorite paintings that we bought in Rome and a little shelf (which I painted black) to hold a few little plants.
I added color in just a couple strategic places. And these adorable bird prints were perfect for the little wall space between the door and the mirror.
Every mom's dream is floors in bedrooms and bathrooms that aren't littered with dirty clothes. A big laundry hamper right beside the shower helps encourage kiddos to pick up the dirties and throw them in the basket.
Because the room was mostly white on white, I decided to give the windows a little definition by painting the frames black. It made such a huge difference. I also added simple black knobs to all the cupboard doors and drawers. This room is really so bright and airy, so I added a couple hanging plants because I knew they'd love being in front of this window.
And to tie all the black and white together and keep the space playful and young, this giant black polka-dot shower curtain did the trick.
A former elementary school teacher, Jeran has added her unique voice to the modern maker culture through her blog, Oleander + Palm.  Now a mother of three, settled in sunny California,  her focus is Simple California Living: designing and making livable spaces that incorporate vintage finds, handmade/DIY pieces and global inspiration. She loves helping people find attainable beauty in the lives they live.