Post by Rebecca of Not-So-SAHM
When I read Ashley Goldberg's post on Honest to Nod about how she collaborated to create the new Friend Indeed Dolls, I was smitten. I love the idea of giving kids fashion dolls with distinct personalities that encourage kids to be their unique selves. The Charlie doll looked so right up Cam's alley — fashionable, but funky. Into roller skating, stuffed animals, and music. Plus, aqua hair. Cami has been after me to dye her hair for forever and we've occasionally added a few pink strands in the summer. But I took this opportunity to help her go a bit bolder — at least temporarily.
With the help of a few colors of hair chalk, we gave Cam some spirals of bright colors that would make Charlie proud.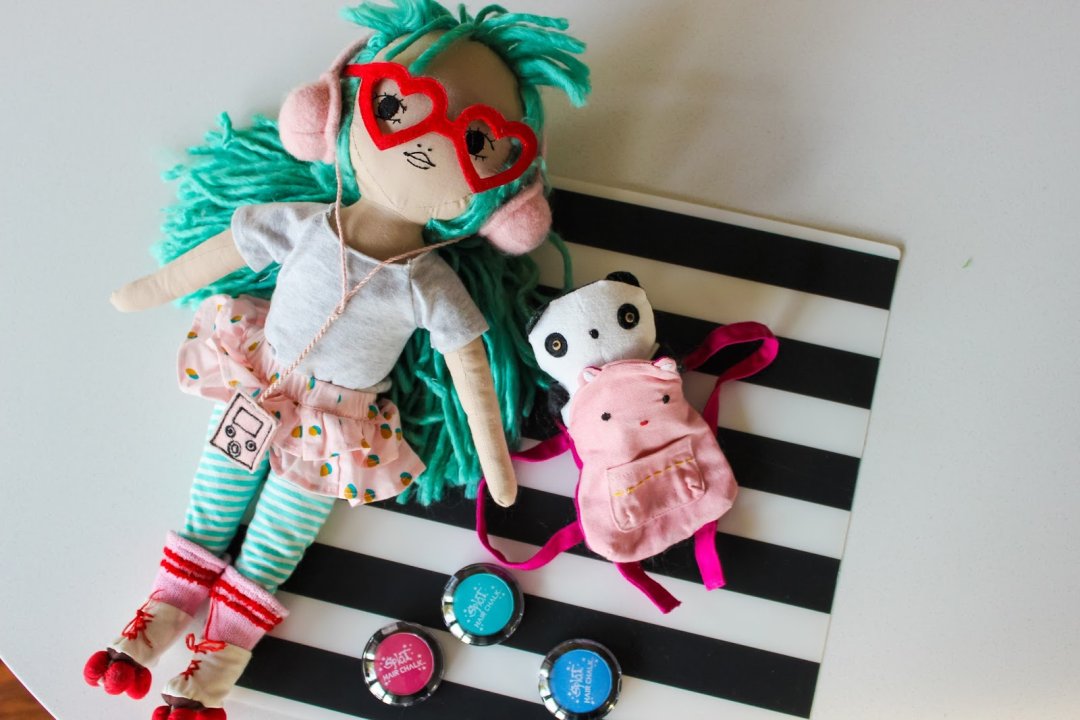 Here's what we used: 
Directions:
 I used the setting spray and my wavy curling wand to create loose wavy curls in Cami's hair. This isn't a necessary step, but I've found that the colors just look better on waves. If you don't have a curling wand, you can try it with a curling iron or simply braid wet hair the night before and shake out more mermaid-like waves the next day.
 Next, spray a curly section again with setting spray (hair spray works too, I just happened to have the setting spray).

Hold the hair chalk pod and pull it down the length of the strand, holding the strand on top of the pod with your thumb. Repeat until you get the desired amount of color on the strand. Do the same with the other colors until you've added as much as you want.
Then spray again with setting spray or hair spray. Boom. Rainbow hair until the next wash!
p.s. the chalk does rub off a bit if you don't really spray it well. It came off of everything easily, but you probably wouldn't want to do this right before letting your kiddo cuddle up on your new white couch.
Rebecca is a mom to two young kiddos and, in her spare time (ha!), likes to pretend she's a back-up dancer, craft cocktails, and run long distances. A relatively recent SAHM, she blogs family-friendly activities, DIYs and celebration fun at Not-So-SAHM.