Post by PJ of A Girl Named PJ
Hi, it's PJ from A Girl Named PJ, and I have an important question: What do you do when your child wants his bedroom to be a shrine to his favorite NFL team but you want it to still be a stylish space for him to sleep, work, and play?
That's the dilemma my best friend recently faced when she decided to redecorate her son's bedroom for his sixth birthday. Her goal was to give his room a big boy makeover with modern furnishings and decor that could last him into his teens, while her son was pushing for a Buffalo Bills-themed bedroom.
A compromise was in order. My BFF wasn't interested in investing in excessive team paraphernalia and football-shaped everything that her son might get sick of in a year or two. And I get it. I wouldn't be either! (Maybe that's why we're best friends.)
Luckily, it's possible to create an NFL-inspired room without going the whole nine yards — or 53.33 yards, if we're talking about a football field. Since my friend knew she wanted to paint her son's room (the walls were a toddler-appropriate yellow), she started by browsing official paint colors on Glidden. She wasn't about to use Midnight Blue or Red on the walls, two of the three team colors of the Buffalo Bills, but Nickel, the third, was a nice and neutral choice. She decided to paint the walls grey and add a few dark blue and red pieces to complement her son's brown wooden dresser.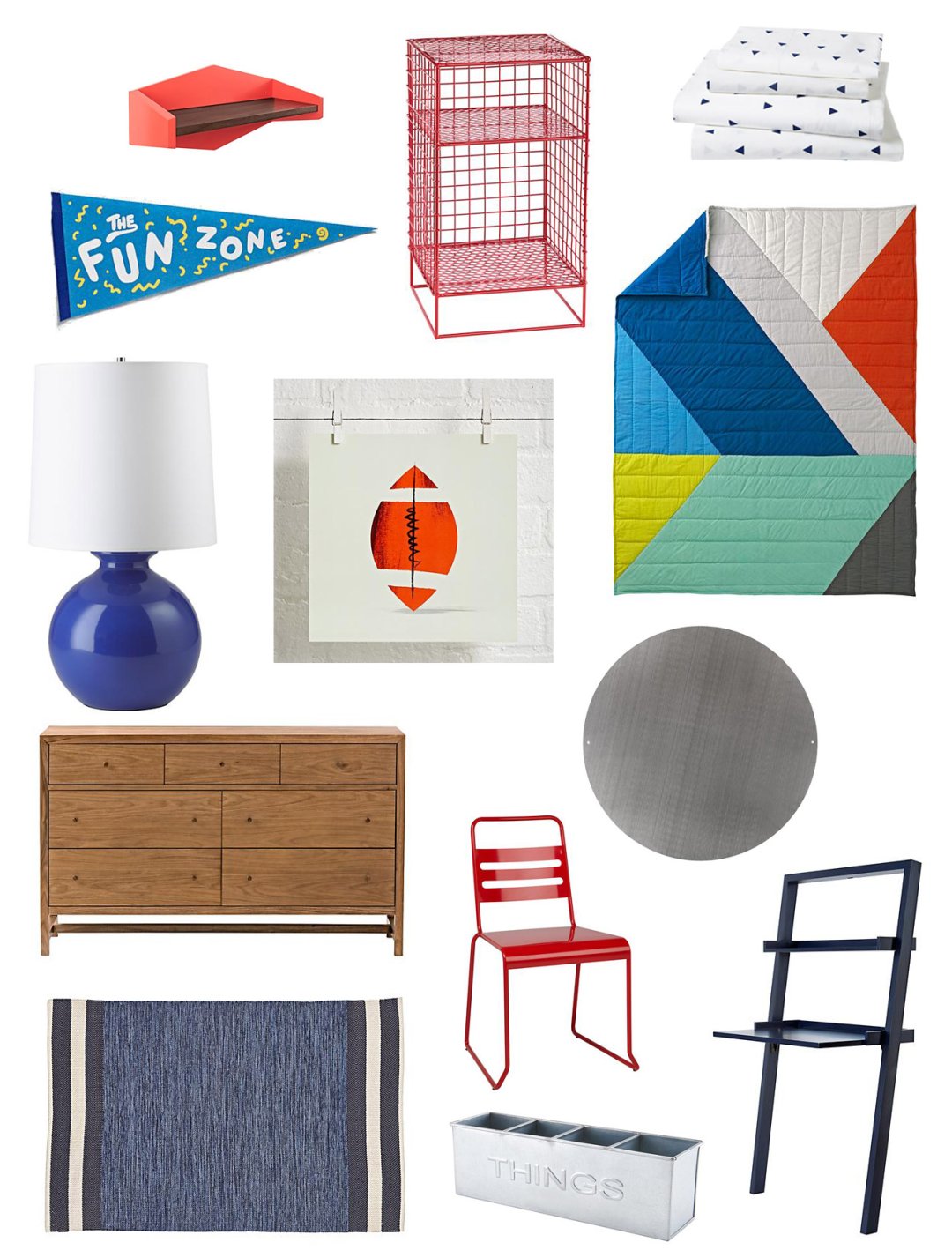 Of course, not all teams have such conservative colors. The team colors of the Minnesota Vikings, for example, might work better as accents rather than the color of the walls or the furniture. I'm not sure how many young football fans would be thrilled to live in a Dark Gold-painted bedroom, and I'm guessing a Fleshtone or Purple desk or dresser would get real old real fast!
Next, my best friend added a few select football-themed accessories. Playful pennants, pigskin artwork, and posters of players are an easy way to bring on the team spirit, and small shelves are the perfect place for her son's memorabilia. And when her he turns his attention this spring from the Bills to the Yankees? My friend can hang a baseball print and bring in some bobbleheads to transform the football-inspired room to a baseball-inspired one instead. The best part about her son's new bedroom is that the furniture and accessories will work no matter what sports or hobbies he decides to pursue down the road. I call that a win-win!
PJ Feinstein is the author of A Girl Named PJ, a lifestyle blog offering fashion and beauty tips, design inspiration, commentary on pop culture, thoughts on personal growth, and honest talk about motherhood. She lives just outside Washington, DC, with her husband, two young sons, and stubborn (but adorable!) small white dog.