Post by Stephanie, Home Stylist from the Land of Nod's Design Services Team
Far and away, my favorite design projects are the ones I get to put together for my Nod family. When my teammate Donna needed help putting together some ideas for turning her 12-year-old daughter Maddie's shared bedroom into her own private tween hang out space, I couldn't wait to get started making her room feel personal and special.
To help give me some direction for the new design, Donna gave me some insight into Maddie's personality and interests. Turns out, Maddie is a gal after my own heart. She loves baking and is obsessed with the show Cake Boss. She considers herself to be a bit Bohemian, and is far too laid back to be a girl who follows whatever is trendy.  Maddie loves gymnastics, science (specifically astronomy) and has a heart for dolphins and Beluga whales (the Blackfish documentary is one of her favorite movies). For a color scheme, she requested either mint or aqua (she couldn't decide which she wanted more for her new room).
Armed with this information, I set about putting together a Pinterest board with product recommendations. I also thought a moodboard showing a few of the major bedding and décor suggestions would help Maddie and Donna visualize how the new items would look paired together.

From here, we took the design one step further. Donna sent me room measurements and photos of Maddie's bedroom so that I could create a floor plan layout and 3D renderings of the new design. These additional design components are a great way to preview the new look and make sure the furniture recommendations will actually fit in the space. It also makes it easier for Donna to know where to hang wall art, which is often a huge design challenge.
I am not normally a fan of pushing all of the furniture in a space up against the wall, but this layout gave Maddie ample space to lounge, craft, and play with her toys.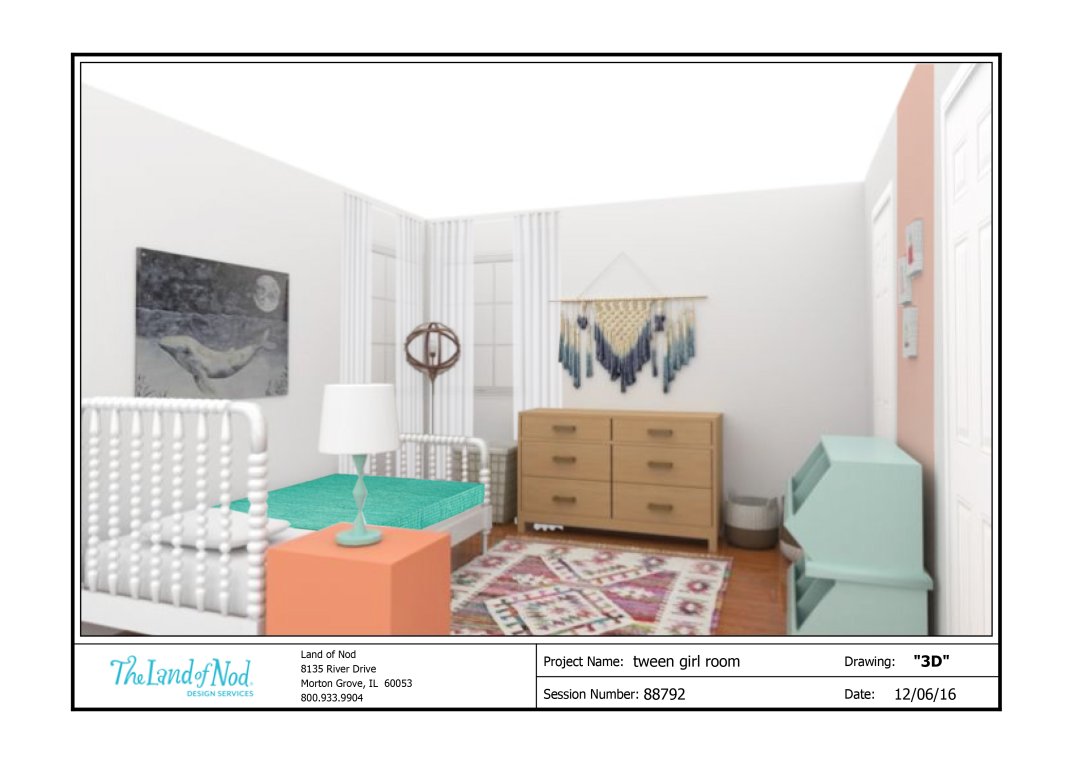 The Watercolor Whale Night Banner felt so perfect for Maddie's room, as did the set of three Sweet Treats canvas prints. One of my favorite décor items was the spunky Hello Throw pillow, which added an unexpected pop of blue to tie in with the over-sized Color Dipped Weaving.
As if moving out of a shared bedroom and into her own space wasn't exciting enough, now Maddie can look forward to having a big kid bedroom that has been custom designed just for her.
Post by Stephanie Geurkink, Home Stylist & Event Planner  from The Land of Nod's Design Services Team. Our Design Services team offers free one-on-one design advice, mood boards and space planning. You have a room to decorate? They'd love to hear from you. Visit The Land of Nod's Design Services page to get started today.