Post by Lunches + Littles
If you are a parent, you have probably fought a battle (or two!) centered on meal time. Little eaters are often picky eaters, but they don't have to be. Did you know that simple changes in presentation can often turn boring food into fun food? It's true! And fun meals can be key to introducing new foods to some of the youngest little foodies. Read on to discover 5 tips that will help you make meals a bit more fun and get your little ones eating better!
1. Invest in Fun (and Quality!) Tableware
This is where it all starts. When a little one is presented with a meal, I believe that they instantly judge what is in front of them based on how it looks. We all do this, but as adults we know that sometimes foods that don't look appetizing really are, and that things that look really good aren't always healthy. But, little ones don't have that same knowledge, so they judge things at face value. This is why I think parents (especially those of picky eaters) need to present food to their little ones in a fun and inviting way. And that starts with the tableware you choose.
Have you ever heard of ezpz? They are the creators of the Happy Mat, Happy Bowl and most recently the Mini Mat. All ezpz products feature an all-in-one placemat plus plate or bowl, made from high quality silicone. The mats suction directly to the table, making it difficult for little ones to tip, lift or toss. Less mess = less stress for parents, and with the bright colors and fun faces you can easily make meals fun for little ones. If you have a picky eater or just want to make mealtime a little more inviting, consider investing in fun, quality tableware such as ezpz products.

2. Get Creative
I have found that a little extra prep time and creativity in the kitchen goes a long way when it is time to eat. If your little one thinks greens are gross, what about spiraling some zucchini into zoodles? (This works well with butternut squash as well; see recipe below). Or, let's say your picky eater won't eat carrots, what about making some carrot fries? There are all sorts of ways to make ordinary foods extraordinary without changing the core ingredients. With three little ones (all under 3-years-old!) I have become a bit of magician in the kitchen; I can get my kiddos to choose zoodles over regular pasta every time! And so can you!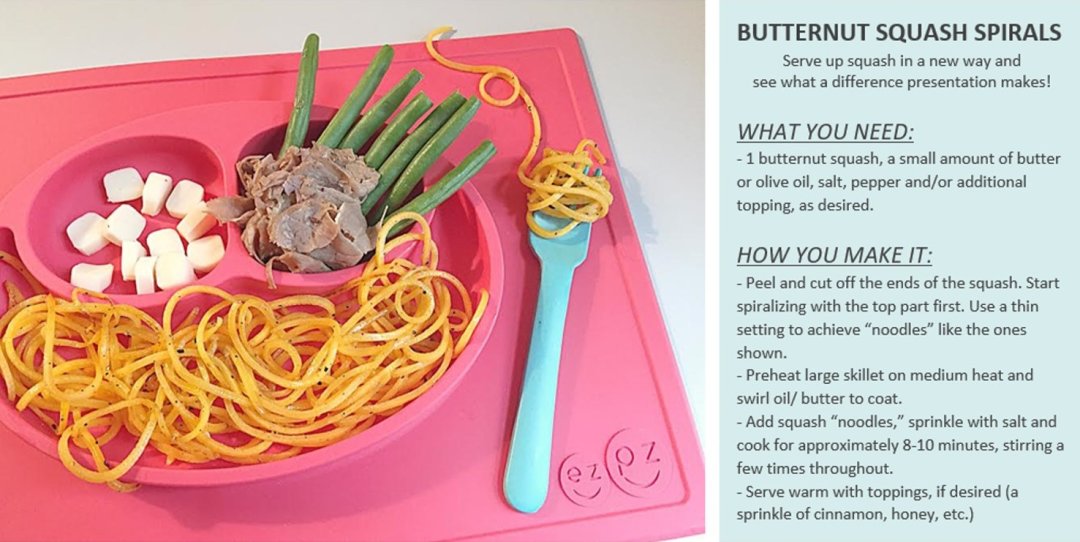 3. Use Cookie Cutters
This is such a simple hack, but using cookie cutters can completely change the way a meal looks and get your little ones more interested in the food in front of them. I have a drawer of over 100 cookie cutters, as I pick them up all over the place (often after a holiday in the clearance section!). They are cheap, easy to use, and effective (AND you can find cookie cutters to match any child's personality or to compliment any holiday)! Take a look at this side-by-side meal comparison below. This is the exact same meal, but which plate do you think that your little one would rather eat? Mine would choose the meal to the right every time. The food is the same, but the presentation is entirely different!
4. Get Your Little Ones Involved in the Mealtime Process
Starting with your grocery trip, try to get your little one involved. I know a lot of parents prefer to shop alone, but I think this is a missed opportunity! Letting your little one help at the store is a great way to encourage healthy habits and teach your children about the foods they eat! Even if you can't make it work every time you go the store, make an effort to grocery shop with your kiddos as much as possible. And, once at the store, let them be hands on…let them help pick out the brightest carrots, the "coolest" shaped sweet potatoes, the biggest bunches of broccoli, etc. It may seem like a small thing, but when your little one feels like they are part of the process, I have found that they are more excited to see the end result and eat the food!
Our oldest two kiddos (ages 2 and 3) love grocery shopping. In fact, we often bring our own little grocery cart to the store (seriously!) to get them super involved! This takes a little extra planning, time and patience, but having them help select different vegetables, fruits, etc. makes food more fun for them. And, as a bonus, it serves as a great learning opportunity!
Don't let the help stop after you check out…get your little ones in the kitchen with you when you prep the meal too! Both of my toddlers look forward to helping me prep and cook dinner. Getting your kids in the kitchen is not only another way to bond with your little one; it is also a great way to teach them new skills (mixing, pouring, etc.). I love seeing how proud our kiddos are when they help my husband and/or I prep meals. And when they are proud, they are excited, and often can't wait to eat what they made.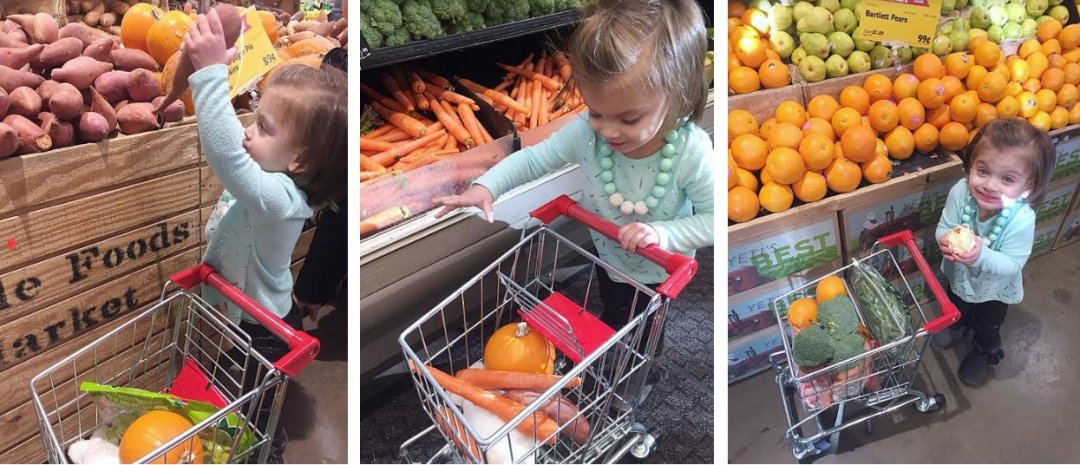 5. Offer a Variety
Last but not least, when plating a meal for a little one try to ensure that there are a lot of choices. Think about adding different textures and different colors. This is another reason I love ezpz's Happy Mats. They have 3 separate sections that are the perfect sizes for little ones (see the measurement breakdown of the Happy Mat below). And, if you have a really little one, ezpz now has the Mini Mat, which is designed for infants 4+ months. When it comes to offering variety, be sure to also include appropriate amounts of proteins, vegetables, fruits and carbohydrates. If at all possible, start as young as possible with the introduction of a variety of foods. This is extremely helpful in ensuring that your little one will have a broader palate as they age!
Remember: Making meals fun does not have to be difficult (i.e., messy or stressful); life is messy enough already! If you are a mama (or dad!) of a picky eater, be patient with yourself and your kiddo. You won't change your little one's eating habits overnight. But, with a few new additions and perhaps a few changes in presentation, you may surprise yourself with your little one's clean plate!
Lunches + Littles focuses on quick, healthy and fun meal options for little ones. One of the goals of Lunches + Littles is to share practical tips and tricks on how to make meals fun, all the while keeping things simple. A lover of colorful plates, and an advocate for getting kids in the kitchen, Lunches + Littles is also a great resource for parents of picky eaters, parents looking for healthy family and toddler recipes and those mamas (dads too!) who are short on time. A mantra of sorts: Making meals fun doesn't have to be hard! With 3 little ones (3 and under) it can't be! Follow @lunchesandlittles for more tips, meal ideas, recipes and more!