Post by Shawna, Home Stylist from the Land of Nod's Design Services Team
The New Adventure trend juxtaposes elements of nostalgia, humor, prep and mid-century modern with an outdoorsy feel. It is primary colors with accents of marigold, dusty rose, and rich teal. It's a daring mix of bold stripes and buffalo checks. It's playing cops and robbers while picnicking on the lawn. It's lemonade stands in the summer and ice fishing in the winter. New Adventure plays The Lumineers, Ho Hey loudly on the record player and dances, eyes closed, like nobody's watching.
In a boy's bedroom, New Adventure reminds me of the clever little boy called Sam in Wes Anderson's Moonrise Kingdom. Inspired by his many (mis)adventures, the Terrace bunk bed feels like the perfect look-out tower for Sam to peek down and survey his landscape. Fascinated by North American birds of any kind, he searches the vibrant Charley Harper-designed Flock of Birds rug with the hope of spotting a new species that has yet to be identified. Wood Arrow shelves proudly display various books of worldly exploration, while the red X Marks the Book Caddy mimics the spot marked for hidden treasures on a map.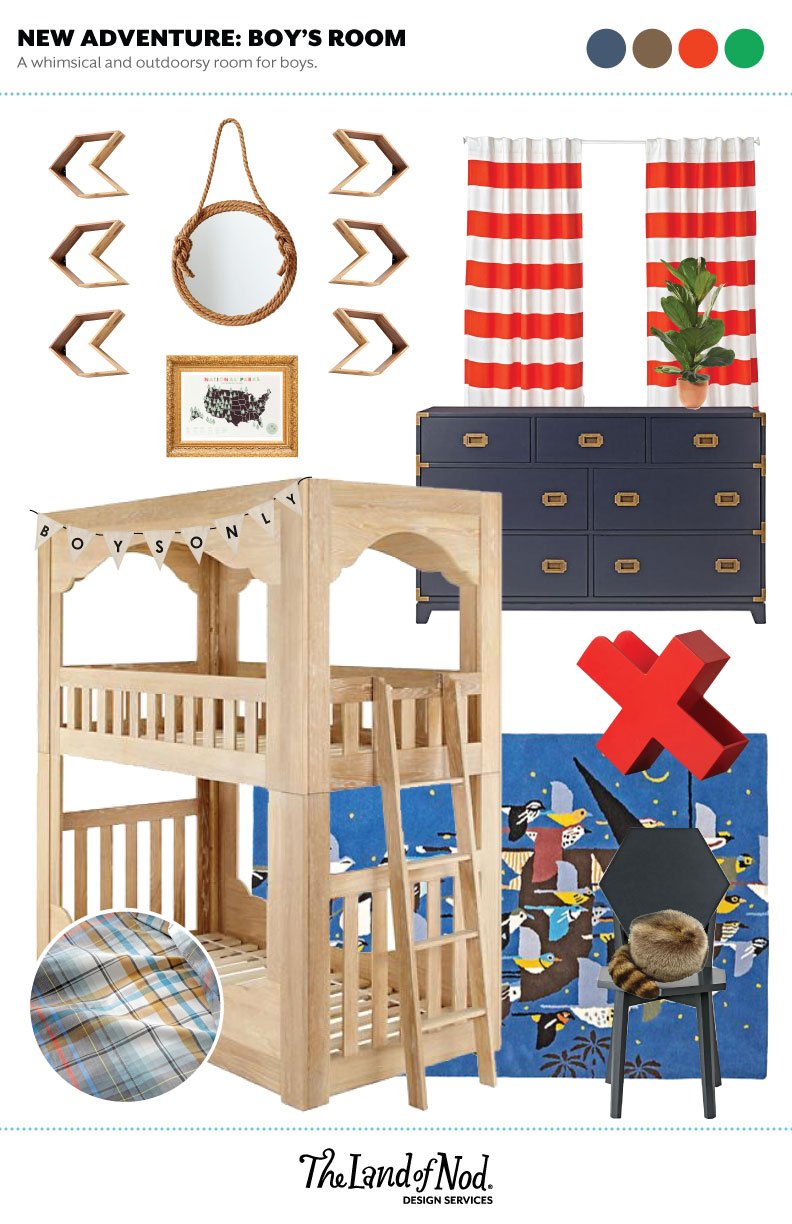 The New Adventure girl may only be 9 years old, but she's had the opportunity to travel the globe. The Fleece Flat Weave rug reminds her of a recent trip to Marrakech, Morocco and the smell of savory, colorful spices displayed in over-flowing stalls at the bustling markets. The Campaign toy box and dresser echo the sounds of The Beatles Abbey Road, constantly playing in her head. The Ikat playhouse brings her fond memories of annual family camping trips to the Ozarks.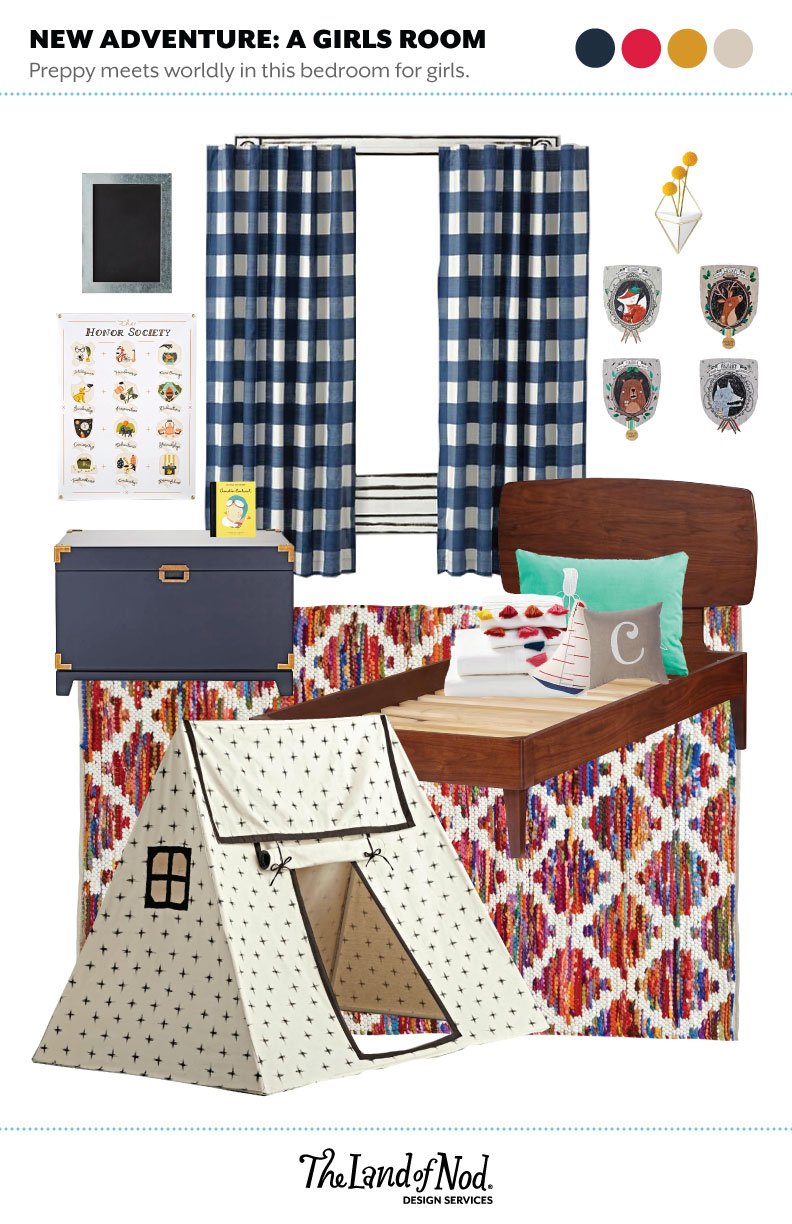 If your fingers are crossed for an intelligent Ivy Leaguer with a Tom Sawyer-like sense of adventure, you'll want to give your New Adventure baby a nursery that playfully combines timeless design, like the Classic Wooden Rocking Chair with the adventurous patterns, like the Gold Dot rug. The whimsical bear decal looking out from behind the midnight blue Topside changing table with rope drawer pulls is sure to evoke amusement and wonder. The Buffalo Check beanbag chair could easily be accessorized with a banana throw pillow to create a reading nook that would surely bring about a case of the giggles.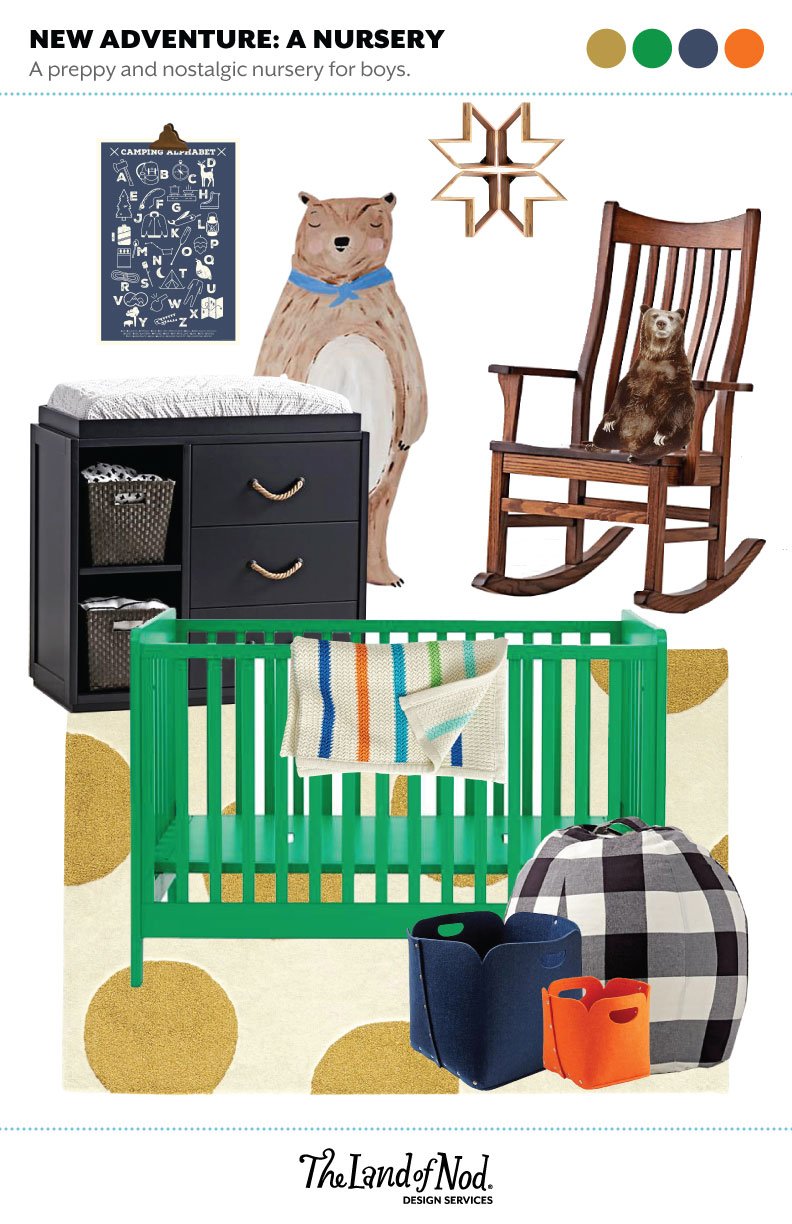 Post by Shawna, Home Stylist from The Land of Nod's Design Services Team. Our Design Services team offers free one-on-one design advice, mood boards and space planning. You have a room to decorate? They'd love to hear from you. Visit The Land of Nod's Design Services page to get started today.