Post by Danielle, Home Stylist from The Land of Nod's Design Services Team
The Staying Neutral trend is an eclectic mix of Modern + Luxe + Bohemian. It's a combination of bold abstract prints with historical design elements and touches of mod Boho accents. You'll see a lot of metallic in the gilded materials paired with shades of pink, orange, smoky blue and navy. The vibe feels timeless, designed for the child and the parents. It's a little bit of everything and makes for easy design transitions as your child grows.
In a nursery, Staying Neutral is all about balance. You'll want to pair pieces that feel more adult with cute, whimsical prints.  For this little girl's nursery, the reversible Sandstone Rug and Birch Forest Mural decal bring a modern, bohemian feel and are balanced with sweet bunny details in the bedding, night light and art print. You can introduce texture and metallic touches with the rose gold table lamp and merchant bins. The grey Blake Dresser is a customer favorite due to it's abundant storage capacity and coordinating changing topper and can be given a customized look by switching out the hardware with the pink ceramic knobs.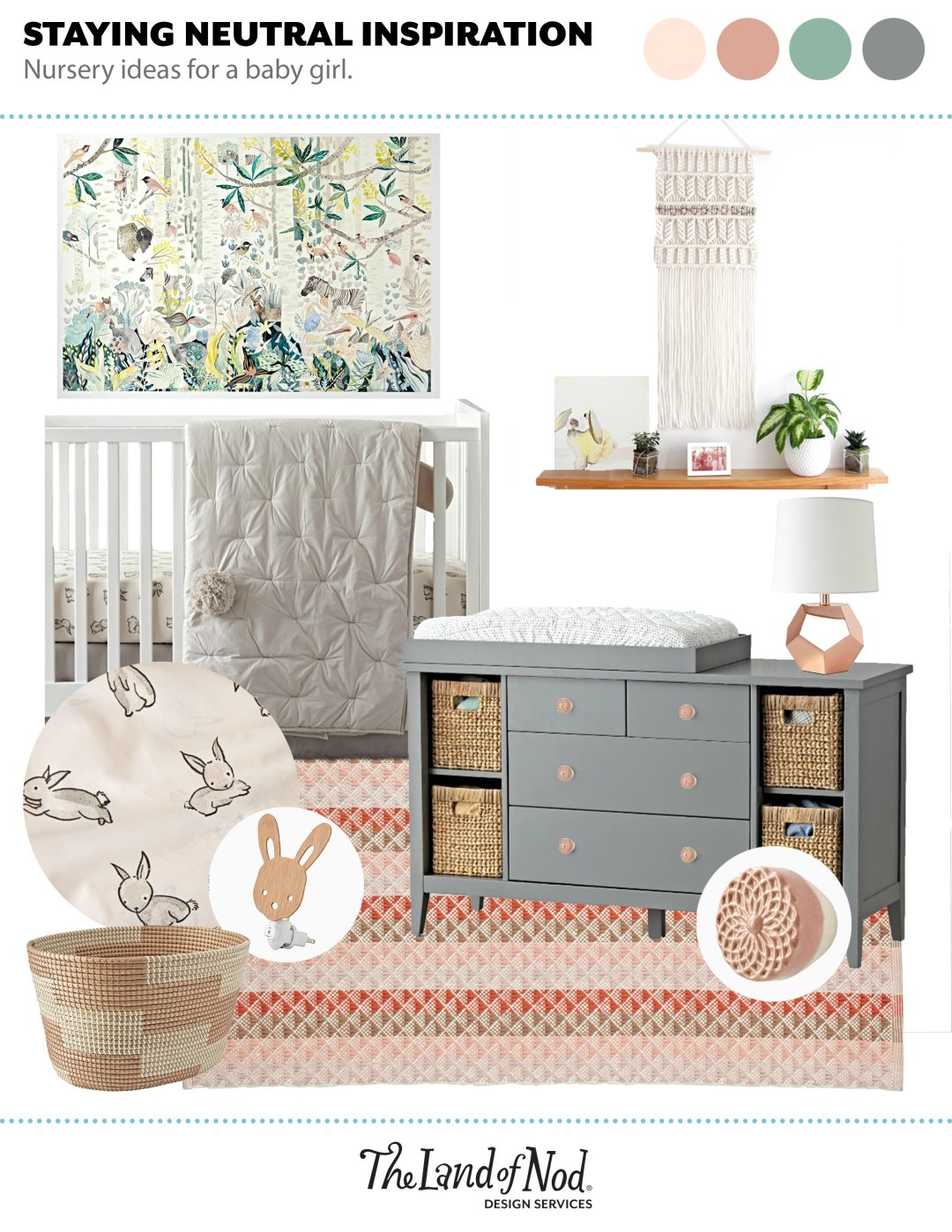 Bring some visual interest to your little boy's room by mixing funky modern prints with bohemian patterns. Here the Heritage Rug serves as the inspiration with its bold colors and pattern, and is balanced with a larger print wallpaper and a smaller print bedding. The variety of patterns are paired with simple wall décor and the River Blue Wrightwood furniture, a classic shade that will seamlessly transition with the bedroom design as the little guy gets older.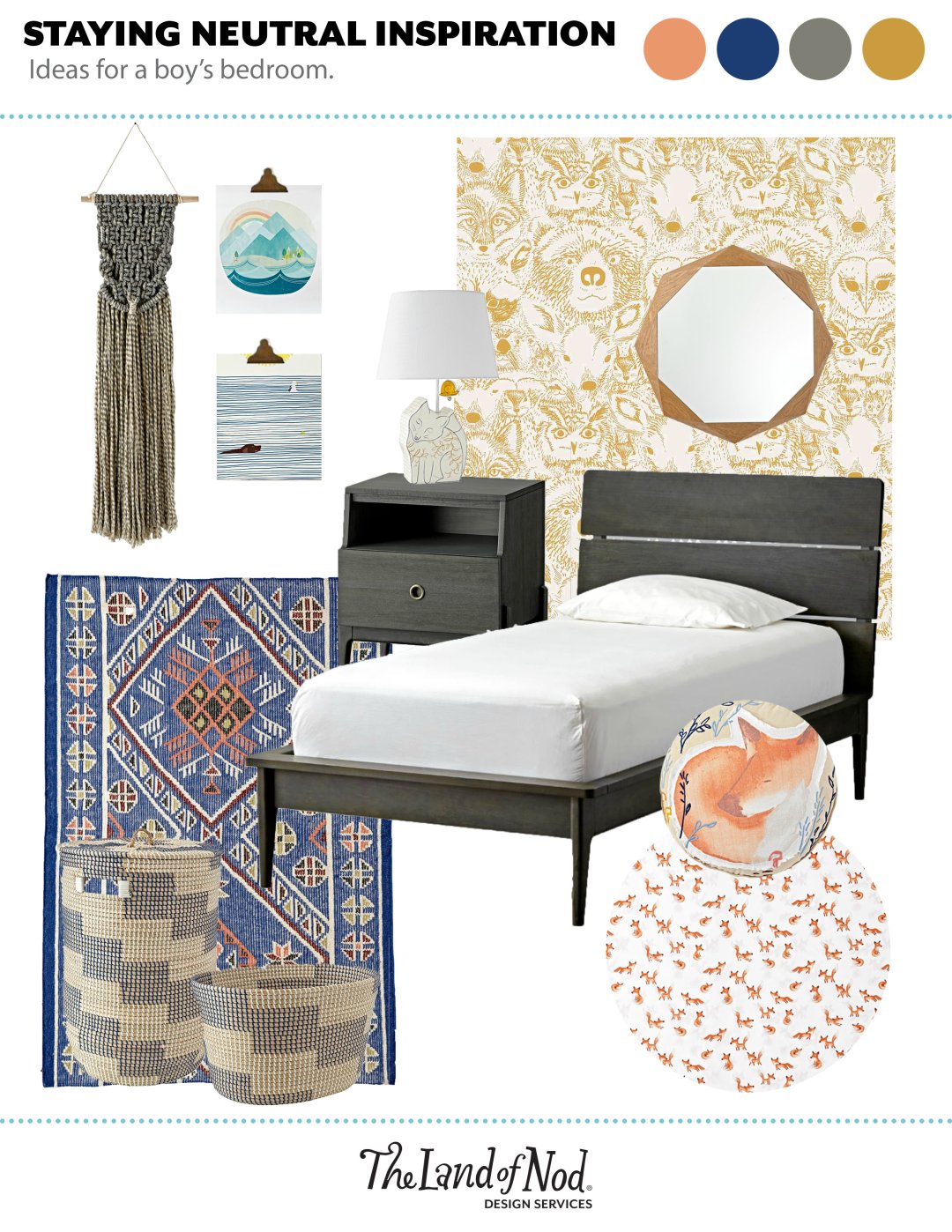 The Polka Dot bedding is the inspiration for this girl's room with its super feminine print and color palette. The gold Larkin bed and sunburst mirror add a touch of Luxe and the Woven Sepia bins are an excellent way to incorporate texture. The Wrightwood bookcase is a favorite for just about any space and this new wide option is sure to be a crowd pleaser. The Harmony poster decal offers an abstract modern design to balance out the smaller, busier patterns.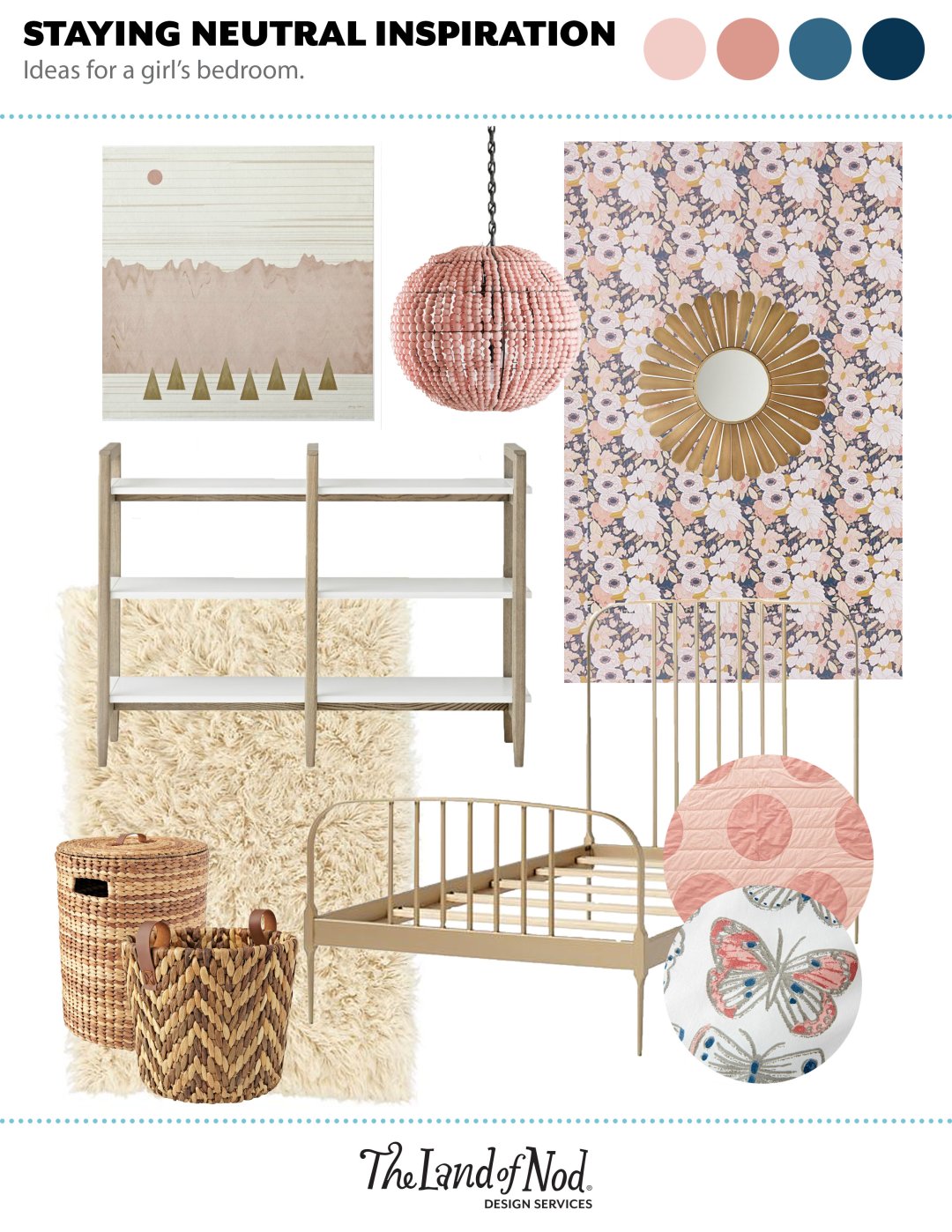 The great thing about Staying Neutral is that you can mix and match to your heart's content—mix the old with the new, the abstract with the boho, the luxe with the modern. My advice to you is to start with one pattern and color palette that you're drawn to, whether it's wallpaper, bedding or a rug. From there you can start to build the foundation with the other large furniture pieces and bring in different sized patterns and accessories to achieve an intentionally eclectic feel. In the end, if you find that you personally would love to live in the room, you have nailed the Staying Neutral trend.
Post by Danielle Reidy, Home Stylist  from The Land of Nod's Design Services Team. Our Design Services team offers free one-on-one design advice, mood boards and space planning. You have a room to decorate? They'd love to hear from you. Visit The Land of Nod's Design Services page to get started today.