Post by Giulia, photographer and blogger at Giulia Doyle
When we have a birthday party at our house, I like to gather family to celebrate with some simple decorations. Things that come together easily, that are happy and fun and aren't specific to a theme are now a favorite as the kids are getting older.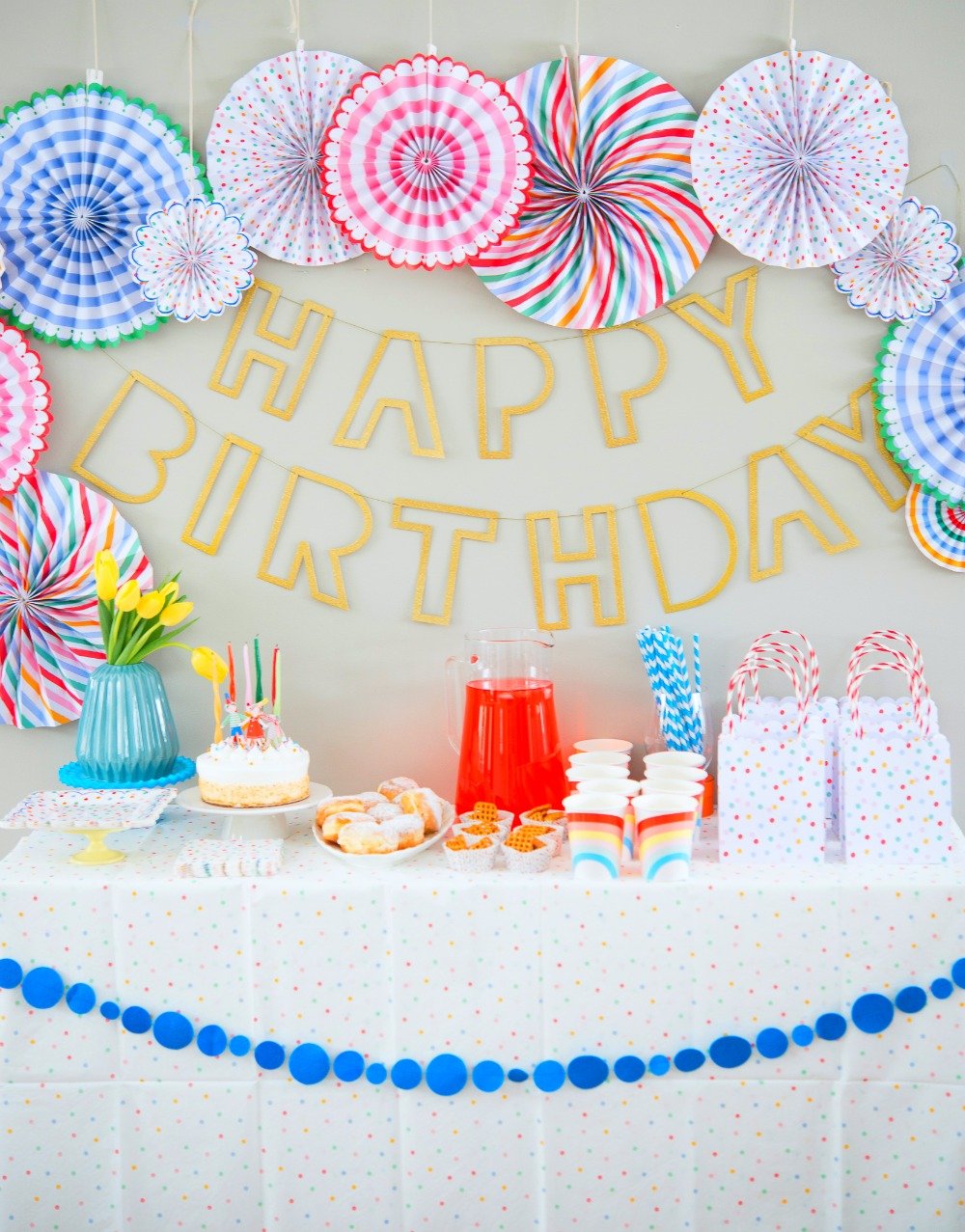 I like to work with party decorations and home décor items that come together easily and make a big impact. Here I started with the Basic Toot Sweet Party Kit. The happy dots liven up a dreary winter day, work for both girls and boys and who doesn't love a good polka dot? To break things up a bit I interspersed the table with the Unicorn Party Cups and a more grown up looking  Happy Birthday banner. (By the way, that banner has little slits next to every hole so you can easily arrange the letters without having to slide them along the string  – it's genius.)
Instead of using the cupcake decorating pack for cupcakes, I decided to place a bunch of the toothpick characters on my cake and popped a few on our lemon cream filled donuts. The toothpick characters are incredibly detailed and have fun fabric and raffia details.  I also decided to use the cupcake liners for snacks, which keeps grubby fingers away from bowls. You don't have to use everything the way it's originally intended, just as you can see with with the felt garland I used to break up the table cloth. It's meant for room décor, but looks fabulous over the small dots.
One of my favorite things is how a large number of patterned paper pinwheels look when they are hung above a party table. They are fun, easy to use and not very expensive. In this case they frame the Happy Birthday banner perfectly, but could also easily be hung from the ceiling above a table, in a window or from a tree; the possibilities are endless. The mix picks up on the fun dots, but also breaks up the patterns.
The Land of Nod has a great selection of party décor items, many for kids, but many perfectly suited for grown-ups as well. I usually have trouble picking my favorite. Happy celebrating!
Giulia Doyle concentrates on food photography and travel photography – using the full color spectrum. She tries to live life to its fullest and will take every opportunity to travel or entertain. With her lovely family, she has big dreams of cottages by the ocean, boutique bed and breakfasts, brick and mortar stores or possibly moving back to Europe – if only she could make up her mind!