Interview with artist Megan Whitmarsh
Tell us a bit about yourself…
HOMETOWN: I don't really have one, I moved so much as a child. I was born in Cambridge, Massachusetts but barely lived there. Maybe Ann Arbor, Michigan which is where I spent the most of my childhood years.
CURRENT TOWN: Los Angeles, CA
FAVE ICE CREAM FLAVOR: Pistachio
FAVE BREAKFAST FOOD: Fresh herbs and greens from my yard cooked in an omelet with goat cheese. Earl grey tea with cream and honey.
FAVE HOLIDAY: My children's birthday (twins)
FAVE COLOR: Hot pink
FAVE MOVIE: Hmmm… there are so many! I love The Incredible Shrinking Woman with Lily Tomlin and The Fantastic Mr. Fox.
FAVE DECADE: The 70's
TELL US HOW YOU BECAME AN ARTIST: I was given my first studio when I was 4 years old and my parents rented an old craftsman that had been used as a pre-school before we moved in. There was a small room with a little sign that said "arts and crafts" which they left up and which I had to myself as my brothers spent most of their time in the "rec-room" across the hall. I remember making giant life size paper dolls out of manila folders and tiny comic books about rabbits. I don't think I ever considered being anything other than an artist.
WHAT ARE THE MOST REWARDING AND THE MOST DIFFICULT PARTS OF RUNNING YOUR OWN BUSINESS? I love working at my own pace. I love that my work involves experimentation, play and creativity. I love that I can work alongside my children and that being an artist creates connection with others. Sometimes it's hard to be focused and I need to work on my time management (I am overly optimistic about how much I can get done sometimes!) Sometimes I am not happy about my ideas or my execution of them and feel bad about the work. But when this happens I try to consider it as a self imposed challenge that means I need to better my ideas and work. I work harder and try to evolve.
HOW WOULD YOU DESCRIBE YOUR STYLE? Rueful pop.
IF YOU COULD TRAVEL ANYWHERE, WHERE WOULD IT BE?  I would take my children to visit Iceland. I loved it there. It felt magical and they have zoning laws which protect fairies and elves! We could ride the beautiful Icelandic horses!
IF YOU COULD POSSESS A SUPERPOWER, WHAT WOULD IT BE? Spread peace.
TELL US ABOUT THE ROBOT BEDDING YOU DESIGNED FOR THE LAND OF NOD. I was asked to create a playful take on robots. I immediately thought of a sketch I had made years ago of a funny little robot doing mundane stuff like walking a dog and reading the paper. I imagined the robot as a friendly character with prosaic habits and had fun creating a narrative around that. My kids enjoyed watching the process and made little suggestions here and there.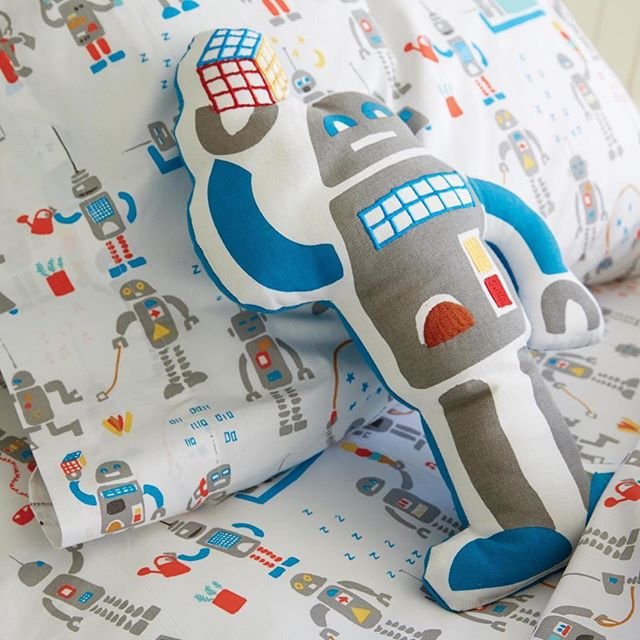 ———-
Shop The Land of Nod's Robot Bedding & browse our collection of kids bedding.