Post by Rebecca of Not-So-SAHM
We're just getting to that point of winter when we are all really sick of being indoors. We've actually had a mild winter in D.C., but with no snow to enjoy and the swinging temperatures making everyone under the weather, it's been a rough season. And while the kids are great at keeping themselves entertained, I've had to come up with a few new ideas to keep them active even if they can't get outside. So I was so excited to have them try out a few of Nod's great game sets to get them going. Check out the fun they had and my tips for helping kids stay active indoors!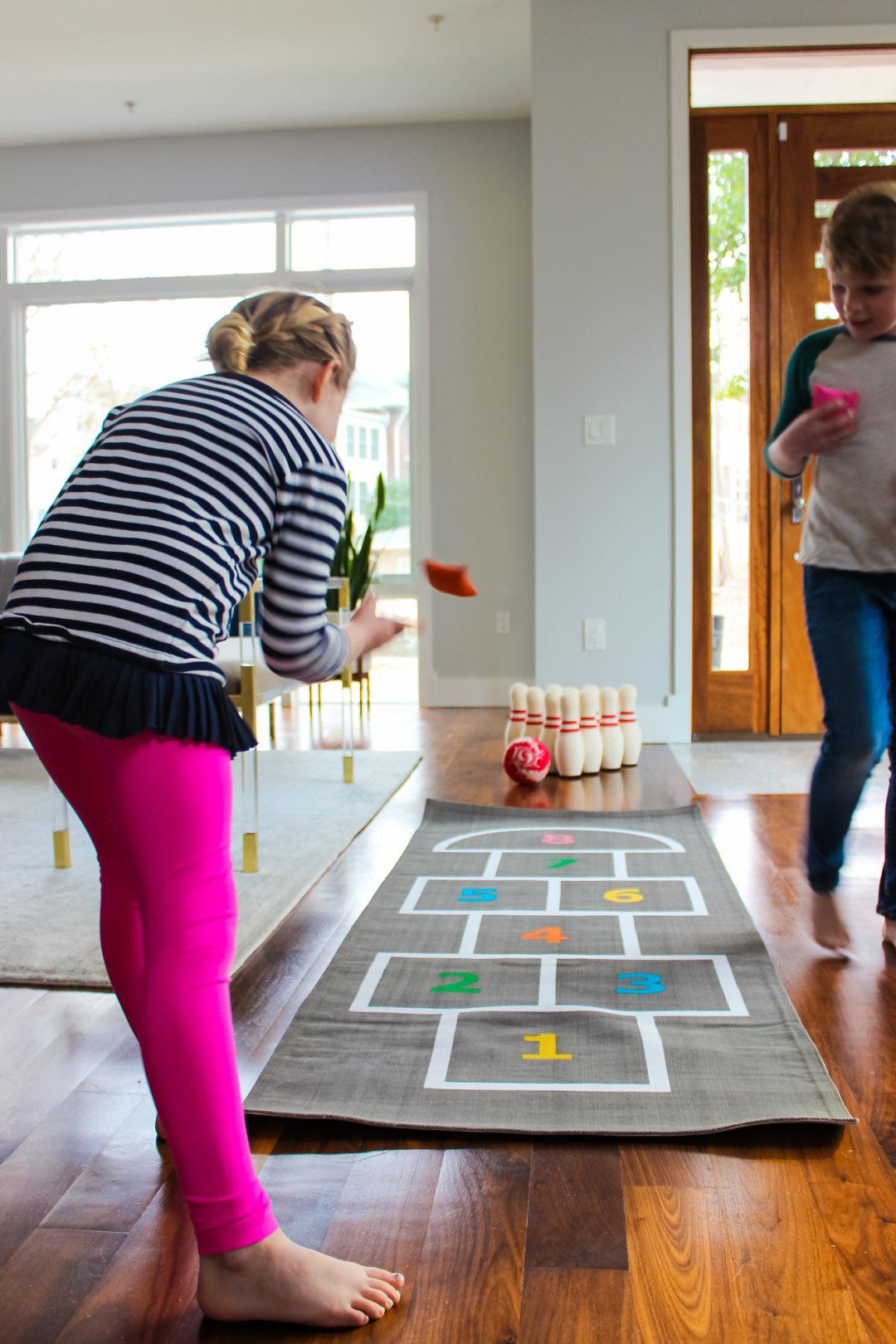 1. Bring classic outdoor games in. Think of all the games you played outdoors as a kid and which might work well inside. Hide and Seek, Simon Says, and Hopscotch are all perfect options for gross motor practice. Well, hopscotch with The Land of Nod's Hop, Skip, and a Jump Playmat that is! It took me a bit to remember how to actually play, but once we figured it out, our kids loved this playmat and beanbags.
2. Keep it silly and fun. Don't make it feel like gym class (although, let's be honest, gym class is definitely among my kids' most favorite school "subjects"). Keep it silly and add extra fun ways to get them moving. We upped the ante in our Livingroom Lanes Bowling game by having each kiddo come up with a signature celebratory dance after they'd knocked down all the pins. Their moves were so good, no one even received a delay of game penalty.
3. Don't stress about making a little bit of a mess. I am generally not mess-averse (you've seen our art projects!), BUT I usually have the kids keep big toys in their rooms. You might need to lighten up a bit when cabin fever sets in. Think of cleanup as an extension of the activity and have the kids do as much as appropriate for their age. These two were pros at setting up the pins over and over. Plus, they loved figuring out how to pack up the pins in the cute bag.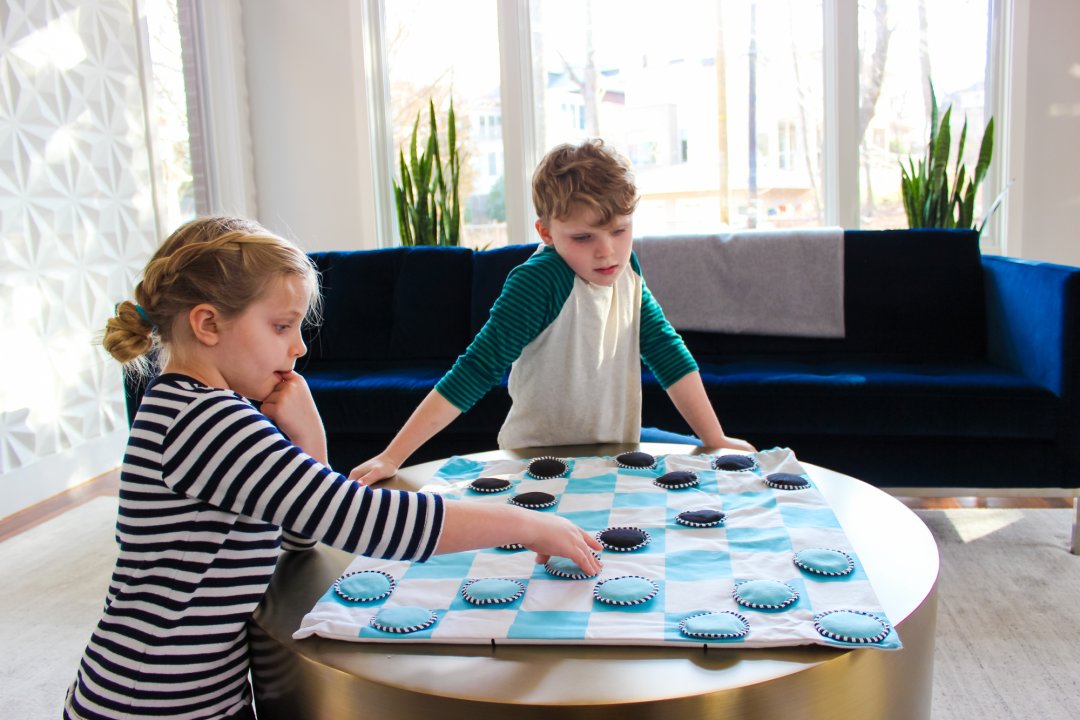 4. Include some brain exercises too. Keeping kids' brains active is just as important to their health as exercising the rest of their bodies. And intellectual workouts make them more likely to sleep better at night too! Look for simple games that require some strategizing such as Checkers. We loved Nod's oversized Checkers and Tic-Tac-Toe set!
5. Make movement a motivator. Even if the game itself doesn't focus on movement, think of a creative way to incorporate it. Our kids got much more serious about their Tic-Tac-Toe games when I told them that the loser would be picking a physical challenge to perform. We gave the loser a choice of burpees, climbing some stairs, or jumping jacks. They actually love all of those, so they weren't unhappy to lose!
Rebecca is a mom to two young kiddos and, in her spare time (ha!), likes to pretend she's a back-up dancer, craft cocktails, and run long distances. A relatively recent SAHM, she blogs family-friendly activities, DIYs and celebration fun at Not-So-SAHM.