Post by Chandra of Oh Lovely Day
If you're expecting a baby and are going to give birth in a hospital, you'll need to pack a hospital bag with essentials for both you and baby. I tried to finish packing mine by 36 weeks (aside from the few things that I couldn't pack until it is time to go). I remember being overwhelmed packing for my hospital stay when I was having my first baby, but by baby three I felt like I had a good grasp of what we really needed. Here's what I found to be the most helpful to have when I was in the hospital, after three deliveries and hospital stays that were all very different.
First, I have to share my bag because I love it so much. I used the Weekender from Birdling Bags and it is the perfect size, is compartmentalized into three sections (which is perfect for dividing things up for labor, postpartum for me, and comfort items, snacks, and baby. It's also great for family travel and is a great carry on when we fly as a family. Now, here's my packing list and my favorite specific items that went inside my bag. I hope this list can help you pack your own bag and feel a little less overwhelmed as you prepare for your baby's arrival.
The Essentials:
ID AND INSURANCE INFO

 which you'll need when checking in.

PHONE AND CHARGER

 (I'd also recommend buying and bringing 

an extra long cord

 because sometimes you can't reach where you need to charge your phone without one, and you don't want to have to get up to get your dying phone after you have had a baby.)

CAMERA

 (if bringing something other than your smart phone)

NURSING PAJAMAS, ROBE, NURSING TANKS

: Bringing some soft and comfy nursing pajamas or a nursing gown and a luxurious robe will make you feel human again after you have a baby. I loved my 

James Fox Co Gown

 (which would make a great delivery gown or is also perfect for after) it was perfect for doing skin to skin and nursing after delivery when my baby was in the NICU. I also packed 

Belabumbum nursing pajamas

, my 

Doie Lounge Robe

 (this robe is so soft and feels so nice you guys!), and some leggings, a nursing tank, and cardigan to wear home (remember, you'll still likely look and feel at least 5 months pregnant — don't think you'll be walking out in pre-pregnancy jeans!)

WARM SOCKS OR SLIPPERS

: I tend to get hot so I prefer to have slippers I can slip on to walk around the room and slip off when I get back in bed, but others get super cold in the hospital and love to have warm socks. I pack both, just in case.

NURSING SUPPLIES

: The only thing I've ever used or needed in the hospital is a 

nursing pillow

 and 

nipple balm

 (this is my favorite because it is natural and doesn't stain clothing with grease spots). I also throw in a couple sets of 

Bamboobies nursing pads

 (my favorite ones for their softness and because you can wash and reuse them), and a couple of nursing bras (

this one

is my personal favorite). Some women bring their own pump as well, but I've never used

mine

at the hospital (most hospitals have pumps available for you to use, but you may want to ask ahead of time and bring yours if they don't have one available).

HOMECOMING OUTFIT FOR BABY

, plus any special blanket or hat you want baby to wear at the hospital or on the way home. It is nice to have something special for some photos and to save as baby's homecoming outfit. A

set like this one

is really cute. The hospital does provide shirts, blankets, diapers, and even a hat, so you don't need to pack a ton of baby clothes, just a couple of special pieces.

EXTRA (EMPTY) BAGS

: You leave the hospital with a lot of stuff. Diapers, thermometers, some side snap shirts, mesh underwear, etc. etc. etc., plus gifts that visitors might have brought you and baby. Extra empty bags come in handy to haul your stuff home.

CASH AND CHANGE FOR VENDING MACHINES
FLIP FLOPS

 (for the shower)

FACE WIPES:

 These feel so good to clean up with after labor and to refresh without having to get out of bed, or if you can't get out of bed.

CHAPSTICK OR LIP BALM:

 A must! Pack your favorite in an easily accessible place. If you don't have a favorite, I LOVE

this one

and it lasts forever.

SNACKS, CANDY, GUM, SPRITE/7-UP

: I pack some special treats for myself, some snacks, some 

Oat Mama

 lactation bars (they help with milk production but are also delicious — the chocolate & peanut butter one is my fave!), gum or mints, and anything else you would find helpful during your stay.

TOILETRIES:

 That first shower after you deliver feels like such a treat. Pack travel sizes of your favorite shampoo, conditioner, face wash, etc. Don't forget a toothbrush and toothpaste, a hair brush, and deodorant. Also, hand lotion, face moisturizer, and lip balm are musts for me because I get so dried out after labor.

WHITE NOISE

: I would add a white noise app to your phone so you can drown out the hospital noise when you are ready to get some rest. My room was next to the nurses' station once and it was constant noise and activity 🙁

INFANT CAR SEAT: 

You'll need one of these properly installed for the hospital to release you (and they do escort you out and check).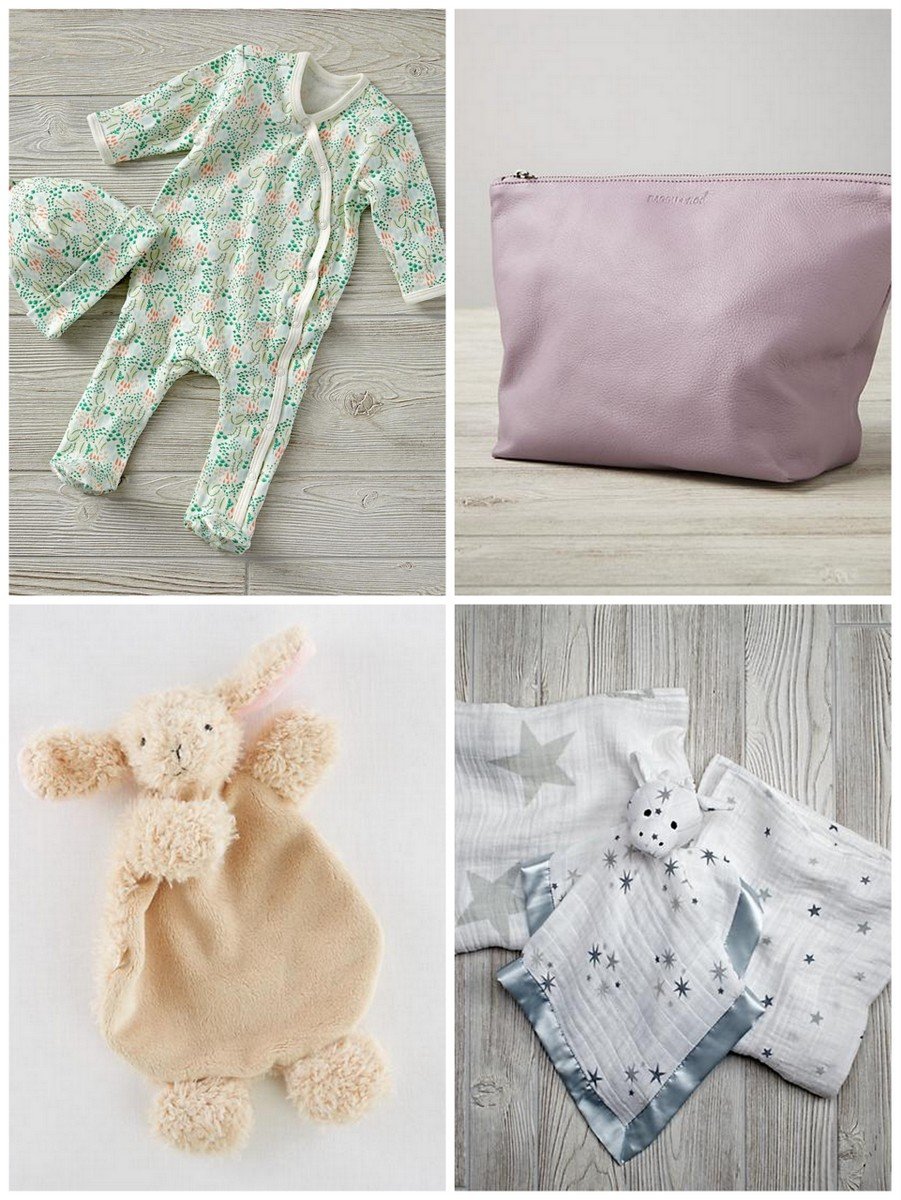 The Nice-To-Haves:
DELIVERY GOWN

: I've brought 

my own delivery gown

 to the hospital and worn the same one for all of my babies (yes, the exact same gown has survived three births!) While this isn't essential — the hospital does provide one to you — it does feel nice to have your own that is cute and all yours. And I love that all three of my babies were delivered in the same gown. I plan to have it made into little stuffed animals for them to save forever 🙂

COMFORTS OF HOME:

 These aren't necessary but might make you feel more comfortable during your stay (I didn't pack them with my first and did with my second and third and was so glad I did!): 

Your own throw blanket (

this is my favorite

), 

Your own bed pillow (make sure your pillow case is distinctive so they don't take it if they come in to clean your linens), 

Bluetooth speakers to play music if you plan to have a birth playlist

Essential oils diffuser and oils if that is something you do at home and find relaxing (I packed a 

Clary Calm roller

 and 

Serenity

 to diffuse. And I like 

this diffuser

.)

ZIPPERED POUCH TO HOLD ESSENTIALS

: You might be tired, sore, or holding a sleeping newborn — probably all of the above — and unable to get up and search for that chapstick, phone charger, or whatever else you really need to reach. I put all of my essentials in a

zippered pouch

and kept it on my little hospital tray table to keep everything easily within reach.

BABY BOOK OR MEMORY BOOK

: Nice to have if your hospital does footprints for you (mine didn't but many do)

ENTERTAINMENT:

Having an iPad, Kindle, Laptop, or book is nice in case you have any downtime. These were once on my "don't bother bringing" list, but after my third delivery I changed my mind. My husband was home with our other two children and I was mostly alone and my baby was in the NICU. I ended up having my husband bring my laptop because I needed a distraction and the Flip or Flop marathon got old after a couple of days.

CUTE PHOTO PROPS:

Although you definitely don't need a swaddle blanket or your own hat (the hospital provides these during your stay) I liked having my one or two of my own to use as well, plus for some cute photo taking.

GIFT FOR OLDER SIBLINGS FROM THE NEW BABY

: If you have other children who will be coming to meet their new sibling, bring a small wrapped gift for each one from the new baby, especially if they are ages 5 and under. They don't have to be big expensive things. Just a

stuffed animal

,

car

,

doll

, or

book

that you know your child will love. I let my older children pick out a gift for the baby that they wrap and bring as well (a lovey like this or a soft stuffed animal

like this

are great ideas but let them choose something themselves if possible).
The Don't Bothers:
Medicine: the hospital will give you whatever you need on a schedule and keep track of any doses
diapers or wipes, unless you want to use something specific
baby grooming things (the hospital has and provides you with these)
underwear or sanitary pads: the hospital gives you mesh underwear (some women don't like these but I actually love them those first few days, plus you don't want to ruin your own underwear) and sanitary pads, so save your own for when you're back home. You might want to pack one pair of your own underwear but I wear the mesh ones for days (they'll even send you home with some!)
you don't need a ton of clothes for yourself. Your gown, a set of pjs, and something comfy (like a nursing tank, cardigan, and maternity pants or joggers – NOT your pre-pregnancy jeans) to wear home
I don't pack a bag for my husband. He's on his own to pack for himself, and now that we have kids he is only there for labor/delivery anyways. After that he stays at home with our other children and visits when he can.
pain relieving spray or ice packs are also provided by the hospital
I hope some of you find this helpful. Is there anything you pack for the hospital that I left off my list or anything I listed as unnecessary that you've found you needed? What is your number one essential for the hospital?
Chandra is the wife to her high school sweetheart and the momma of three boys: Charlie, Calvin & Quincy. She lives in Los Angeles (for now, at least), where she tries to enjoy the sunshine and go on lots of family adventures. Some of her favorite things include: a morning coffee, hiking at Griffith Park, reading a good book in a hot bath, carbs,  binge watching on Netflix, chocolate chip cookies, family dance parties, and cuddles and kisses from all of her boys. Chandra is the creator of Oh Lovely Day, which she started in 2010. She also writes for Momtastic.