Post by Dr. Katie Friedman of Forever Freckled
From the moment we find out that we are pregnant, we dream of creating the perfect nursery, a beautiful and inspiring space to watch our little one grow and learn. We immediately start to "pin" ideas, coordinate color schemes, and research nursery furniture.
Although nursery safety is incredibly important, the best rules and safety tips are not necessarily easy to find. Don't worry, Land of Nod has you covered! Dr. Katie Friedman, a board certified pediatrician and co-founder of Forever Freckled, combines her love for home decor and her expertise in child safety to help achieve an adorable and safe nursery.

Wall Art
When picking out wall art, I suggest sticking to soft, lightweight art like banners. Obviously the last thing you want to think about is if it were to fall, but take some extra safety measures if including a heavier piece – like calling in a professional to hang, and placing items well out of reach – to keep your growing baby safe. In addition to wall art, I like to point out that baby mobiles are adorable, but they are designed for gazing, not touching; be sure to keep mobiles out of arms reach. Aside from wall décor, a great way to create a statement wall is to use paint, wallpaper, or wall decals.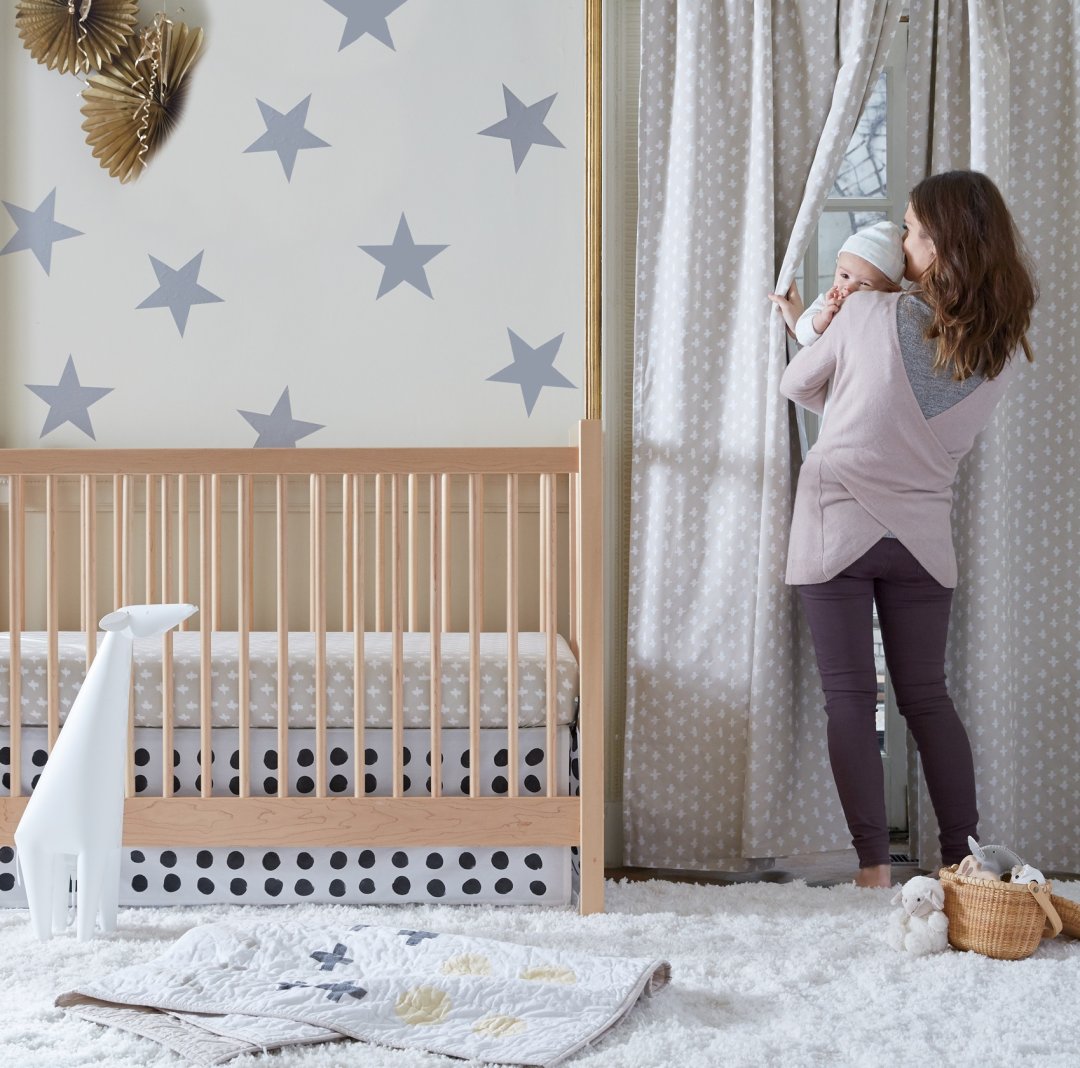 Doors and Windows.
For doors, it is important to install a baby gate or other device to prevent your growing toddler from opening the door and wandering out of the room. This is particularly important when you have a two-story house. To keep fingers away from door creases, prevent placement with easy to install door guards.
In the case of windows, I like to suggest using window coverings that do not have long exposed cords and ensure that all curtain hardware is either fixed directly to a wall stud or secured with the appropriate drywall anchors. It's also a good idea to make sure the bottom of the curtains are out the reach of your curious infant.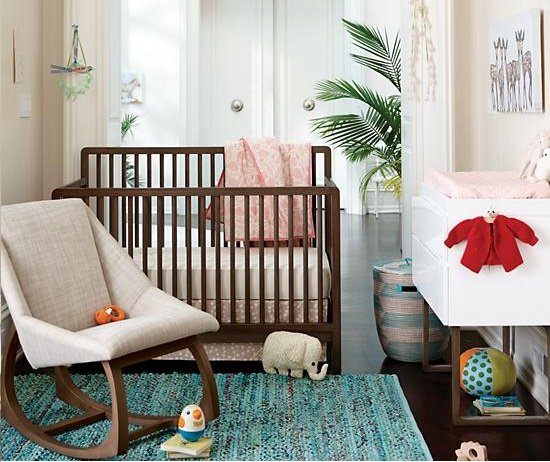 Crib Safety.
Newborns sleep on average of 16 hours per day, so it is imperative that their sleeping environment is safe.
The American Board of Pediatrics recommends no bed bumpers, dolls, pillows, toys or sleep positioners in the crib while the baby sleeps. These all present risks and should never be in the crib while your infant is sleeping. Instead, it is recommended that the crib only has a fitted sheet and a one thin breathable blanket. Now, I know a lot of moms are uncomfortable with not having a bed bumper, as they feel it can prevent bruising and injury to their babies, however, the risk is much more severe than a bruise.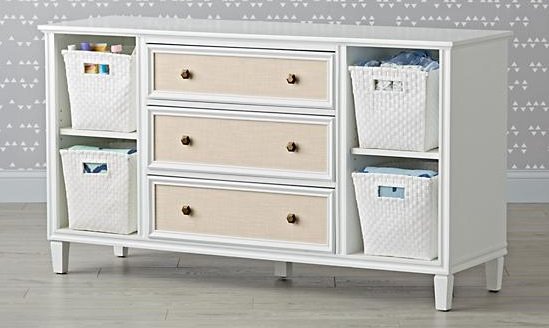 Furniture and Organization.
Please make sure that all furniture is anchored to the ground or a wall. As toddlers start to explore and become more independent, they love to start climbing on furniture so it is important that you eliminate the possibility of a furniture piece falling. An easy way to deter interest in climbing is to put toys close to the ground. Soft storage bins placed on the floor and toy boxes with child safe closure eliminates the child's need to grab something up high.
I hope these tips and decor ideas help you in your journey to create an adorable and safe nursery.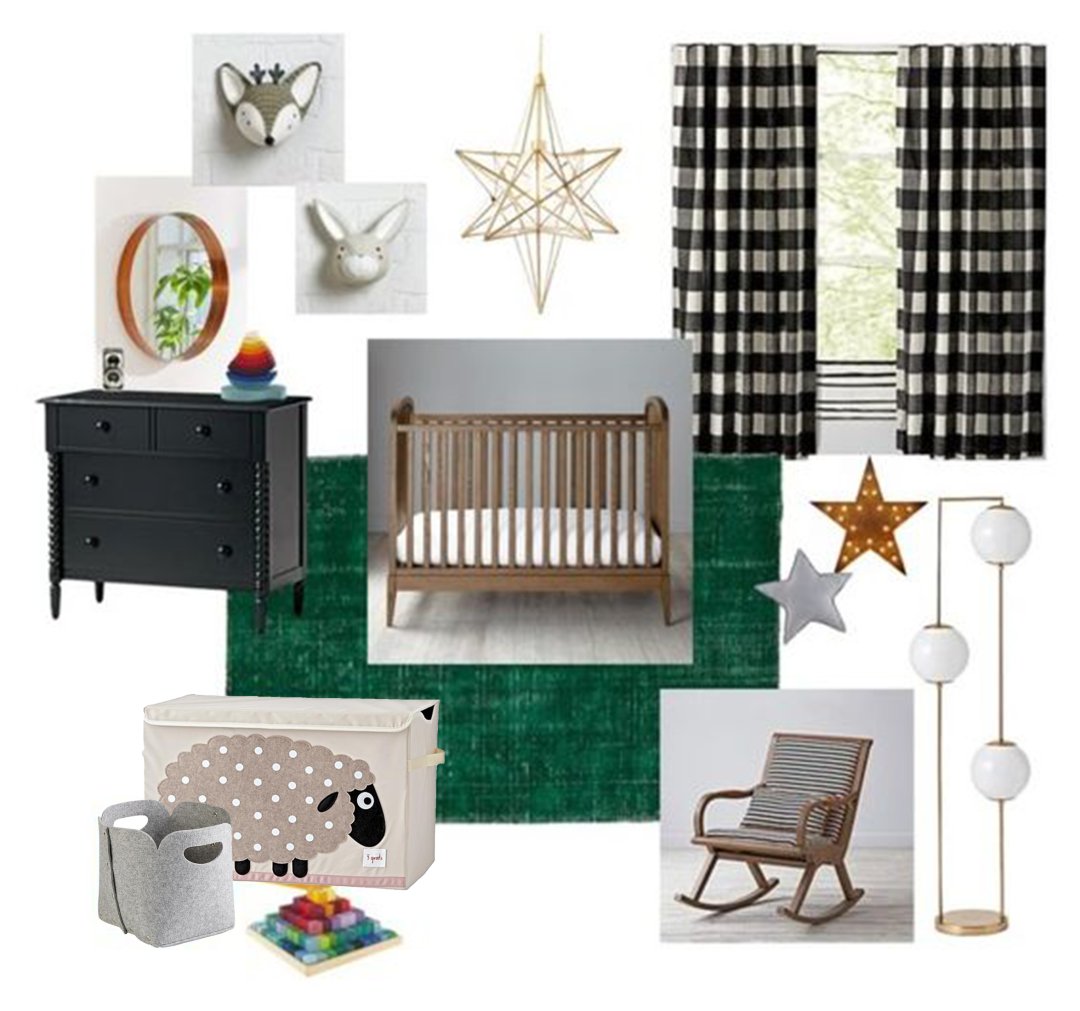 My name is Dr. Katie Friedman  and I am a board certified pediatrician, wife, mother of two, and a sister to my three siblings.  Along with my sisters (Alison, a veterinarian and Carrie, a fashion stylist), I am a co-founder of Forever Freckled, a website dedicated to helping people with pets, children, and everyday lifestyle.  It has been an incredible journey turning my passion for children into a career and nothing brings me more joy than to help children and their parents with wellness and healthy living.  For wellness and health tips for children, pets, and other lifestyle advice, please follow our journey on www.foreverfreckled.com.