Post by Colleen of Lemon Thistle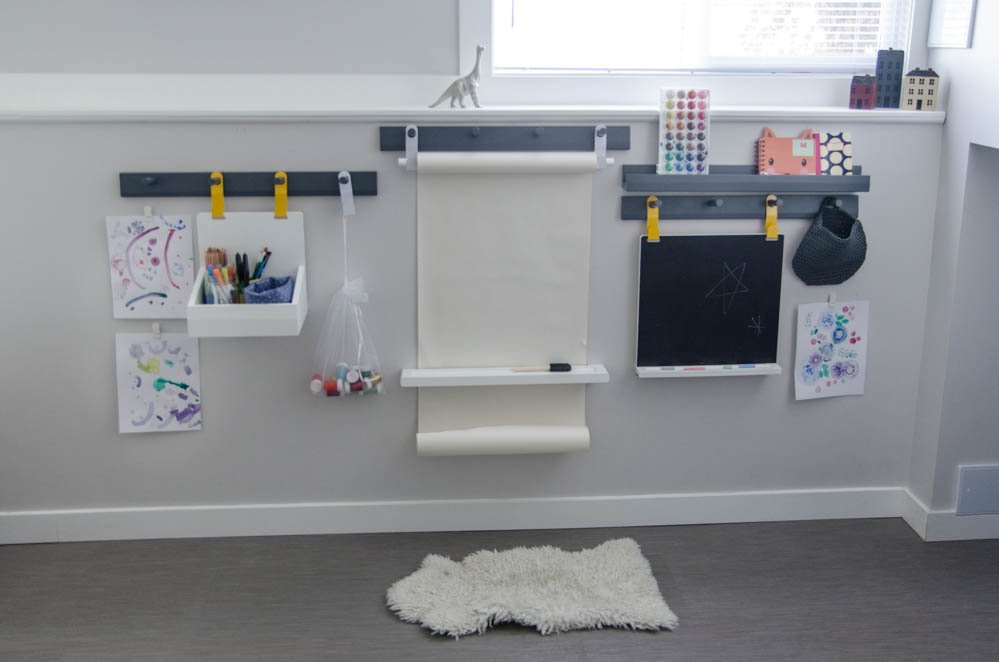 Do your kids love to create? Mine, especially my daughter wants to do art ALL the time. She was constantly asking me to pull her art supplies out of the closet and every meal we were cleaning them up off the table to eat. When I spotted this Beaumont Wall Mounted System from The Land of Nod I knew it was the perfect solution for us.
We have a small play room in our basement and we chose to use one of the walls to mount this system and create an ultimate art station for them. I love that it keeps everything off the floor, it's really easy for them to clean up, and it's always available for them to use without any adult assistance to set up. It's kind of the perfect storm.
Since our kids are young (three year old twins and a 1 year old), I mounted everything pretty low for them. I also was working with a half wall so that worked out well! If I had older kids, I'd probably try do two rails height wise (one for them to sit, one for them to stand) to maximize space.
We used three different peg rails– one for the main paper roll, one for a chalkboard, and one for a bin. We used the book ledge to hold notebooks and paints and the additional hooks to hang bags and pouches for chalk, paints, and I plan to get the kids smocks for painting and those will hang there as well. We used the white space around the station to add clothespins for them to display art work they like- I love this so much more than them taping art on the wall everywhere (do your kids do this too?).
One tip on laying out a wall mount system like this is to use painters tape to mark it out and to mark the holes. It's so nice to be able to see how it will look visually (space wise) without holding anything in place.
All in all, I'm SO happy with this solution, I only wish we'd had it sooner! It's been such a hit- it gets used every single day. Tell me, how do you display all your kids' art supplies?
Colleen is a wife, Mama to twins with one on the way, and the DIY and lifestyle blogger behind Lemon Thistle where she shares printable art and hands on tutorials for DIY home decor, parties and gifts. Colleen believes you can have a beautiful life, home, and party without spending a lot- we're keeping it real on a budget so everyone can join in on the fun.