Post by Katy Rexing of Grace in the Crumbs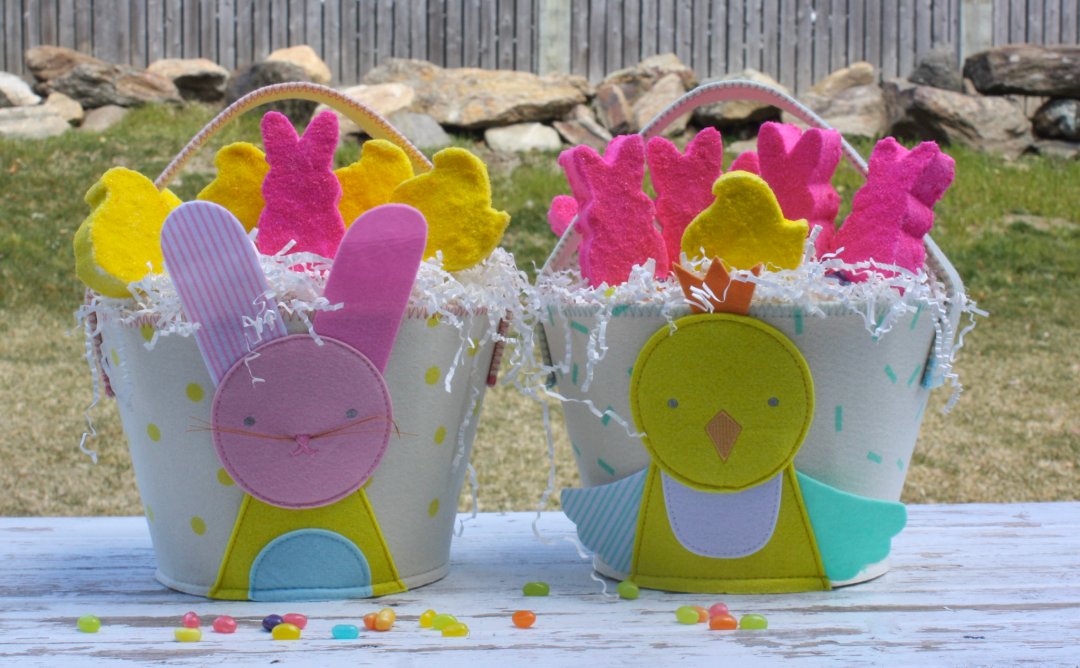 When it comes to my children's Easter baskets (and let's be honest, their Halloween bags and Christmas stockings too), I've been known to sneak a few treats here and there when they're not looking. I'm pretty sure we've all done it. Just one little piece, they won't notice, right?
Out of all the candy that has rotated through their baskets, the one that I've never had any interest in sneaking, is the "Peep". To me, this store-bought treat is overly sweet, grainy and, probably worst of all, tastes stale. I always hoped we could find a way to make a better version. And now, I think we have.
This is what I like to think of as the kid approved, and adult steal worthy, Peep. It is honestly that good. It has a light airy consistency and is a great balance of sweet and creamy. This is the one treat in your children's basket that you will have a hard time resisting, so my apologies in advance.
Making these Peeps takes just a little bit of planning, but for the most part are simple and straightforward. And the best part, you probably already have the ingredients in your pantry! This is also a great recipe that can be customized for any holiday. I'm using a basic marshmallow recipe, and adapting it by using yellow and pink colored sugar for Easter. But you can easily swap out the colored sugar with powdered sugar, chocolate powder, or even shredded coconut. There are a lot of ways to play with this recipe and make it work for any occasion.
The thing that I love the most about this recipe though, is how easy it is to involve my children. They loved cutting out the Peeps with their cookie cutters and finishing them off with a dusting of sugar. It's important to me that I not only find ways to involve my children in the kitchen, but also involve them in preparing for special holidays and events. This recipe was a great way to do both.
So have fun with this recipe, let your kids get their hands a little "sticky", and enjoy time together doing something sweet.
Enjoy!
Homemade Peeps Recipe
Ingredients
3 packets of gelatin (equivalent to three tablespoons)
¼ cup of cold water
3 cups of granulated sugar
1 ½ cups of cold water
1 tbsp. of vanilla extract
1 cup of yellow or pink sugar
Cookie cutter of your choice
1 cup of cornstarch or arrowroot powder (for dusting your cookie cutter)
Non-stick baking spray
Directions
In a small bowl mix gelatin and ¼ cup of cold water. Set aside.
In a pot, over medium/low heat, dissolve the granulated sugar with 1 ½ cups of cold water. Once dissolved, add the gelatin. Stir to incorporate
Turn the heat up to medium/high and let the sugar/gelatin mixture come to a low boil. (Be careful that the mixture does not boil over. This happens quickly, so you will want to keep an eye on your pot and lower the heat as necessary.) Let the sugar/gelatin mixture gently boil for 10-15 minutes. Set the mixture aside and let it cool slightly.
Very carefully, pour the sugar/gelatin mixture into the bowl, add vanilla extract, and mix on low speed (work carefully as the sugar mixture will still be very hot). After 30 seconds, increase to medium speed, and finally to high speed after an additional 30 seconds. Mix on the highest setting for about 5 minutes or until the sugar/gelatin mixture has come to a thick glossy white consistency that forms soft peaks. (If your mixture is still a little "runny", continue to let the mixer run for a few minutes.)
Meanwhile, prepare a 9×13 baking dish by spraying all four sides with non-stick baking spray. Then, place a piece of parchment paper inside the pan with the paper extending past the dish. (I like to make sure the "sides" of my parchment paper extend well past my pan to give "handles" that I can use to help release the marshmallow).
Cover the entire bottom of the pan (over parchment paper) with a ½ cup of colored sugar.
Working quickly, pour the marshmallow mixture evenly over the colored sugar. Ensure that the marshmallow reaches all four corners. Sprinkle the remaining colored sugar on top of the marshmallow then fold the edges of the parchment paper over the sprinkled marshmallow and set in your fridge for 8-12 hours or overnight.
Once the marshmallow has set, remove from the fridge and unfold the parchment paper. Using the parchment paper as handles, lift the marshmallow out of the pan and place on a cutting board.
This is the fun part! Grave the kiddos and use cookie cutters to cut out "Peeps". I found that dipping the cookie cutter into corn starch helped the marshmallow release easier.
Dust the freshly cut sides of each Peep with colored sugar then place on a drying rack to finish setting for 30 minutes.
Katy is a chef, yogi, and a wrangler to four little people who call her mom.  When she's not in the kitchen, you can find her over at Grace in the Crumbs sharing her stories of finding beauty and joy in the everyday, and often times messy, moments of our lives.