Post by Rebecca of Not-So-SAHM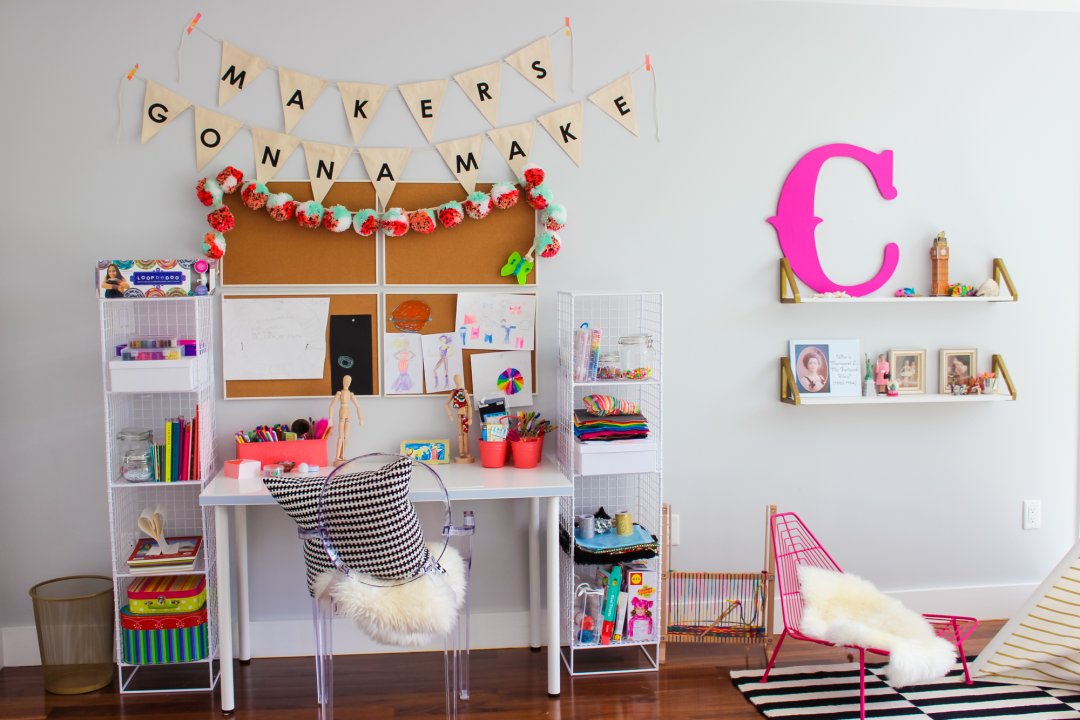 Our main arts and crafts area is smack in the middle of our main kitchen and dining rooms. I've always loved having the kids be close by doing projects while I'm puttering about. But this past year, Cameron's already prolific creating has gone next level. She's become obsessed with sketching, designing, sewing, knitting, beading, and on and on and on. Trying to contain her projects while providing her with an area she could leave work out for multiple days was becoming a nightmare. So we decided to give her her very own craft maker area!
Adequate storage was the first item on my list. I wanted shelving that she could reach herself and was open to display her supplies and work. The Land of Nod's On the Grid Bookcases were the perfect solution and provide ample storage without being bulky and heavy. I stacked fabric in color-coordinated piles and placed smaller items like beads and thread in their own smaller containers. And her idea books got their own shelf too.
Next, I picked out a large work table that fit in with the shelves and her room's current scheme (it seems like just yesterday I was posting on her new bedroom!). I went with a glossy white table with a good work surface. Cam loves our dining chairs so I picked up an extra one for her to use in her room. A little sheepskin throw and a back pillow help make the acrylic seat more comfy for her.
I tried to keep a lot of her supplies right at the ready on her desk and organize them with Nod's fabulous I Could've Bin desk accessories. Her sketching materials and note taking items went in one. Small sewing accessories like snaps, tape measures, and embroidery floss went in another.
To help her organize her ideas, I hung four cork boards over the desk. She's already started filling it with sketches, shopping lists, and some of her creations. To keep her inspired, I hung Nod's bright Pom Pom Garland topped by a customized "Makers Gonna Make" with Bold Flag Letters.
Creating her own area has been such a wonderful way to support her creativity while preserving my sanity. She has already spent hours (HOURS!) in her new space brainstorming, sewing, and making away. She definitely goes through spurts of particular projects. She's been through a weaving phase, a jewelry making phase, and an all things space phase. Right now she's on a stuffed animal kick. She makes the animal and then makes all kinds of accessories for it — she's sewing a neck pillow for her new stuffed giraffe at the moment.
If you have a little creator in your home, I highly recommend carving out a little space just for them. Thanks so much to The Land of Nod for helping me make it happen!
Rebecca is a mom to two young kiddos and, in her spare time (ha!), likes to pretend she's a back-up dancer, craft cocktails, and run long distances. A relatively recent SAHM, she blogs family-friendly activities, DIYs and celebration fun at Not-So-SAHM.