Post by KJ, Retail Home Stylist from The Land of Nod's Design Services Team
Adding rose gold accents is a great way to jazz up any space! It's one of those finishes that works well in pretty much every room in your home. For this nursery design, I paired rose gold accents with soft pink hues and darker shades of green.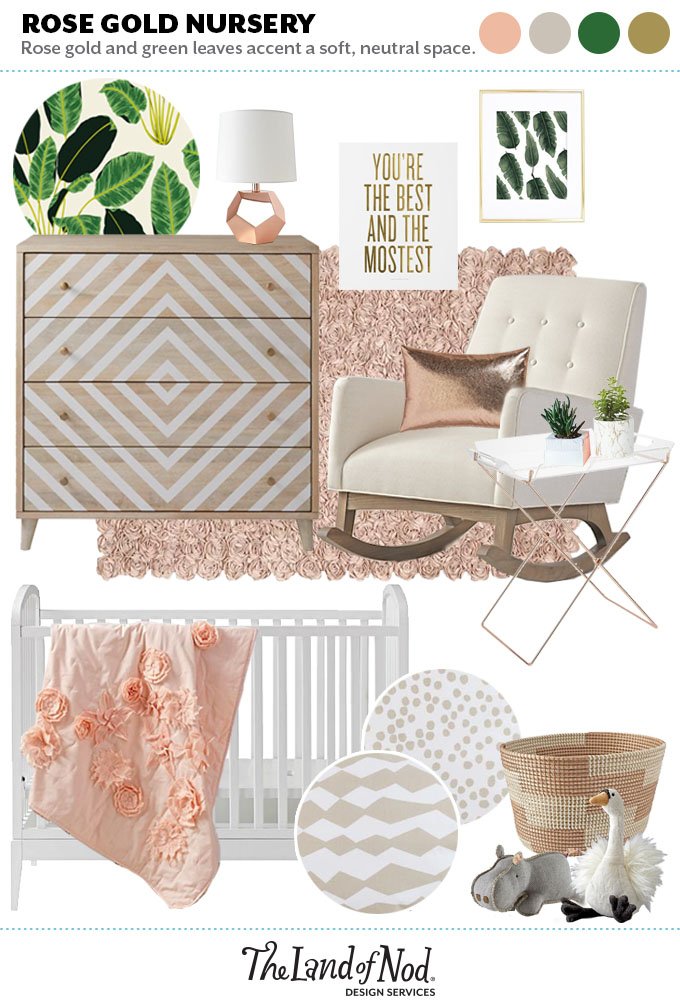 The rose gold accents I picked are featured in the decor and smaller pieces of furniture, such as the Geometric Rose Gold Lamp, acrylic tray table, and rocking chair throw pillow. To compliment those items, I used soft pinks, whites and tans in the bedding, rug, and larger furniture items. If you want more of a whimsical look, try adding some of our rose gold Lottie Dots or cloud shaped garland to the walls!
I love adding pops of color for contrast, so I brought in darker green tones using plant print wall decor. If you really want to go bold, the leafy emerald green Genevive Gorder wallpaper is absolutely adorable! I would pair it with either light pink wall paint, or (depending on how much natural light you get in the room) a dusty shade of green. My favorites are Benjamin Moore's Frosted Petal (2089-70) or Antique Jade (465). Just beware; wall colors can look very different in your actual space from what you see in pictures or in the paint fan. If you're not sure what paint color to use, you can always buy sample sizes of various shades to try at home.
Enjoy!
Post by KJ Burkland, Retail Home Stylist (Seattle),  from The Land of Nod's Design Services Team. Our Design Services team offers free one-on-one design advice, mood boards and space planning. You have a room to decorate? They'd love to hear from you. Visit The Land of Nod's Design Services page to get started today.