Post by KJ, Retail Home Stylist from The Land of Nod's Design Services Team
You've tried putting it off, but the time is here. Your kids are growing up, and so is their style. Enter our tween boys room design. Ahh, the tween years – prepare yourselves!
When you initially think of The Land of Nod, you probably think of nurseries or kids rooms. Fear not! Just because your kids are getting older doesn't mean you can't still shop with Nod! Between bedding, decor, shelving, and even furniture, you are bound to find something that both you and your tween like. To help inspire your room design, we put together a moodboard that balances a bright, big kid personality with pieces that can transition into teenage years, college, and beyond.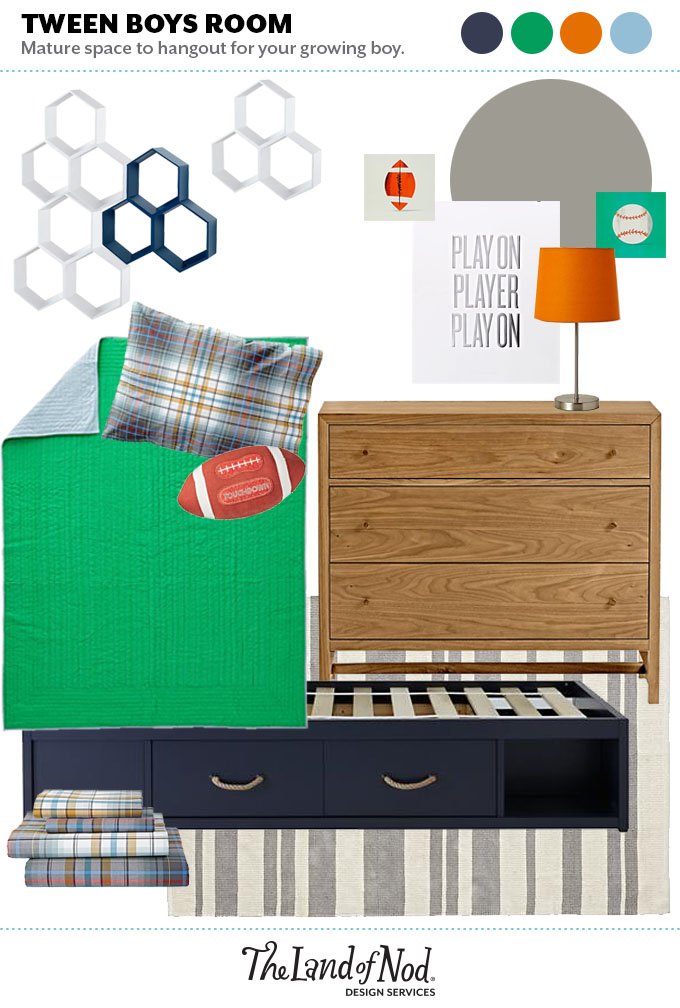 For this design, we picked a reversible green and blue quilt and paired it with our Plaid University sheet set. We also chose a neutral rug with a clean striped pattern and bright sports prints to keep the overall look of the room feeling mature, but still fun and expressive. Shelving is also a great way for your kid to display any favorite keepsakes and add some personality to his new space.
Enjoy!
Post by KJ Burkland, Retail Home Stylist (Seattle),  from The Land of Nod's Design Services Team. Our Design Services team offers free one-on-one design advice, mood boards and space planning. You have a room to decorate? They'd love to hear from you. Visit The Land of Nod's Design Services page to get started today.