Post by KJ, Retail Home Stylist from The Land of Nod's Design Services Team
A nursery doesn't have to mean baby blues and soft pinks – nowadays anything goes! Why not make your baby's nursery something you enjoy?
Bohemian design is a style you've probably heard quite often. Boho really gives you the chance to express yourself; you can choose to create more of a basic layout using neutral, calming colors, or really have fun with a mix of bold patterns. It doesn't matter if you have a boy or girl, this is a look everyone can love.
For all you Boho mamas and dads looking to incorporate some of your style into your kiddos room, take a peek below for inspiration.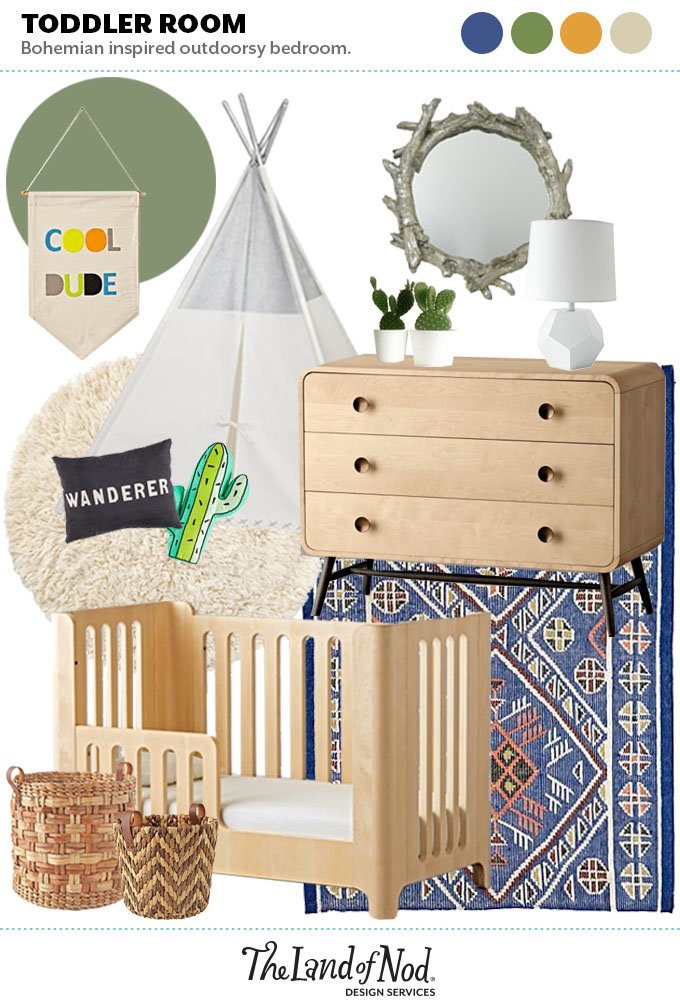 To keep this look from getting too overwhelming, I used minimal wall decor, but added color from our new line of Color House wall paint and our new Heritage rug. My favorite thing about this style is being able to incorporate plants. If you're like me and don't have a green thumb, maybe some faux plants or plants that don't require a ton of care would work well for you. Otherwise, check out some plants that grow well in your climate – just make sure any real cacti are out of reach of your little adventurer!
Enjoy!
Post by KJ Burkland, Retail Home Stylist (Seattle),  from The Land of Nod's Design Services Team. Our Design Services team offers free one-on-one design advice, mood boards and space planning. You have a room to decorate? They'd love to hear from you. Visit The Land of Nod's Design Services page to get started today.