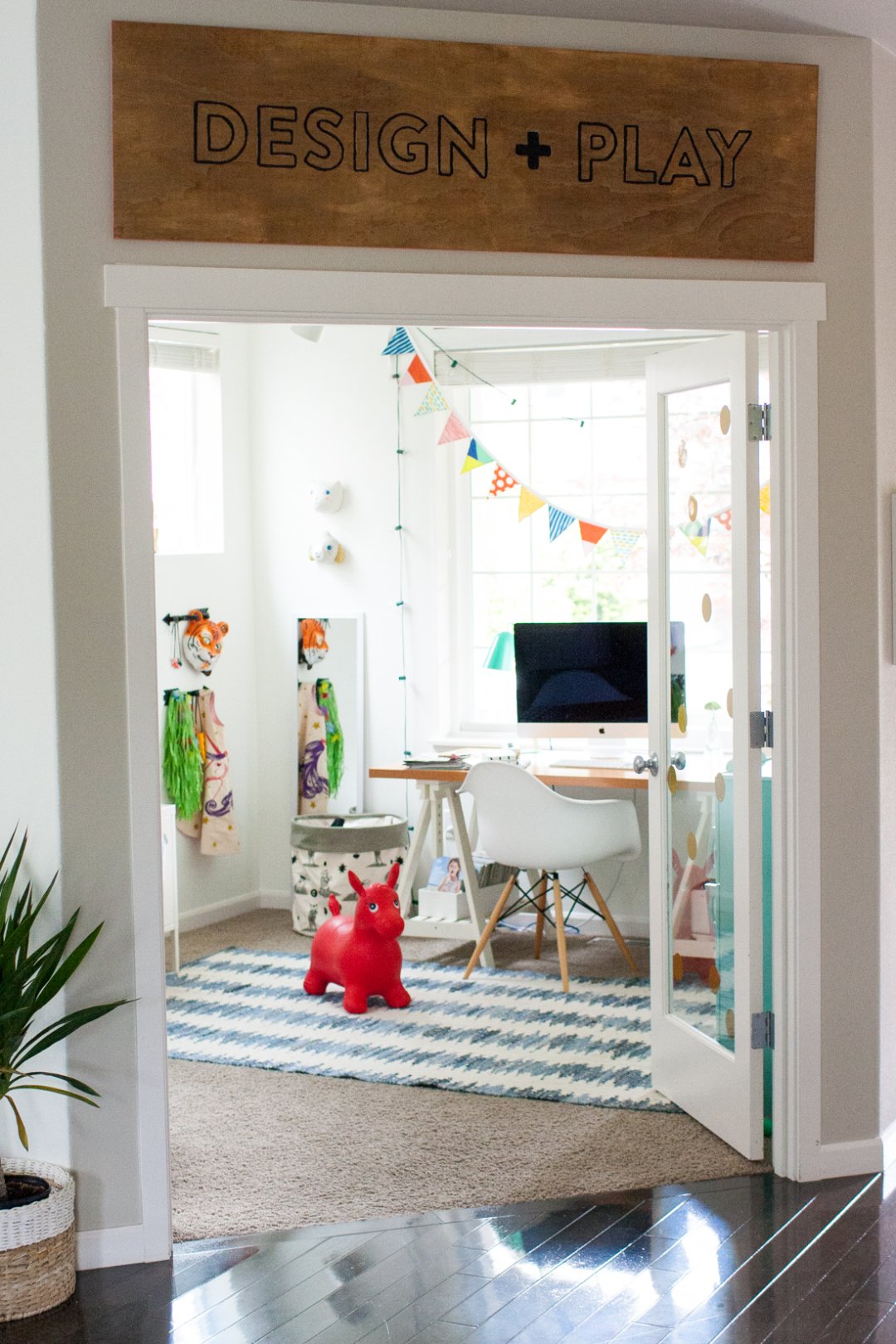 Our play-office makeover is finished and even though I never in a million years thought I would be willing to share an office with my little people, I couldn't be happier to be sitting and working in a freshly painted, decorated and kid friendly office space. It's been getting lots of use, staying relatively clean (thanks to lots of baskets and hooks) and working out really well for everyone so far! Now, instead of my kids annoyingly moaning and rolling around on the floor while I finish up an email or save design files, they have lots of toys and activities to keep them busy. For all the mamas who understand what it's like to try and finish a task while kids are awake, you know what a blessing that is.
Enough of me chit-chatting… welcome to our play-office! Keep scrolling for a full tour and details.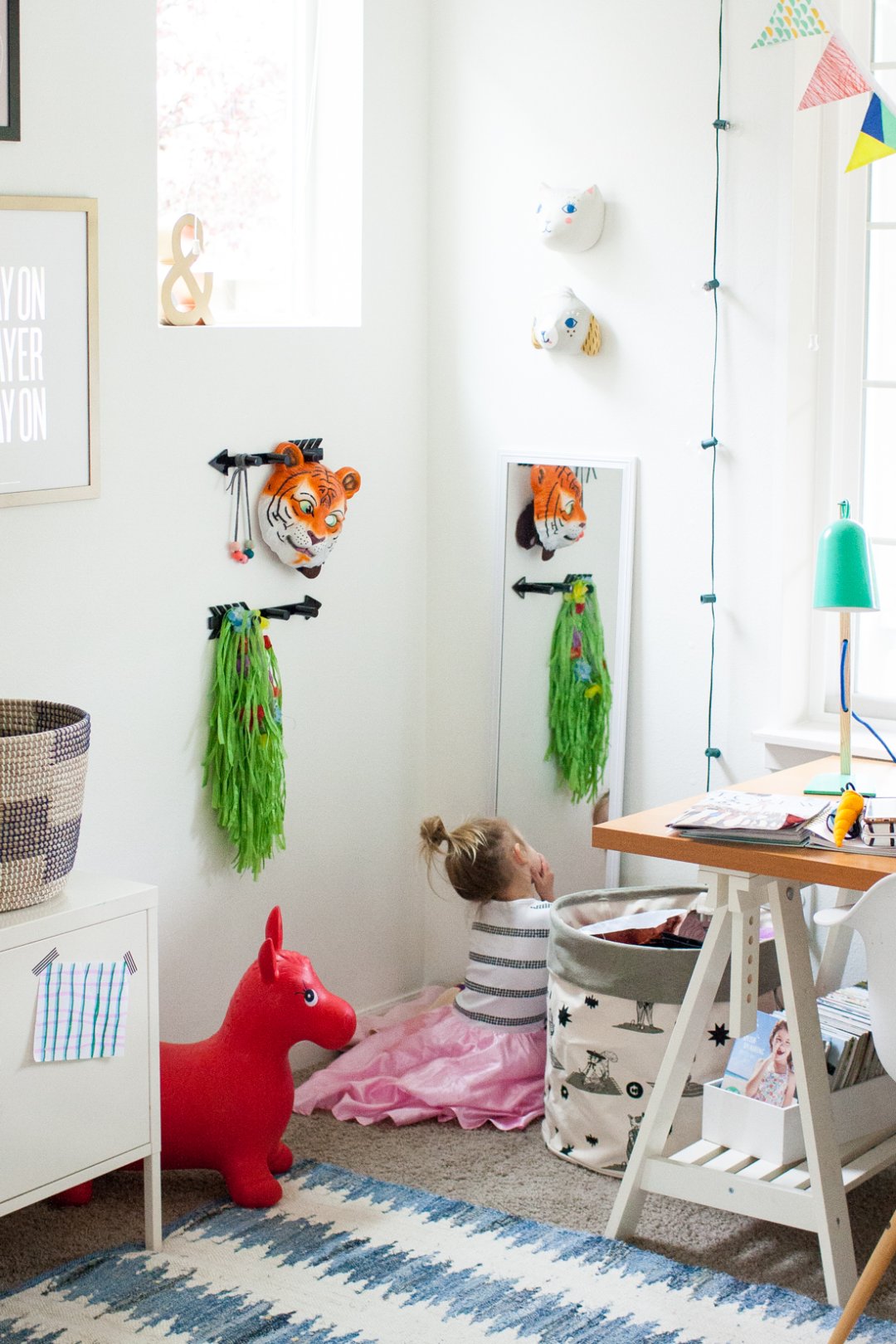 A dress up corner was a must as it's one of the things my younger two kids love to do. To tame the pile of tutus, capes and masks we've collected over the years, we used this cute floor bin. However, it can be easy for kids to forget about their playtime options when everything is hiding so we also added these arrow hooks and an inexpensive mirror for endless entertainment.
The cute cat and dog duo above the mirror are a favorite addition to the room… we recently started talking about giving them names!
My desk area… Wasn't sure if I would like my desk and computer in front of the window, but really love it! Bonus that it makes keeping an eye on scooter riding, street hockey playing, baseball throwing kids, super easy. Something I will be extra grateful for come summer!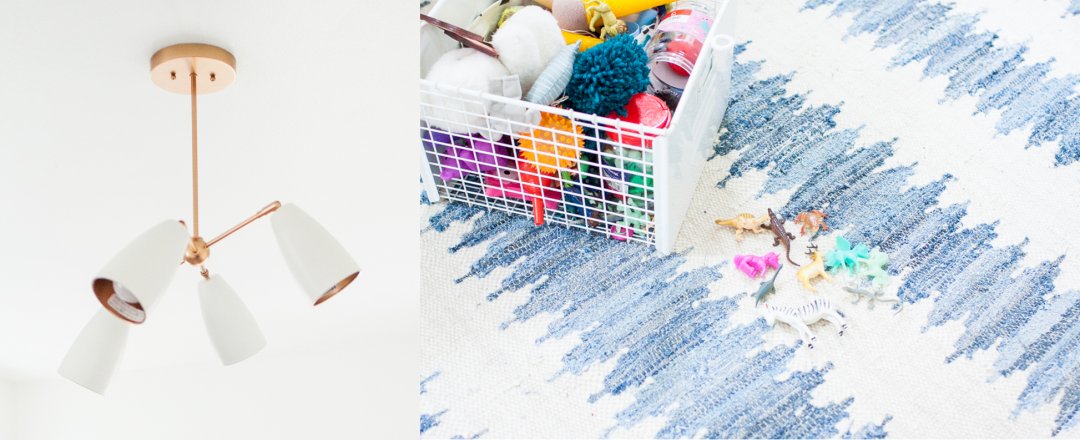 Nothing like a pretty ceiling light and rug to make a room feel pulled together and a bit more sophisticated. Couldn't resist this gold and white spotlight pendant light…and this beautiful denim rug!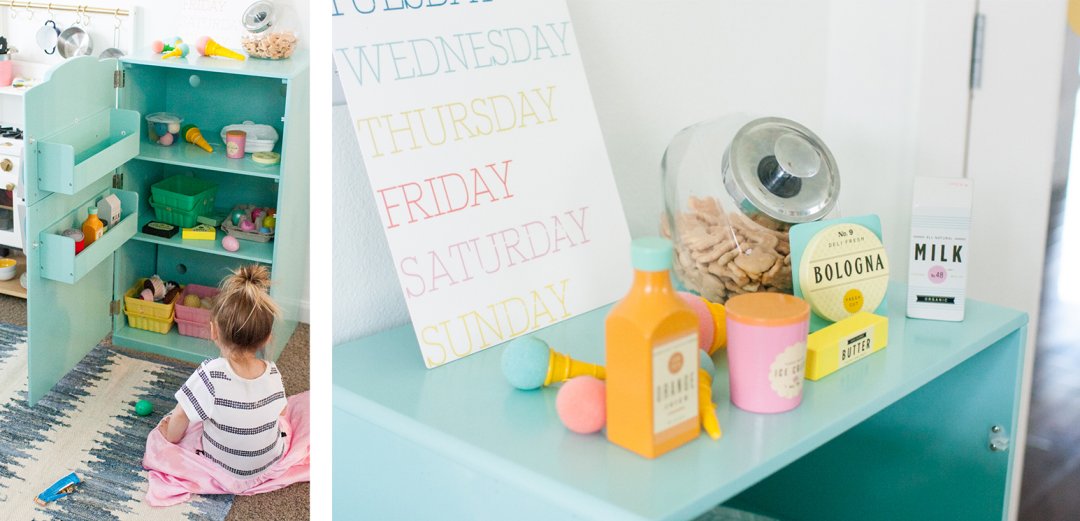 The kids' play kitchen dreams came true when this retro refrigerator arrived. I also love that it's roomy enough to hold lots of kitchen accessories. Makes playing and picking up super easy! And I can't get enough of these play food sets!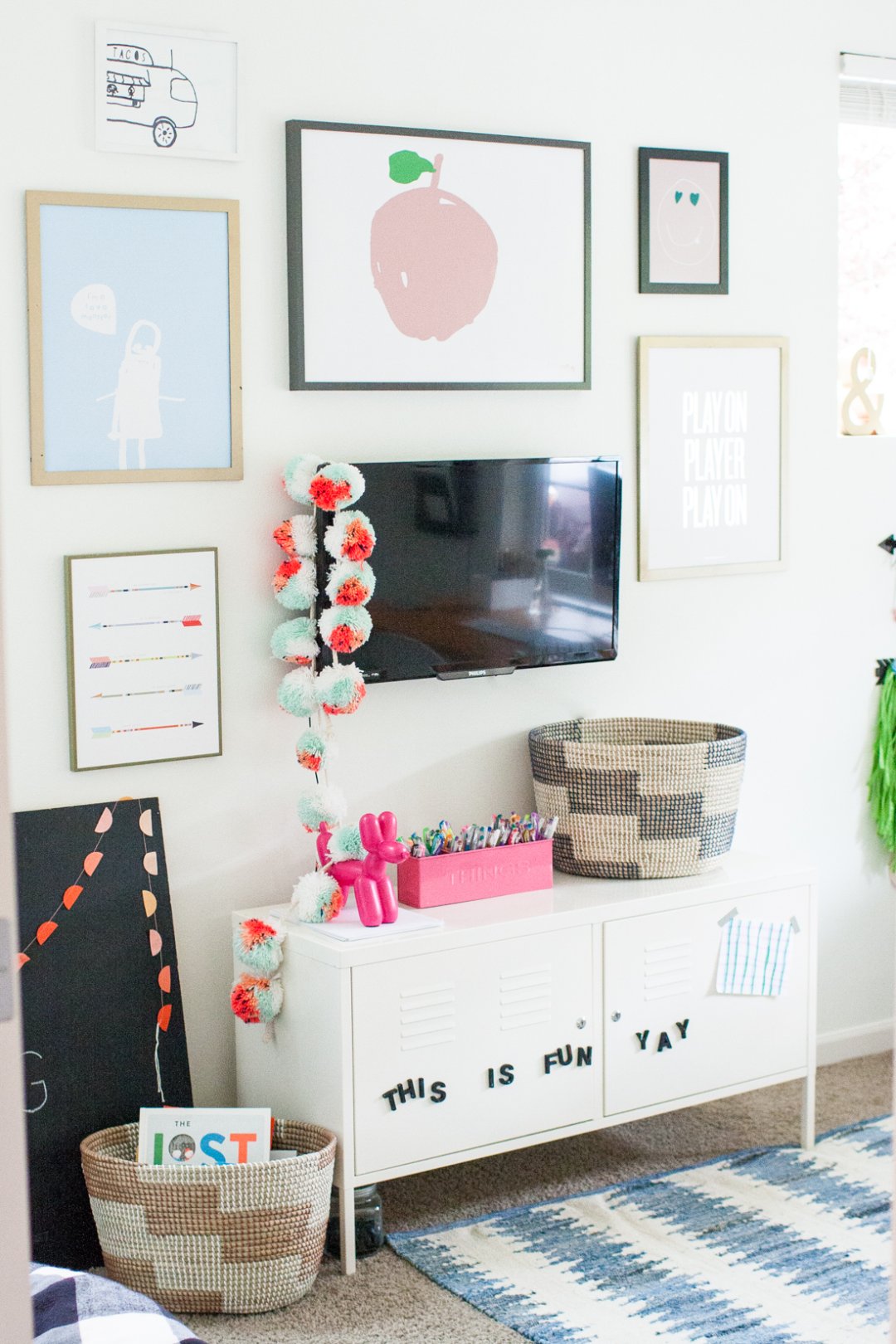 Favorite part of the room makeover is this wall. I asked the kids to draw simple pictures and then scanned, made some small edits and had them printed as posters. Working on a full tutorial to share! The TV was another thing I was unsure of, but it's been nice to have… you may have seen the kids following along with a yoga show on my Instagram stories last week 🙂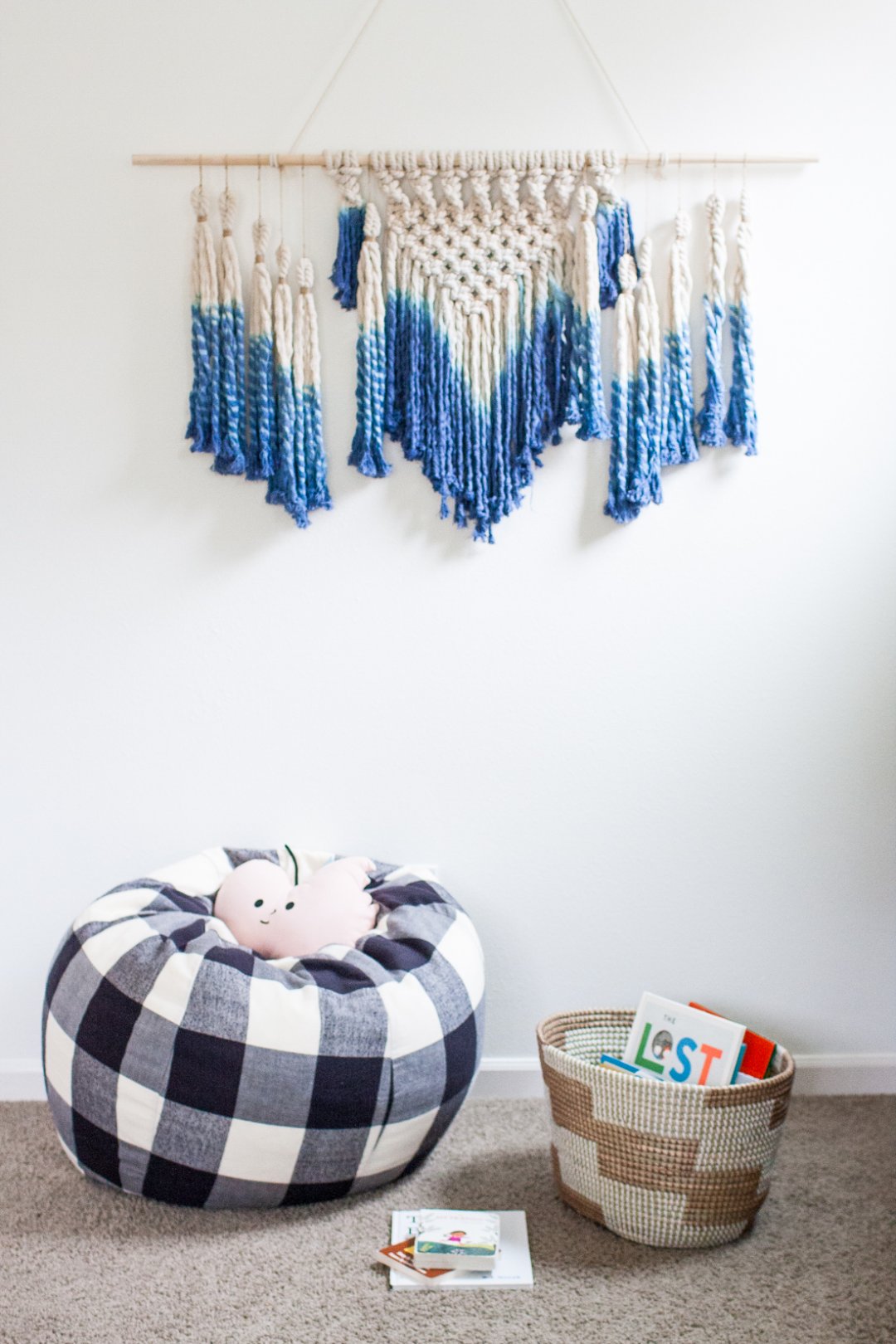 Last but not least, a comfy reading area complete with an oversized beanbag and cute rose gold basket to hold books.
Post by Rae Ann Kelly, 
graphic designer, blogger, kid wrangler. She shares
 fun stuff @ raeannkelly.com 
& can't stop (won't stop) insta @raeannkelly