Post by Stephanie, Home Stylist & Event Designer from the Land of Nod's Design Services Team
As any parent will tell you, the struggle to maintain an organized, stylish home with kiddos is a real challenge. Arming yourself with a robust assortment of storage options is paramount in fighting the battle of toys, books, games, and other kiddo paraphernalia.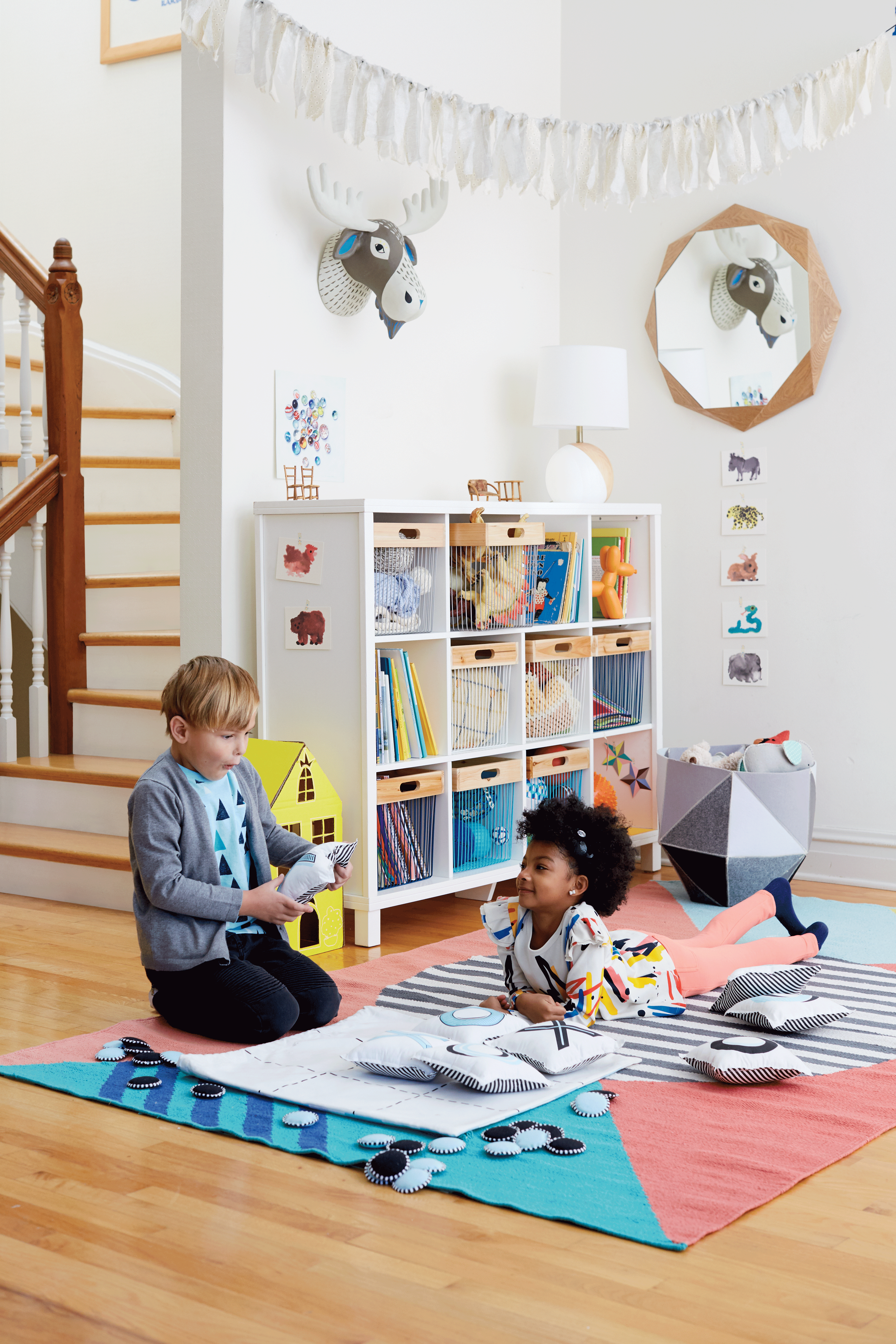 When it comes to building up your defenses, there is no better hero to have on your side than a member of the classic Cubic Bookcase family. With five different shapes and sizes in the collection, there are a multitude of possible configurations to adapt to your specific needs. Each cubby in the bookcase fits anywhere between an 11 to 12" bin or basket, so you can easily bring some enclosed storage into the mix to help corral any of those tiny blocks and balls that require a little bit of extra organization assistance.
My personal favorites are the Wood and Wire Cube Bin and the Stripes Around the Cube Bin. The wire bins are great for playrooms or bedrooms where you may want to give your kiddos some visibility into where their toys are hiding. The striped canvas bins are great for living rooms or any places where you may want to conceal toys when they're not in use.
Once you've gotten your storage needs nailed down, the final step for styling your bookcase is adding personal decorative touches. Whether this is an array of bright yellow Honeycomb Shelves hung above the bookshelf or a few favorite toys positioned next to a table lamp, anything can be a propping element. Don't be afraid to use vessels filled with army men, glitter or pom poms to fill spaces between books and games. Gather up those seemingly random, tiny objects and put them to work as artful display pieces.
Happy Styling!
Post by Stephanie, Home Stylist & Event Designer  from The Land of Nod's Design Services Team. Our Design Services team offers free one-on-one design advice, mood boards and space planning. You have a room to decorate? They'd love to hear from you. Visit The Land of Nod's Design Services page to get started today.