We recently swapped skyscrapers for evergreens and moved from NYC to Portland, OR where we purchased our first home. Transitioning from apartment living to suburban home living has been an adjustment, but one that we've loved. There are plenty of things we miss about NYC, but one thing we don't miss is the lack of space! We're loving all of our new square footage and feeling like we have more than enough room to grow for years to come.
We worked very hard to get our kiddos here and jumped at the opportunity to create fun, playful rooms for them to grow up in. We worked with the Design Services team at Land of Nod to help us come up with a design plan that incorporated existing pieces that we owned and loved, along with a few new pieces from LON that we felt would carry them through their teenage years. We are beyond thrilled with the results and my heart skips a beat each time I walk into their rooms. I get a lot of satisfaction out of watching my kids really use their rooms – for playing, sleeping, reading, etc. I feel like we've successfully created spaces where we all want to spend time!
OLLIE'S ROOM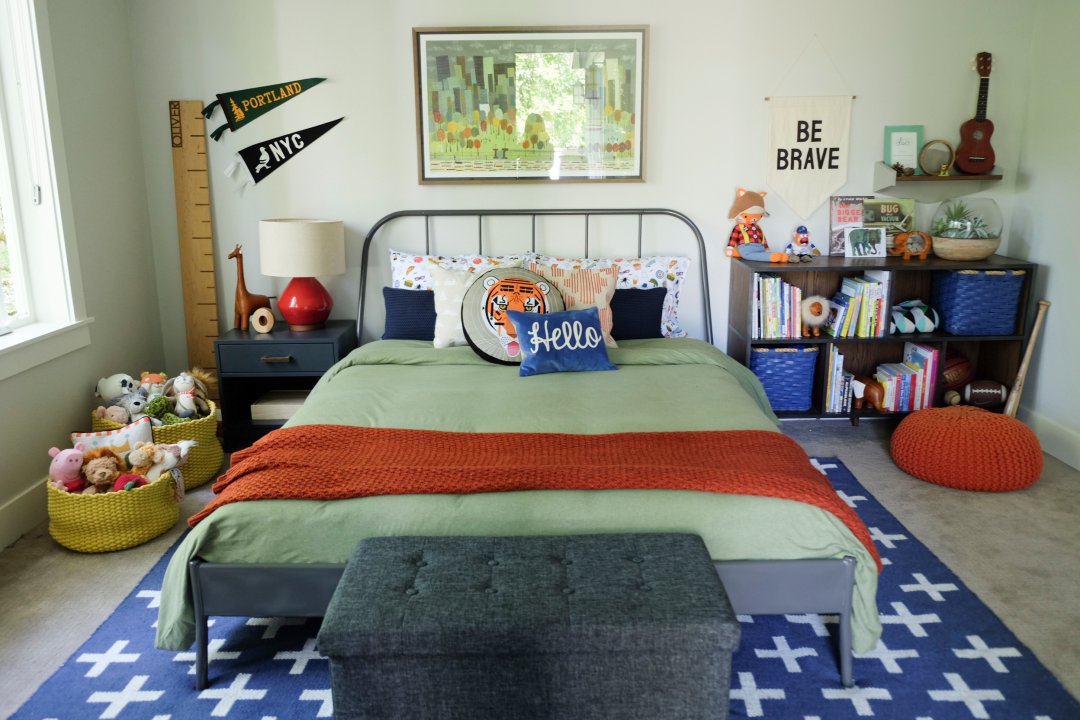 Ollie is 5 and loves Legos and Star Wars. We wanted to transition him to a big boy bed with our move and opted for a queen sized bed (here is one similar) so that if we have guests staying with us, his bed is large enough to accommodate adults. We had so much fun selecting his bedding. I let him pick the playful pillowcases and throw pillows which we paired with a soft jersey duvet cover and fun sheets. The graphic rug adds a pop of color and makes for a cozy play surface. It's incredibly soft and the perfect landing spot for toys or building legos.
We have owned these yellow knit baskets since he was a baby and they've always stored his most loved stuffed animals. The nightstand was a great choice that works well for him as a toddler, but will continue to be a handsome detail in his room as he gets older. The pennants represent where he came from and where he just landed!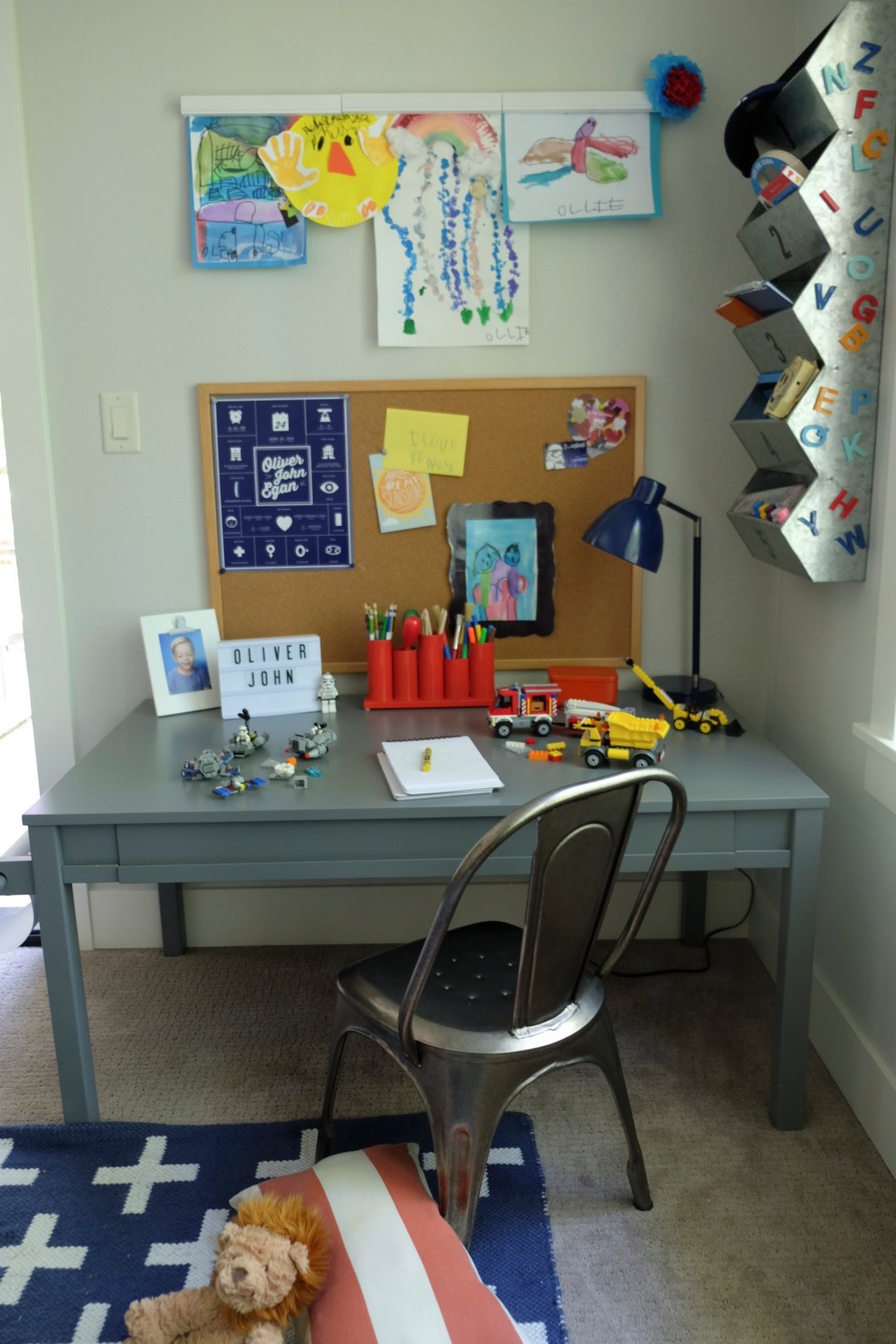 His desk corner has been a big hit. He spends endless hours there building legos and tackling art projects. We intend to use the leg extensions to make the desk taller as he grows and his needs change (homework!). His markers, colored pencils, and paint brushes are neatly organized in the perfect pitch storage caddy. We're constantly swapping out his school art projects using the gallery art rail and use the Take 5 Wall Bin for all sorts of knick knacks and school week organization.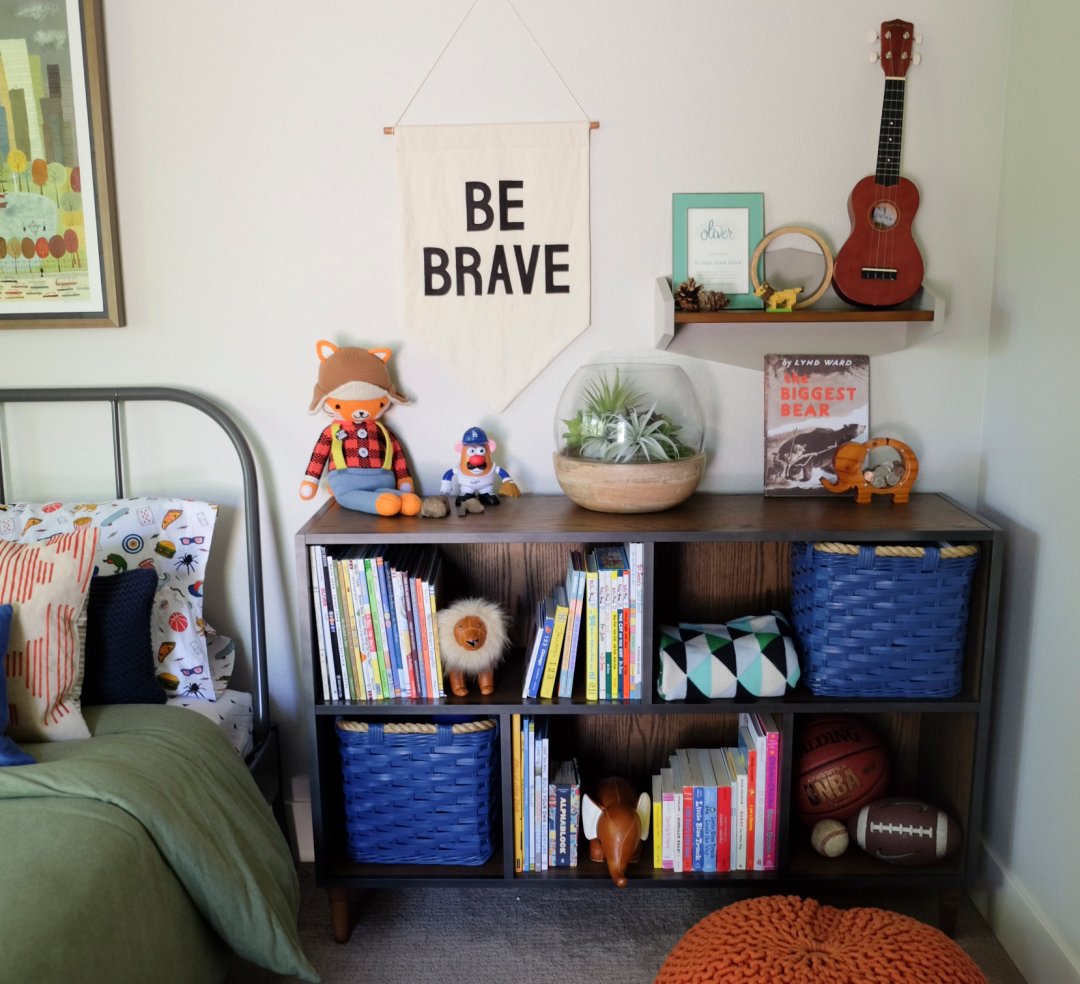 The bookcase is a beautiful and useful piece where we store books, baskets of toys, and other things. The orange pouf is a cozy spot to flip through favorite books. We hung the mid-century shelf above the bookcase right next to a pennant displaying our family motto to "Be Brave." It holds some of his favorite treasures like pine cones from our last trip to see his grandparents.
NORA'S ROOM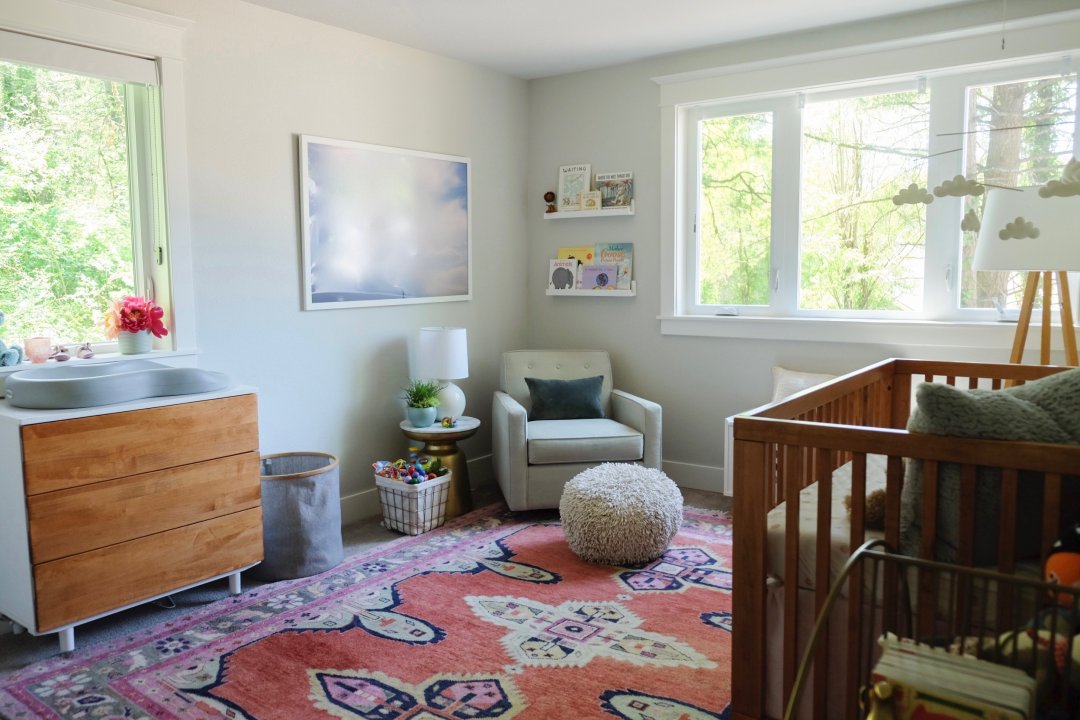 Nora is 6 months old and loves attention! (especially from her big brother) Her room turned out beautiful. Thanks to the Design Services Team we were able to use almost all of our previous nursery furniture that we used with Ollie, yet give the nursery a completely different look and feel. The crib, dresser, and rocker are all hand-me-downs from her brother that were still in great condition.
One of the focal points of the room is the beautiful pink Turkish inspired rug. It was designed by my friend Caitlin Wilson and set the perfect tone for the room. It had previously been in our dining room and living room, but the color palette with pinks, coral, mint green, and navy seemed perfect for a baby girl nursery. it inspired the decisions for many of the details in the room like the crib bedding.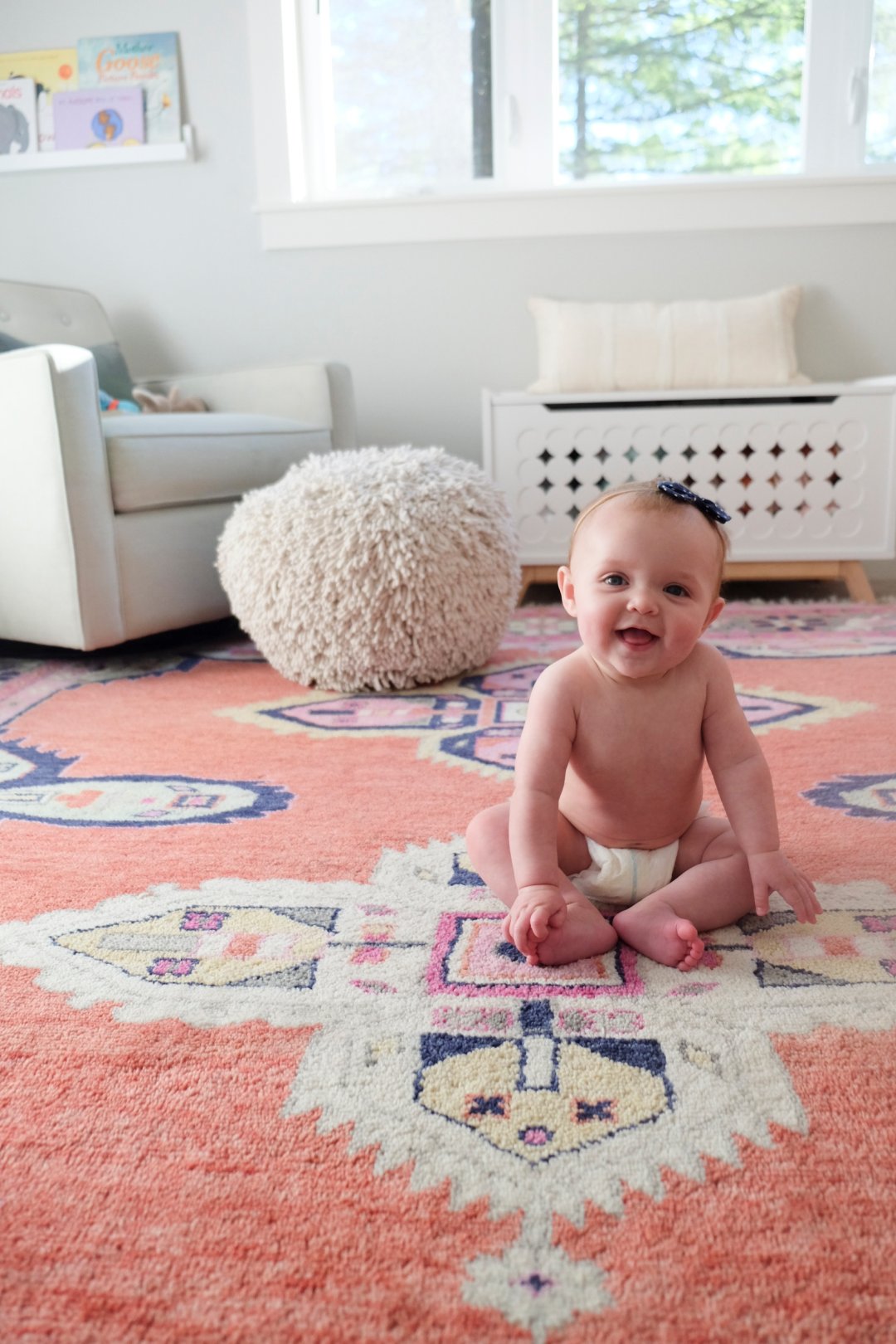 The reading corner is cozy and inviting with the cream shaggy pouf perfect for propping my feet up in the middle of the night or lounging while flipping through books with Nora in my lap. The book ledges are both beautiful and practical for keeping our favorite books organized. Her toys are often nestled in an index cube bin making them easily accessible for tummy time play. The toy box feels so special – like a piece that can eventually be passed down. The quality and design is top notch for storing blankets and stuffed animals.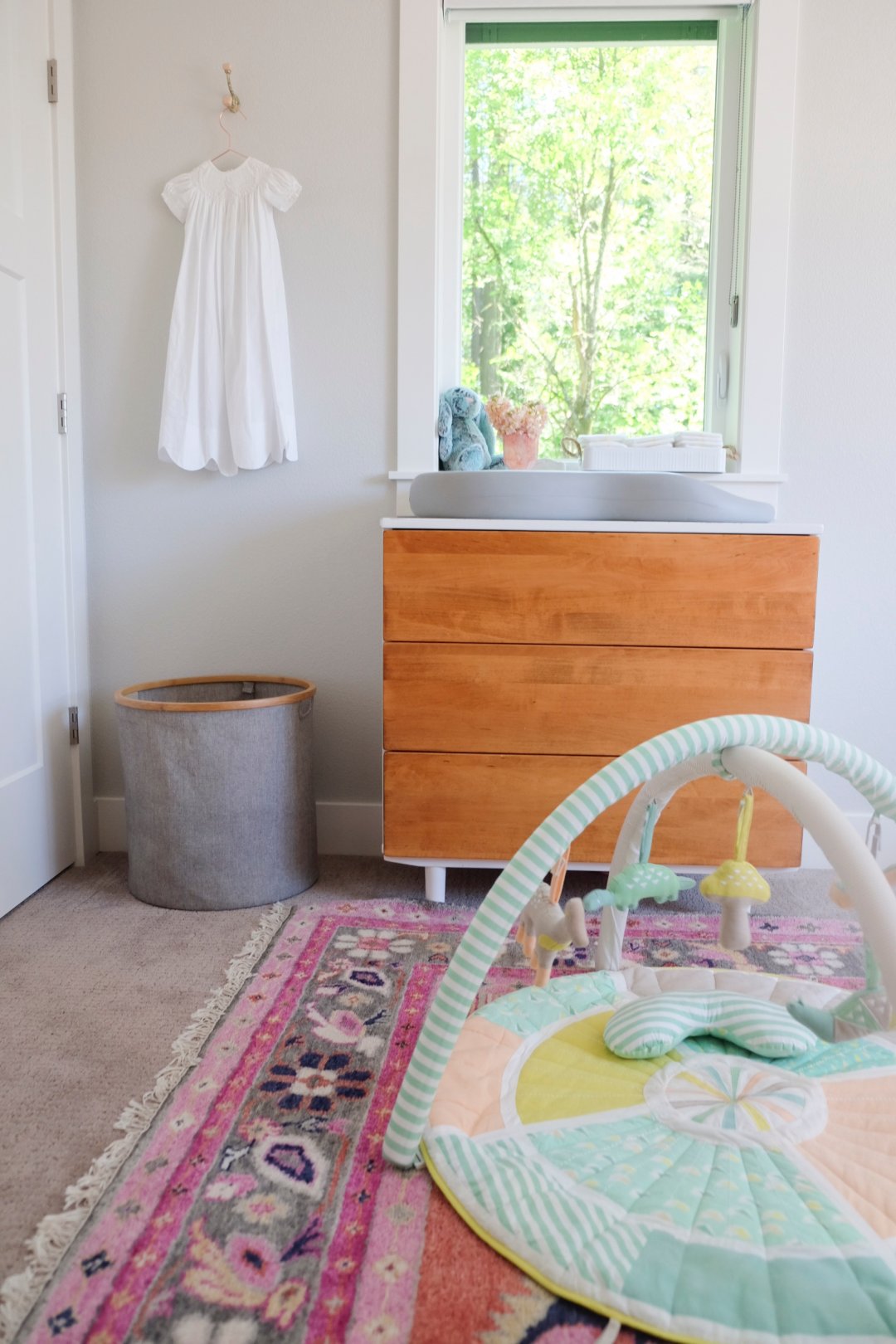 This corner is where dressing and diaper changing happens. Her beautiful blessing dress hangs on the wall and Nora spends plenty of time kicking and playing on her activity gym that rotates rooms throughout the house. Her hamper was purchased from LON for Ollie's nursery years ago and has been a well used item that has stood the test of time, it's no longer available, but here is something similar.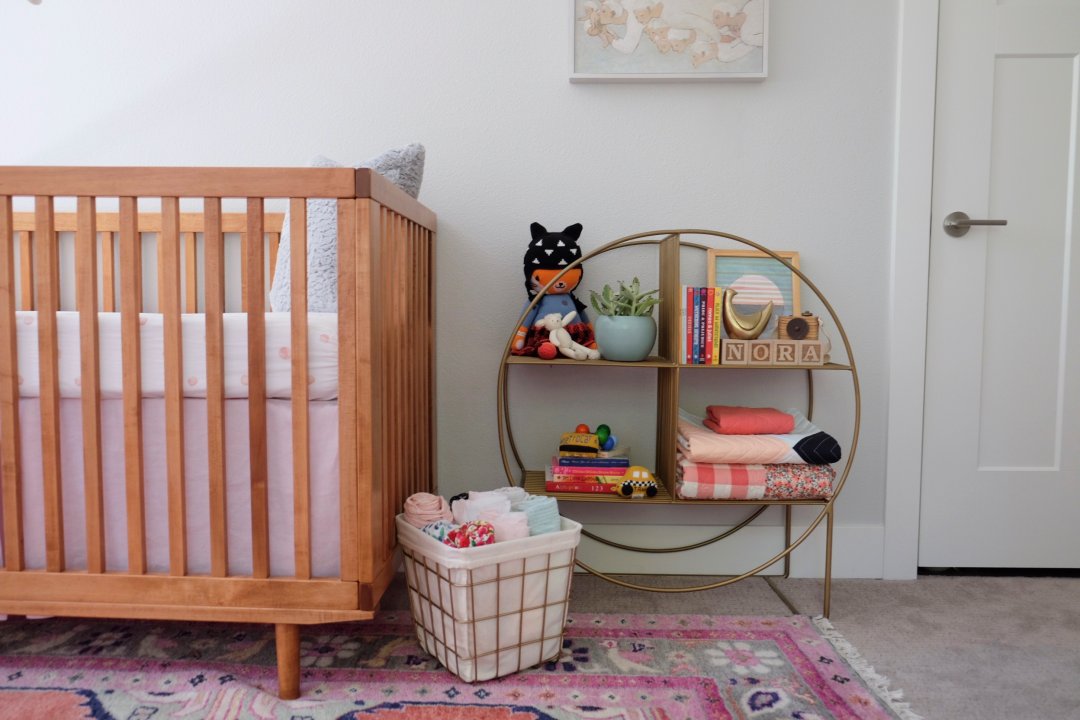 I fell in love with the design of the Wheelhouse Bookcase and envision it being used for many years to come. It's stylish yet practical and a great shape for the room. Another index cube bin is used to store swaddle blankets for easy access anytime of day.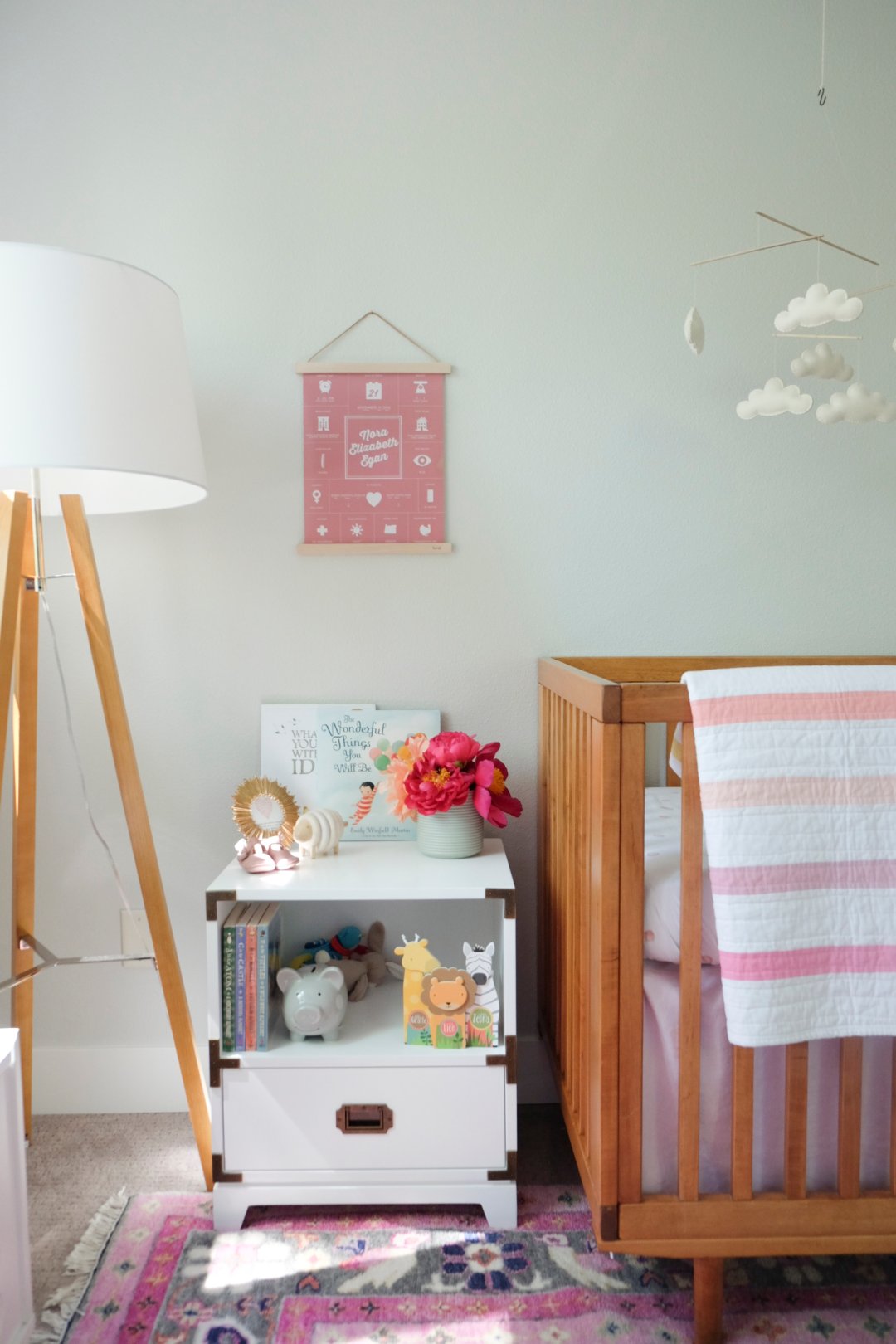 I've really enjoyed having a small nightstand next to the crib – it's an easy landing spot for a bottle in the middle of the night and to store things like lovies and books. It will be a great piece to have once she's old enough for a big girl bed as well. The wood picture frame holds a modern birth print that my sister Kylie Whiting designed sharing all the important details from the day she was born. The mobile (here is one similar) adds a touch of whimsy and the floor lamps (similar) provides perfectly soft light as we're winding down before bedtime each night.
My thanks to the incredible Design Services team who went above and beyond to help me create such lovely rooms for my kiddos. We look forward to years of memory making in these spaces!
Post by Kelsey Nixon, an Emmy-nominated TV personality, author, wife, mom, and cooking show host. Her show, Kelsey's Essentials on Cooking Channel, centers around a tip, technique or tool that shows the home cook how to navigate the kitchen. You can also catch Kelsey dishing about her experiences as a new mom on Family Food and First Time Mom. Follow her on Facebook, Twitter, Pinterest and Instagram.
Our Design Services team offers free one-on-one design advice, mood boards and space planning. You have a room to decorate? They'd love to hear from you. Visit The Land of Nod's Design Services page to get started today.