Whether you have a few more weeks of camp lunches left to pack, or are already getting back in the groove of packing lunches for a new school year, I have 3 practical tips for packing healthy lunches that I want to share with you. And, to go along with the tips, I have a super easy, colorful and fun lunch option that has won over both of my toddlers, one of which has been very picky as of late. So, read on for my tips and let's make packed lunches fun and healthy… Easy too!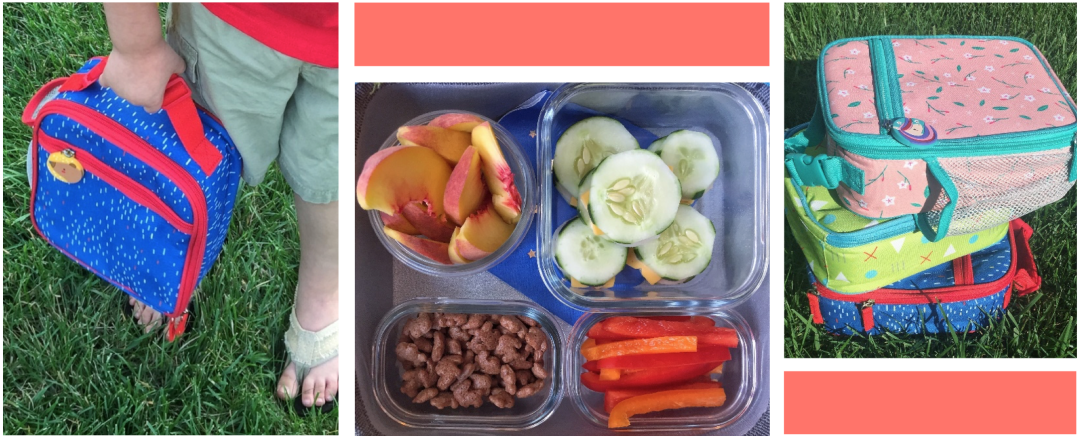 1. Make Fruits & Vegetables The Star
You, me, young and old – We all eat with our eyes. And, our little ones are not just included in that list, they are at the very top of it!
When packing up camp or school lunches, I try to incorporate as many different colors as I can. I know that if what I pack is going up against some of those pre-packaged options that fill up a lot of kid's lunch bags, my babes are going to be disappointed every time if their lunch doesn't look fun too. But the fun doesn't have to be sugary fruit snacks or cookies. It can be veggie sticks, a mixed fruit bowl, homemade fruit leather, or other produce cut out into different shapes, flowers, etc. Sometimes it just all comes down to the presentation. (Of course, a treat here and there is perfectly fine too! It is all about finding a healthy balance!)
However you choose to do it, try and make the healthy, good stuff the star of the meal! Pack a couple different options, varying colors, textures, etc. Kids love color and fruits and veggies are naturally full of them!
2. Keep It Simple
If you follow me over on my IG feed, @lunchesandlittles you know that I can, at times, get complicated and over the top with meals and desserts, BUT when it comes to packing lunches, keeping things simple is key! The last thing you want to do is pack something brand new or overly complicated in a lunchbox for your little one. You don't want them away from home, questioning what something is, or how to eat it, instead of eating it up. So simplify it!
When packing lunches for my babes, I keep it simple by incorporating foods they already know, while still offering a variety. And, I make sure that the various things I pack are easy enough for them to eat in the allotted amount of time. And when it comes to adding shapes, etc. I use cookie cutters, or wave shaped cutters, to add fun without spending too much time on the packing process myself and/or getting things too overly involved for the littles.
3. Think Outside The Box
When someone says lunch, especially school lunch, what do you think of? For most, it's hard to imagine a packed lunch without two pieces of bread making up some kind of a sandwich. Right?
While it isn't really intentional, I almost never pack (or serve up at home for that matter) sandwiches. I'm not saying that there is anything wrong with traditional sandwiches, but I do like to pack and offer different things. So, for my last tip, I am suggesting that you think outside of the box a bit. Packed lunches don't have to include sandwiches and other traditional lunch options.
Below I am going to walk you through an easy, fun & healthy school lunch that includes fresh fruit and veggies, mini breadless "sandwiches" and an unconventional treat!
Cucumber "Sandwiches" Recipe
Ingredients & Utensils:
1 Large Cucumber
Sliced Meat (Turkey, Chicken, Ham, etc)
Cheese Slices
Vegetable Peeler
Mini Cookie Cutters
Directions:
First, find out if your little one(s) will eat the skin of a cucumber. If not, peel it! I peel "stripes" into my cucumbers as shown below. It's so easy, but adds such a fun little touch!
Then, using your cookie cutters, cut out your meat and cheese shapes. I used a mini circle cutter for my turkey slices and a little star flower for the cheese.
Return to the cucumber and cut into small slices to use as your bread alternative.
Stack/assemble sandwiches by putting 1-2 pieces of your cut out meat and cheese in between two cucumber slices and viola! A breadless finger food lunch option!
Just look at how fun these little "sandwiches" look!
To finish off your child's lunch, add in some fresh produce of choice (remember, color!) and try an unconventional treat like a cereal; yeah, cereal! In a lunchbox, a small handful is a well-loved snack. One of our favorites is Annie's Cocoa Bunnies. This oat, corn and rice cereal has real cocoa goodness packed into every piece and is completely free of artificial flavors, synthetic colors, preservatives, and high-fructose corn syrup. So much better than some of the other pre-packaged options out there and the little ones love it!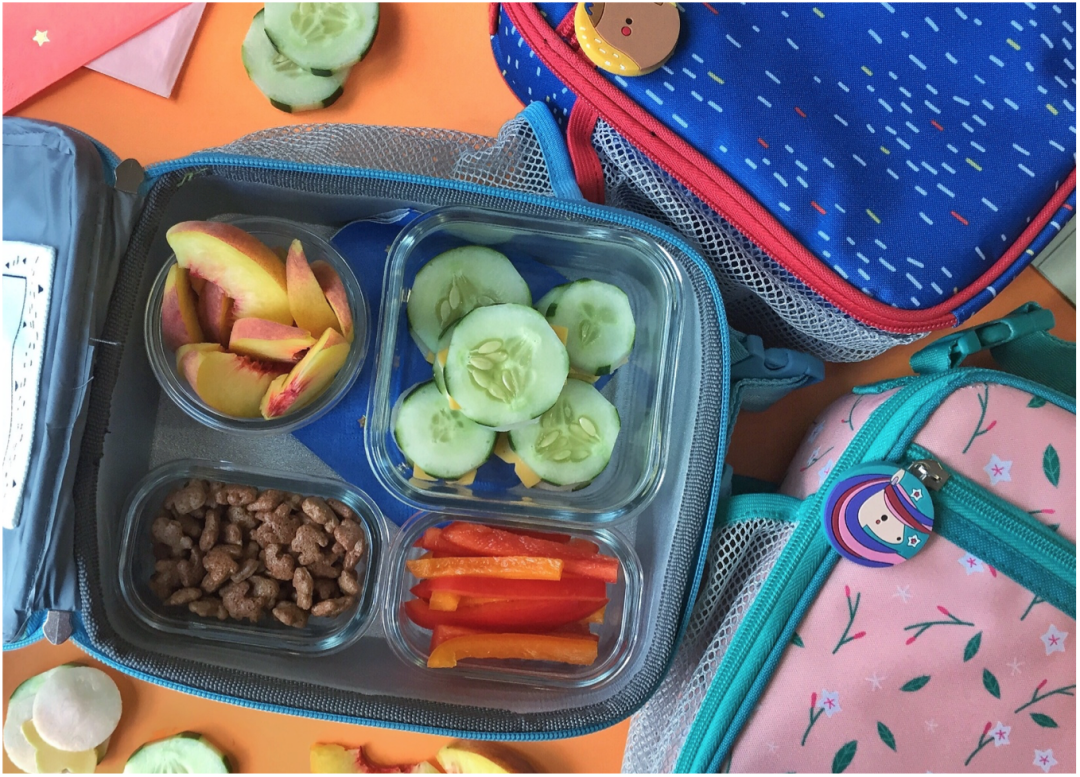 Remember, make fruits and veggies the star, keep it simple and try thinking outside the box! Spend less time stressing over lunches and more time having fun with your little ones. And, if you are looking for a good lunch bag, check out The Land of Nod for some wonderful choices, like the ones shown above!
POST BY LUNCHES + LITTLES
Lunches + Littles focuses on quick, healthy and fun meal options for little ones while sharing practical tips & tricks on how to make meals enjoyable, all the while keeping things simple. A lover of colorful plates, and an advocate for getting kids in the kitchen, Lunches + Littles is also a great resource for parents of picky eaters, parents looking for healthy family and toddler recipes and those mamas (dads too!) who are short on time. A mantra of sorts: Making meals fun doesn't have to be hard! With 3 little ones (3 and under) it can't be! Follow @lunchesandlittles for all of the above… And more!