If it isn't happening already, the time may come soon when you realize that your little girl is no longer a little girl. Her style and interests have somehow ventured away from cartoon princesses and dress-up parties. She may be more aware of her fashion and music preferences, which most likely means it's also time to redesign her bedroom.
A complete room makeover could be a great end-of-summer project for the two of you to tackle! Embrace this opportunity while you can—it's only a short time before you have a teenager on your hands! The Land of Nod may have been your go-to for her nursery and "big-kid" room, but the fun doesn't have to stop there. We have a ton of cool bedroom ideas for any age. From bedding to furniture and décor, your tween is bound to find something that she (and you!) will like.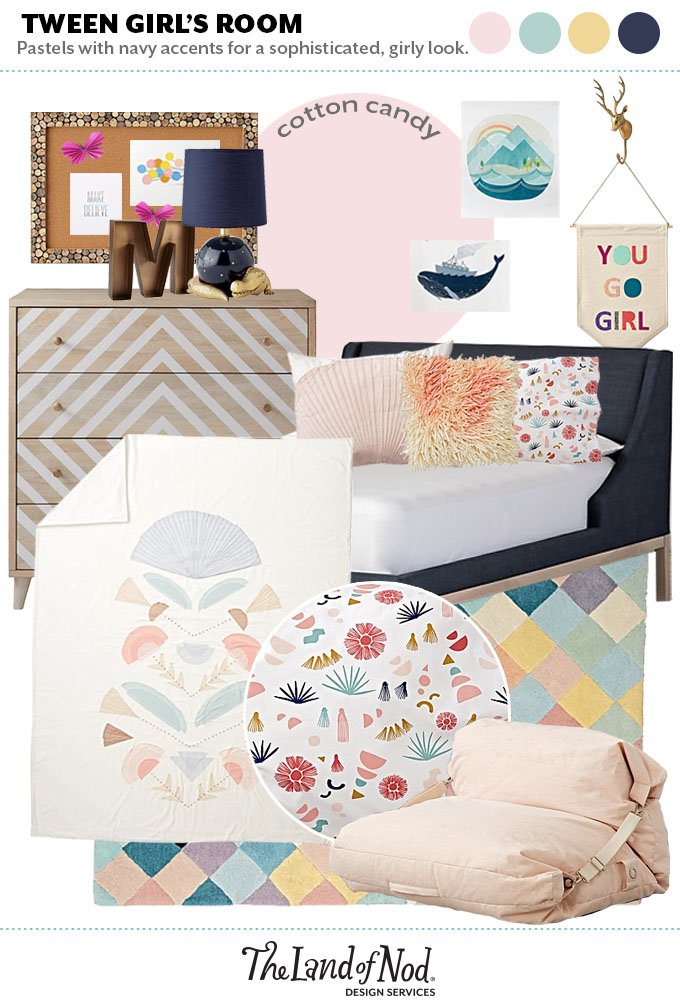 There are so many versatile pieces in the Nod product assortment that would fit perfectly in a tween girl's bedroom. The Gallery Wing bed and Radiant dresser are perfect examples of just that. These two timeless pieces are something that will grow with your almost-teen through high school (and probably college, first apartment, and so on).
The colors in our new Desert Flora bedding set are a perfect balance to the navy upholstery in the Galley bed. The soft pastel duvet cover and bolder, brighter sheet set go great with the Pixel rug. Throw up a corkboard so your tween can post pictures with friends, artwork, magazine cutouts and other fun little souvenirs she's collected—maybe even a cute family photo! Complete the look with a beanbag chair and some wall art and she's ready to have friends over! For an even more grown-girl look, try the Fringe Rug or Southwestern Rug in this room design!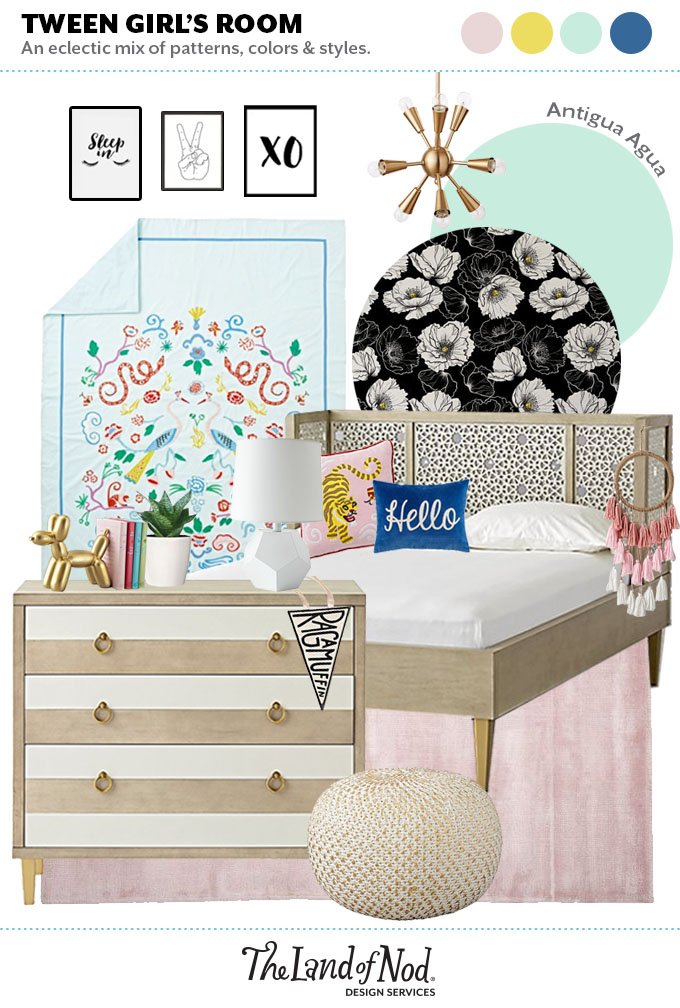 This eclectic yet sophisticated room design, featuring the Latticework bed from our new Genevieve Gorder collection, is the perfect look for your soon-to-be teen. By throwing in some contrasting pieces like black and white wall art, vibrantly appliqued Cherry Blossom bedding, or this floral print Etsy wallpaper, you can pull away from an all-neutral, pastel room design, which can sometimes look a little too "kiddish". To complete the look, I chose the simple yet chic Mirage rug in light pink to bring out the soft pink in the duvet cover.
If you're feeling stuck on how to make the transition from kids room to tween domain, reach out to our Design Service team either at your nearest store or online. We'd love to help!
Enjoy!
Post by KJ Burkland, Retail Home Stylist (Seattle),  from The Land of Nod's Design Services Team. Our Design Services team offers free one-on-one design advice, mood boards and space planning. You have a room to decorate? They'd love to hear from you.