When it comes to toddler snack time, we can get in the habit of thinking that the only "snacks" that our little ones will eat are those character-themed, sugary ones you find down the grocery aisles. But add a little color, some dip, and fun shapes, and you may be surprised at all the healthy, fresh options your little ones will eat up. Below I am sharing 5 easy & healthy toddler snacks that are as yummy as they are simple! Pair snack time with some art/craft time to take the pressure away from finishing their snacks (this has worked so well in our home!) and let your littles create a masterpiece in the process!
1 RAW VEGETABLES WITH DIP
It doesn't get much easier than this one. If you have a little one who enjoys raw veggies, set their delicious, nutritious veggies out with a dip as a quick and easy snack. Our babes love carrots and celery with ranch or almond butter, so this is a go-to snack in our home (but if your little ones aren't loving vegetables raw yet, that's okay!). You can also try offering up veggies in small portions paired with a food they already love, like cheese, nuts or crackers. Sometimes the simple tip of pairing veggies with an already loved favorite can really help a child eat up – and even try new things!
And if that doesn't work, that is okay too. Try offering your little ones a bowl with a fruit and vegetable mixed together. Or, pick up a healthy veggie chip. We love Peas Please from @peeledsnacks. Don't tire from offering, exposure is key!
2 CHEESE
Cheese sticks, cubes and/or slices are great toddler-friendly snacks and the protein that cheese offers can often help your little ones stay energized and full until their next meal. Make cheese more fun for kids by cutting it into fun shapes with mini cookie cutters, like the stars shown above. So simple, yet so effective!

3 YOGURT AND/ OR COTTAGE CHEESE
Yogurt and cottage cheese are a few other great and easy snack options for little ones. These options contain calcium, protein and other nutrients that your children need. Cottage cheese is also very versatile; add in some fruit or even some vegetables, like diced carrots or peas, for a fun "confetti cottage cheese." If your child is dairy-free, you can always check out dairy-free options of yogurt, etc. at most retailers. Coconut yogurt alternative is a great option our babes love.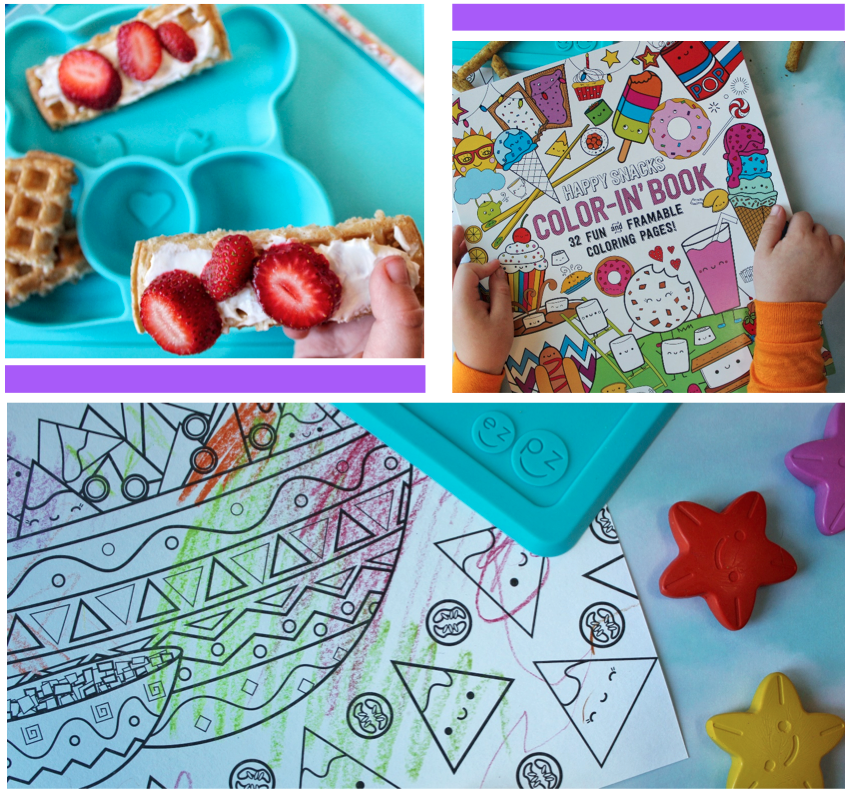 4 WHOLE GRAIN OR MULTI-GRAIN WAFFLES W/ TOPPINGS
Whole grain or multi-grain waffles with cream cheese, fruit and/or other toppings are a great little snack, and it is healthier than many other options out there (and easy too!). We just take a couple of store-bought waffles, toast them, and then cut them up into fun waffle sticks. So easy… from freezer to table in 3 minutes!
5 PROTEIN BALLS
Quick and easy protein balls (sometimes called energy balls or energy bites) are a fun snack option, and they are perfect for snacks at home, on-the-go or even in a school lunchbox. There are many different ways to make protein balls depending on your needs. If you (or your school) are nut free, these Chocolate Chip Cookie Dough Protein Balls are perfect because they use sunflower seed butter instead of traditional peanut butter. They are always a hit in our home, and pack a healthy punch!
I grew up loving Care Bears, and last month The Land of Nod launched their new #CareBearsforNod collection. And, oh my, did this launch bring back memories for me! Were you a Care Bears kid growing up? If you were, or even if you weren't, there are so many adorable and fun Care Bears items in this collection. A few of our favorites include: Cheer Bear Stuffed Animal Funshine Bear Sleeping Bag, and the new Care Bears Happy Mats and Happy Bowls.
Like all ezpz products, these special edition Care Bears Mats and Bowls feature an all-in-one placemat plus plate or bowl, made from high-quality silicone. The mats suction directly to the table or highchair tray, making it difficult for little ones to tip, lift or toss. Less mess equals less stress for parents, and with the bright colors and fun Care Bears faces these are sure to brighten up any mealtime, or snack time! If you have a picky eater or just want to make meals at the table a little more inviting, try out these adorable mats and trays!
POST BY LUNCHES + LITTLES
Lunches + Littles focuses on quick, healthy and fun meal options for little ones while sharing practical tips & tricks on how to make meals enjoyable, all the while keeping things simple. A lover of colorful plates and an advocate for getting kids in the kitchen, Lunches + Littles is also a great resource for parents of picky eaters, parents looking for healthy family and toddler recipes and those mamas (dads too!) who are short on time. A mantra of sorts: Making meals fun doesn't have to be hard! With 3 little ones (3 and under) it can't be! Follow @lunchesandlittles for all of the above… And more!