January 4th is National Spaghetti Day, but any day is a good one for this homemade dish!
Last year I discovered that I could use my slow cooker for a whole lot more than just pot roast, and even started making my spaghetti in it (did you even know you can do that?). While I cooked my pasta for this particular recipe stove top, if you have a large enough slow cooker, you can do it all in there – meatballs, sauce and yes, even the pasta!
Read on for the full recipe for this easy to prepare and full of flavor meal – perfect for any night of the week! And, check out these adorable plates too, part of the new Sesame Street for Nod Collection.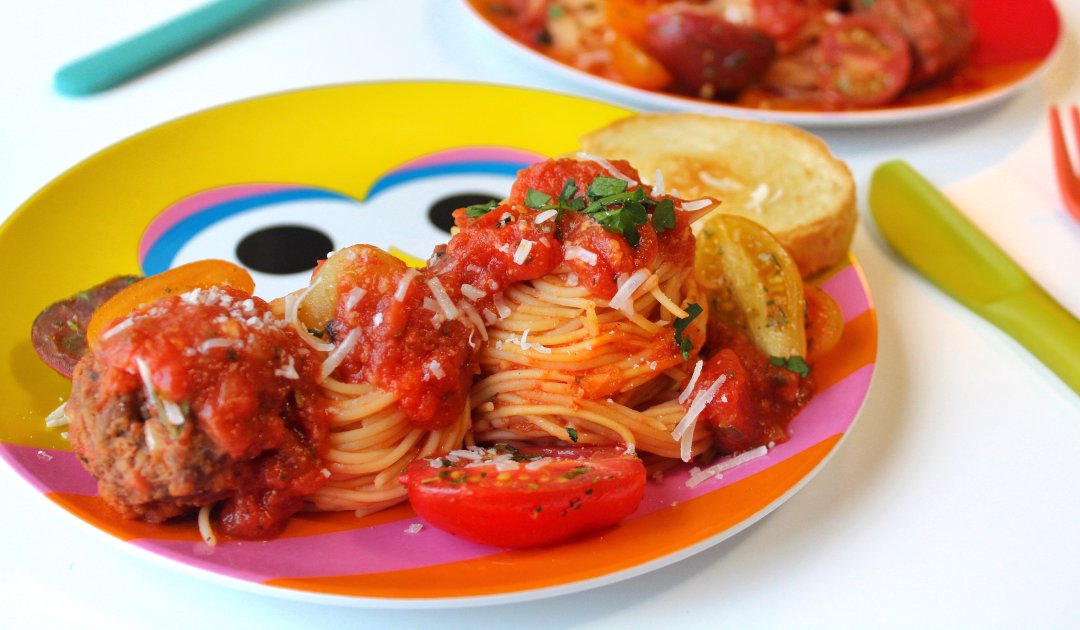 Homemade Spaghetti Sauce and Meatball Recipe
Yields 6-8 servings
Ingredients for Sauce:
1 medium yellow onion, finely chopped/ diced (my onion yielded approx. 1 cup diced onion)
1 can plain crushed tomatoes, 28 ounces
1 can diced tomatoes; 28 ounces (try the fire roasted garlic variety if you can find them!)
1 jar of your favorite plain tomato sauce, 24 ounces
2 tbsp unsalted butter
2 tsp Italian seasoning
4 garlic cloves, minced
1/2 tsp kosher salt
1/4 cup fresh grated parmesan cheese
Ingredients for Meatballs:
1 and a 1/2 lbs lean ground beef (or turkey if you prefer)
1 small onion, finely chopped/ diced (my onion yielded approx. 2/3 cup diced onion)
2 small eggs
2 cloves garlic, minced
1 cup panko breadcrumbs, plain
1/4 cup fresh grated parmesan cheese
1 tsp Italian seasoning
1/2 tsp kosher salt
1/8 tsp ground black pepper
1/8 tsp garlic powder
* Optional: Fresh parsley, chopped and additional freshly grated parmesan cheese (both for topping).
* You will also need: 1 lb cooked pasta (I used angel hair)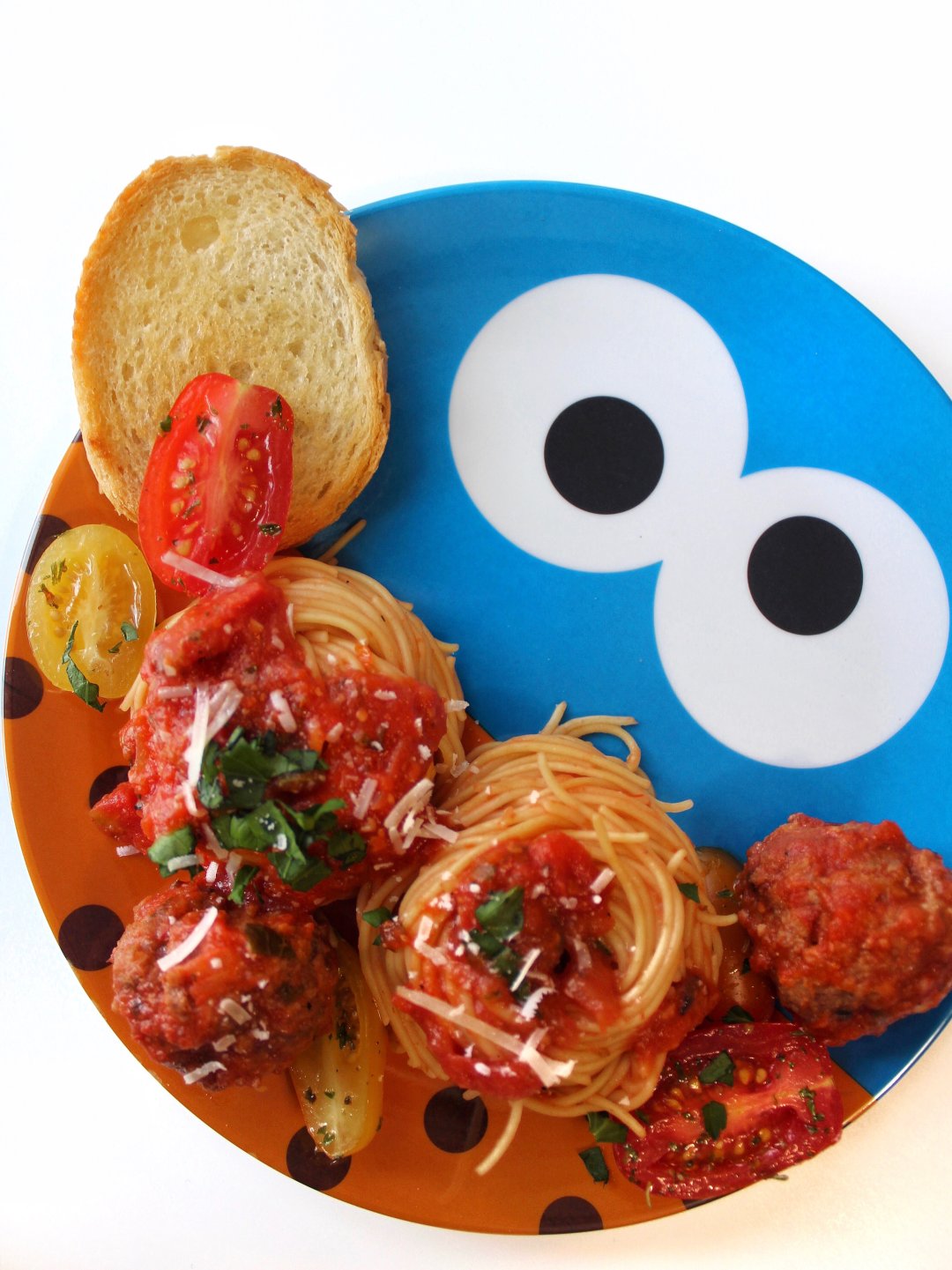 Directions:
Add all the sauce ingredients in the bowl of your slow cooker and mix until well-combined.
Then turn slow cooker on high and cover with lid.
Next, in a large bowl combine all the meatball ingredients and mix with your hands until well combined. Then, start to form mini-sized meatballs (recipe makes approx. 18 small meatballs, depending on size).
Once all your meatballs are formed, uncover your slow cooker and add them in, arranging them in a single layer. Ensure that each one is covered fully in the sauce.
Recover slow cooker and leave on high for approximately 4 hours, until meatballs are cooked through. You can also cook on the low setting for 7-8 hours depending on preference.
Cook pasta on stove top per package instructions.*If you prefer to cook your pasta right in your slow cooker, just break pasta noodles in half, place in slow cooker and ensure that they are pushed down enough to be covered by sauce prior to setting on high for 4 hours, or on low for 8 hours, depending on preference (see #5)
Plate pasta, sauce, and meatballs. Top with parsley and parmesan cheese and enjoy!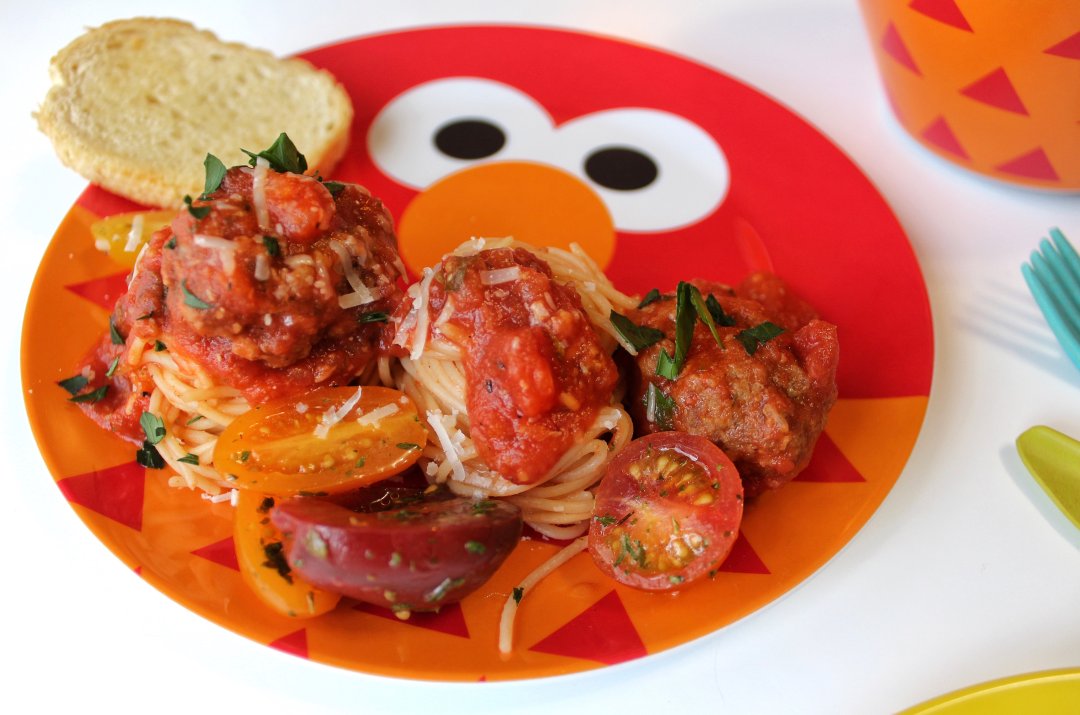 POST BY LUNCHES + LITTLES
Lunches + Littles focuses on quick, healthy and fun meal options for little ones while sharing practical tips & tricks on how to make meals enjoyable, all the while keeping things simple. A lover of colorful plates and an advocate for getting kids in the kitchen, Lunches + Littles is also a great resource for parents of picky eaters, parents looking for healthy family and toddler recipes and those mamas (dads too!) who are short on time. A mantra of sorts: Making meals fun doesn't have to be hard! With 3 little ones (3 and under) it can't be! Follow @lunchesandlittles for all of the above… And more!