Post by Joni of Lay Baby Lay
I am so excited to share this room we put together with The Land of Nod for the guest room at my girls' Nana's house. We talked with her about doing a little room redo, since she raised two boys, and has now found herself to be a grandmother of three little girls. We spend a good bit of time at their house, and so we began planning a space that would be light, bright, and imaginative, while also meaningful to their family and also hopefully something that will last quite awhile. Of course, Nana and GDaddy's is already special, but it was fun to tailor something especially for them and the girls. Today, I'm sharing a few tips on how to successfully put together a kids room at Grandma's house that hopefully the grandparents and kids alike will love and enjoy.
Here is the style board we started with. My goal was to lighten things up, but to use pieces that would transition well over the years.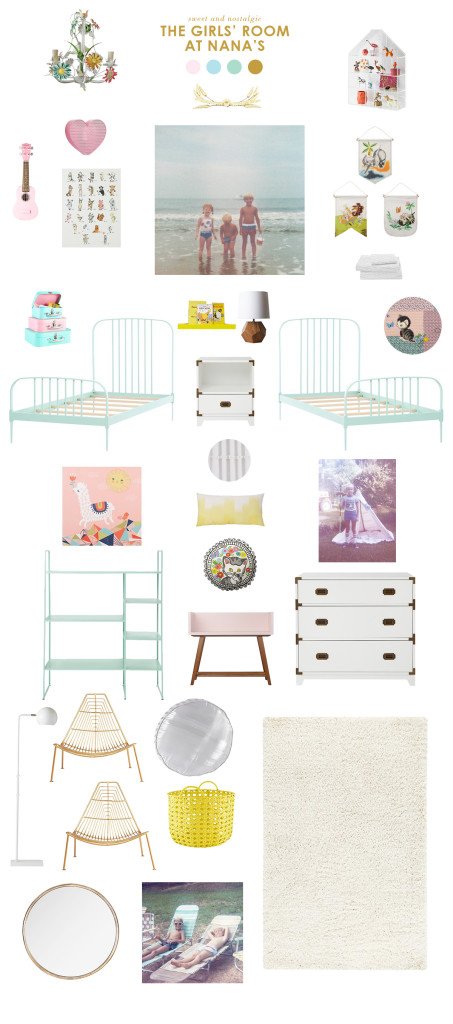 First, here is a little before and after. Please know I snapped the before pic as we were leaving one weekend, so the girls' bags are on the beds, and so this is not a completely accurate representation of the before; hopefully, though you can get a sense of how the space changed.
To start with, we went with a lighter paint color to make the room feel more spacious. Irish Mint by Benjamin Moore is the new color, and it is so happy and calming! I think such a bright color wasn't something Nana would normally choose, but I'm glad she went out on a limb with me to try something different. I think it's good to keep in mind that paint colors are such an easy thing to change! It's never permanent, and it's always a fun and easy way to refresh a space. We also went with the neutral Walk Softly Rug, which gives the space a little more sophistication and balances out the splashes of pink here and there. It's also so comfy, like walking on a cloud!
Mint Twin Larkin Bed / Geo Throw Pillow / Pinstripe Pillow / Shy Little Kitten Quilt / Swiss Dot Sheets
Another great thing to keep in mind when putting together a kids room at Grandma's house is choosing furniture that will grow as the children grow. I love these twin Larkin beds, and while they do look more juvenile when paired with pink bedding and such, they will look grown up and sophisticated when used with some more simple, solid bedding in the future. The campaign furniture also has a timeless feel, and these beautiful pieces will be applicable even when the girls are teenagers and beyond, or when the grandparents have more grown up guests.
White Campaign Dresser / Wood Rock Lamp / Mint Metalwork Bookshelf / Yellow Lattice Bin
I also paired the campaign dresser with a vintage round mirror for an eclectic feel, and I can see these details easily lasting years without feeling dated.
Campaign Nightstand / Heart Nightlight
To make this space feel extra special, I included several photos of the boys when they were little. I pored over Nana's albums and selected a few that I thought were sweet and that would work well. They are just little snapshots and small slices of childhood but I love how they are such sweet captures of casual, everyday moments. I printed them out large scale, and they have turned into works of art. I also love including little mementos and pieces from their growing up; those books on the nightstand were their grandaddy's as well as those vintage books over the headboards. I also adore that sweet little heart nightlight! It's the perfect glow.
Bon Voyage Suitcase Set
I also love that astronaut statue Chip got at space camp one year, and that little horse from one of his playsets. Several of he and his brother's childhood toys are scattered throughout the room.
Saggy Baggy Elephant Banner / Hemisphere Floor Lamp / Alto Bookcase / Gold Domino Lounge Chairs / Ruched Throw Pillows
Nana also has a really great book collection that the girls always love delving into, and she spends lots of time reading to them, so I wanted to make certain there was plenty of book storage. Between the alto bookcase, the mint metalwork bookcase, and the campaign nightstand, there is ample space for a library, and we added the domino lounge chairs for the girls to comfortably browse. I also love how all the books so sweetly tie into the Little Golden Books bedding!
I also included this little masterpiece by Brigette; it's the perfect punch of color, and a sweet little handmade piece in the room. This plus the photos of the boys and the childhood mementos add some nostalgia to the room and make it feel special. I love helping the girls feel connected to their heritage and where they came from; it's so sweet to share stories of our childhood and their grandparents!
Here is one more before and after. I really love the built in desk and shelves!
The girls are perfectly smitten with the room and I think Nana is really happy with it, too. I'm so glad she trusted me enough to let me put this together, and especially thankful to The Land of Nod for working with us on creating the perfect kids room at Grandma's house.
Lay Baby Lay started in 2011 shortly after the arrival of my first baby as a place to provide fresh and unique nursery inspiration with a little dose of motherhood experience. This site is my creative outlet and the place where I am able to express all the ideas running around in my head. It is my hope that you will also be inspired to create spaces for your little ones that are full of imagination, color, and delight and maybe find a little encouragement in this crazy but wonderful journey of having babies and watching them grow.