Post by Stephanie, Home Stylist from The Land of Nod's Design Services Team

Deep, rich paint hues are popping up everywhere in interior design, so it was only a matter of time before they found their way into nurseries and kids rooms. While choosing just the right shade for your space may feel like an overwhelming task, it certainly doesn't have to be. Here are some considerations we kept in mind when picking the perfect color to pair with our new Carousel Bedding.
First things first, pick out the major bedding components you want to use in your space (quilts, duvets, sheets, etc.). You may already have a particular style or color scheme in mind, so nail down your bedding first and figure out the wall color second.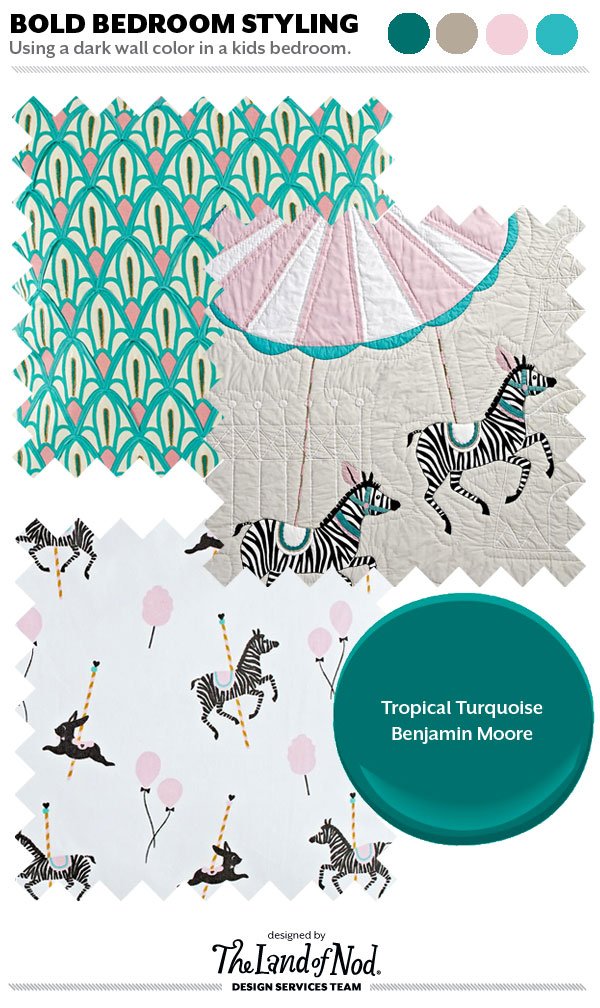 Once you've found your bedding, pick out one color from the pattern to inspire your wall color. The Carousel quilt has a fun turquoise accent that carries through to the sham and sheets, so for the walls, we decided to use a turquoise hue that was a few shades darker (think Benjamin Moore's Tropical Turquoise, or similar). This brings me to an important point on color schemes. Don't worry about matching each color perfectly; instead play around in a family of shades so that everything feels cohesive, but not redundant.
Gypsy Pink / Black Horizon / Tropical Turquoise
For accent colors, refer back to your bedding and pick a secondary color for rugs, lighting, and wall art. Again, play with shade variations – you definitely don't need to match everything perfectly. The pink accent in the Carousel bedding is actually a soft, cotton candy-esque hue, but that didn't keep us from using the super-saturated pink Chevron Twist rug and hot pink decorative accents.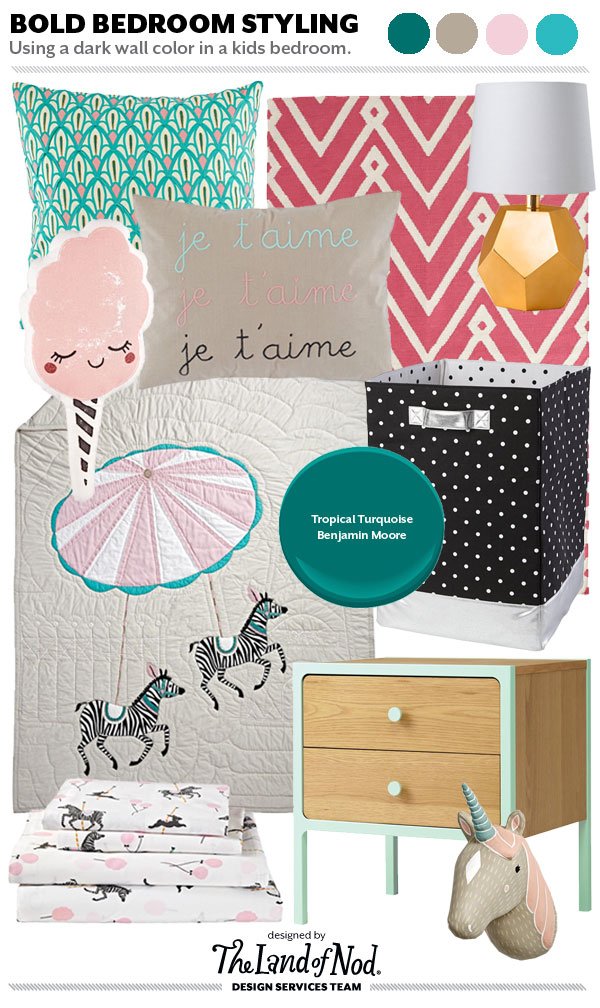 Lastly, using warm wood tones and neutral upholstery can help to offset a bold wall color and will keep the space feeling warm and inviting. If you have hardwood flooring, don't feel as though your furniture and flooring have to be the exact tone throughout the space. The wood tones can be a few shades lighter or darker and will still look great. In fact, choosing wood pieces that are a lighter stain than your floors can give your pieces a nice pop of contrast.
So, whether you're going for bold on an accent wall or throughout the space, always remember to have fun with the design and don't hold back.
Happy Styling!
Post by Stephanie Geurkink, Home Stylist from The Land of Nod's Design Services Team. Our Design Services team offers free one-on-one design advice, mood boards and space planning. You have a room to decorate? They'd love to hear from you. Visit The Land of Nod's Design Services page to get started today.